New Jersey town unveils 'comfort women' memorial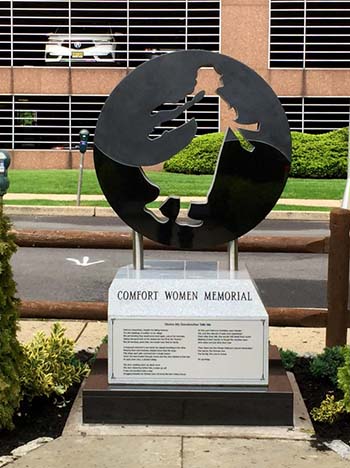 Fort Lee, New Jersey now has a memorial to World War II's "comfort women".
The Youth Council of Fort Lee, a student organization led by Korean-American high school students in the Bergen County borough, dedicated the memorial in Constitution Park on Wednesday.
"History with gaps creates a divide in society, and conflict is inevitable when people feel empty," said Euwan Kim, a member of the council who designed the statue, according to northjersey.com. "Their (the "comfort women") existence was denied and pushed out of history textbooks just so society could feel just a little bit happier for a little bit of time."
During World War II, as many as 200,000 young women from around Asia, including China, Korea, Indonesia and the Philippines, were estimated to have been forced into sexual slavery by the Japanese Imperial Army.
The Youth Council worked for several years to create the monument while facing opposition from other community members.
"It reminds everybody that sees it from afar and close up and reads the beautiful poem, it reminds them of those atrocities and the path and the plight that those women took," Fort Lee Mayor Mark Sokolich said. "It is respect of history so we never, ever forget what happened in the past so we don't ever repeat it in the future."
In 2010, the first memorial to "comfort women" in North Jersey and in the United States was placed in Palisades Park, which borders Fort Lee.
San Francisco unveiled a prominent "comfort women" memorial in the city's Chinatown in 2017.