Historical theater makes a comeback
Share - WeChat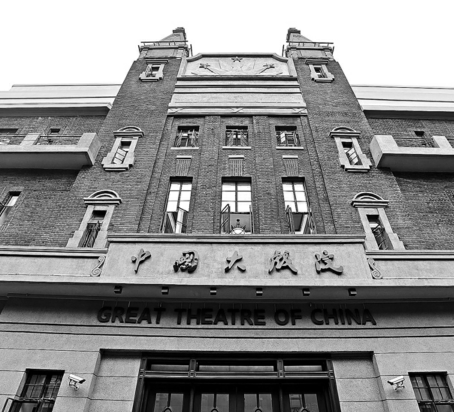 The 88-year-old Great Theater of China in Shanghai was reopened on May 16 after two years of renovations.
Located near People's Square at 704 Niuzhuang Road in downtown Shanghai, the facility was built in 1930 as a prime venue for Peking Opera performance. Famous artists such as Mei Lanfang, Ma Lianliang and Meng Xiaodong used to sing in the theater, which was known as one of the "Top Four Stages" of Peking Opera.
The building was listed as a protected historical structure by the municipality in 2005. Huangpu district authorities later made the decision to renovate the building in 2012. The Ever Shining Cultural Group, the operator of the theater, invited RHWL Architects from Britain to work alongside a Chinese team for the renovation.
The facade, which is defined by the twin towers, as well as the main structure of the building have been retained while the auditorium was reverted to its original three-tier design. An elevated orchestra pit has been added, along with other modifications to accommodate new lighting and audio equipment required for modern theater performances.
Upon entering the lobby, visitors will find a marble floor inscribed with sunflower and tri-star patterns. In the auditorium, the roof lighting design resembles the shape of a 32-petal lotus in full blossom.
Tian Qinxin, a renowned director from the National Theater of China, will be the artistic director of the re-opened theater. Tian promised to respect the cultural legacy of the historical place and bring in high quality plays from home and abroad.
"I have always paid attention to the big names in the international theater scene, and hope to introduce outstanding and pioneering productions to audiences here," Tian said.
The new theater will play an active role in the city's efforts to develop itself into a performing arts capital in Asia, according to Shanghai-based Wenhui Daily.
The Great Theater of China has also signed a new partnership with the Youth Troupe of Shanghai Theatre Academy. The troupe will use the facility as its training base and present new experimental plays regularly.
The new theater will launch its debut performing season in June, with 19 plays from nine countries scheduled to take place from then till the end of September. Some of the plays will be making their China or Asia debuts at the theater.
True to its heritage, Peking Opera will continue to be a key part of the theater's programs.
Shanghai-based Peking Opera artists Shi Yihong will present China's first chamber edition of the classical play Farewell to My Concubine, while Wang Peiyu, a woman Peking Opera singer well-known for her portrayal of elderly male characters, will present a solo concert.
zhangkun@chinadaily.com.cn