Physical evidence found for 5,000 years of civilization
Share - WeChat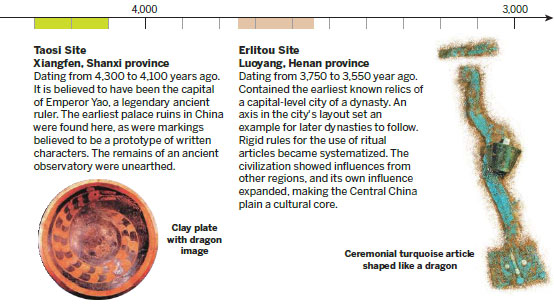 It is often said that Chinese civilization extends back 5,000 years. Now, after 15 years of intense research as part of a nationwide project to explore the origins of that civilization, archaeologists are able to back up that statement with solid physical evidence.
The results were disclosed at a news conference on Monday at the State Council Information Office.
The project has proved with physical evidence that Chinese civilization exhibited a multifaceted unity, said Guan Qiang, deputy director of the State Administration of Cultural Heritage. "It was inclusive, and its succession has never stopped."
Previously, some overseas scholars expressed doubts about the length of Chinese civilization due "to a lack of physical evidence".
After several years' preparation, the project was launched by the Ministry of Science and Technology and the heritage administration in 2004.
Nearly 70 research institutions and universities have participated in the program, which is led by the Chinese Academy of Social Sciences' Institute of Archaeology and Peking University's School of Archaeology and Museology.
Over 900 academic papers have been published on the project, including nearly 400 released in foreign languages or in overseas journals, Guan said.
"We have done large archaeological investigations in several key, capital city-level sites from 5,500 to 3,500 years ago," said Wang Wei, a leader of the program from the CASS.
New discoveries kept appearing with the help of new research technologies.
Most Popular