Huawei eyes uptick in shipments
Share - WeChat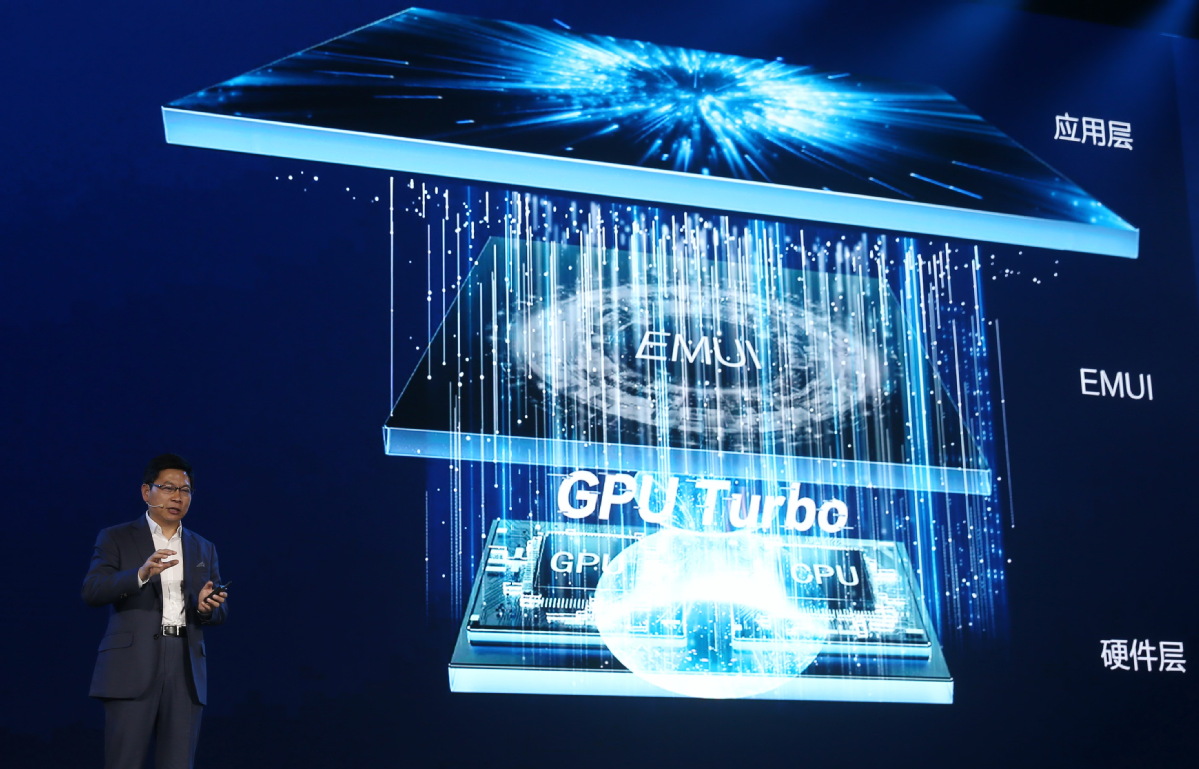 Huawei Technologies Co Ltd said on Wednesday that it will ship nearly 200 million smartphones this year, close to its arch rival Apple Inc's 200 to 210 million annual shipment.
Yu Chengdong, CEO of Huawei's consumer business group, said the company will ship about 200 million smartphones this year, up from 153 million units last year, thanks to the growing popularity in overseas countries.
"We are maintaining a strong position as the world's third-largest smartphone vendor and more importantly, we are inching closer and closer to the second spot," Yu said.
On Wednesday, Huawei also unveiled a new technology which it claimed can boost smartphones' image processing efficiency by 60 percent while lowering chip energy consumption by as much as 30 percent.
Yu said GPU Turbo, as the new technology is called, is part of Huawei's intensified push to beef up spending on research and development. "GPU Turbo can help low-to-middle-range smartphones have a performance roughly as good as rivals' premium devices," he added.
The technology was first used in the Honor Play smartphone, which was unveiled on Wednesday. In the near future, it will be upgraded to all of Huawei's smartphones, Yu said.
During the first quarter of 2018, the Shenzhen-based company shipped 39.3 million units of smartphones worldwide, with global market share hitting a new high of 11.8 percent. In comparison, Apple shipped 52.2 million units and accounted for 15.6 percent, data from market research company International Data Corp show.
"Huawei has toed the line between maintaining a strong domestic position while slowly upscaling its brand image in international markets with dividends paying off as its growth rate reached 13.8 percent year over year, beating the global average of a 2.9 percent decline," IDC said in a research note.
Huawei is growing and gaining market share across Western Europe, and is particularly strong in Spain, Germany, and Italy, IDC added.
James Yan, research director at Counterpoint Technology Market Research, said Huawei's new technology is quite suitable for consumers who love playing games on smartphones.
According to Yan, while Huawei's high-end smartphones are popular in China, the bulk of its shipments are of the more affordable class of smartphones, and it also introduced a few new models in the low-end and mid-range segments. That is in part why Huawei introduced the GPU Turbo technology to optimize its cost-effective handsets.
IDC also noted in its research that more affordable premium devices might be the solution the global smartphone market needs in the second half of this year to drive shipments back in a positive direction.