Chinese brands gaining favor with young Russians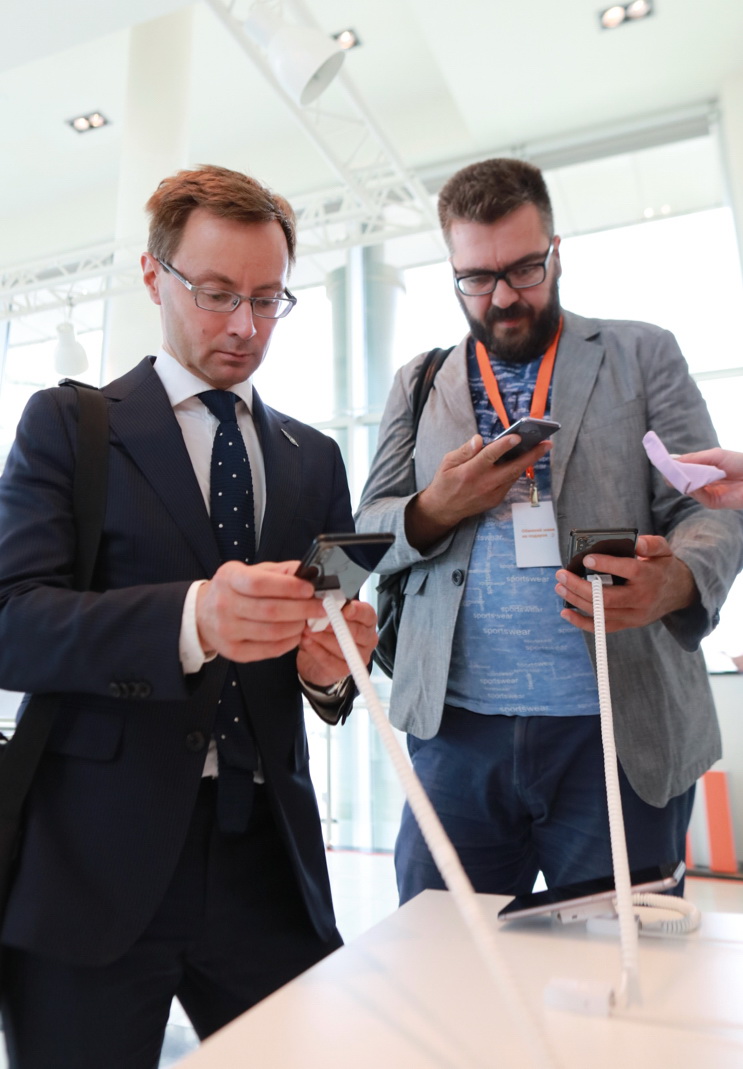 China-made electronic devices and household appliances are becoming popular in Russia due to their high quality and good cost performance, and Chinese smartphones have become a fashion statement among Russian youngsters.
Xiaomi introduced its latest flagship smartphone to Russian consumers at a news conference on June 6 in Moscow.
The launch attracted not only media attention, but also loyal local fans-or Mi fans as Xiaomi enthusiasts are known. In Russia, the Mi fan community is growing.
Steven Wang, Xiaomi's head of regional marketing, said Russia is one of the first overseas locations Xiaomi chooses to release its new smartphones in.
"The increasing number of Mi fans in Russia is incredible and unexpected," Wang said. "So it is also our honor to introduce our new flagship smartphone Mi Mix 2S to our Russian Mi fans first."
According to data from Counterpoint Research, a Hong Kong-based research company, sales of Xiaomi smartphones increased 60 percent in the second quarter of 2017, and have become the fastest-growing cellphone brand in Russia.
Sergey Fomin, director of strategic development at Marvel-Distribution, said the market share of the Chinese brand in the Russian smartphone market reached 30 percent by the end of 2017, and Xiaomi and Huawei were the Chinese firms with the largest sales volumes.
Kirill Sidnov, a Russian Mi fan since 2014, came to the news conference to see the new smartphone.
He said Chinese smartphones have occupied more market share in Russia in recent years due to their low prices, variety of functions and high performance.
"I'm so excited to be at the news conference because it's the first time I've seen the new smartphone," Sidnov said. "I can see the design is fashionable and tell by touching it that it is well made, not to mention the dual cameras."
An article on Russian tech website mail.ru said recognition of Chinese brands in Russia is rising. Made-in-China products are no longer associated with low-end manufacturing. On the contrary, choosing a Chinese brand has become a trend among young Russians.
The article also quoted telecommunication technology experts as saying the quality of Chinese smartphones is now comparable with those from the United States and South Korean companies. What's more, due to the focus on innovation of various functions, Chinese smartphones are even better than US and South Korean phones in respect of new technology development, and have a bright future in the Russian market.
"The way Chinese brands operate in Russia is also important for us," said Yu Man, the director of the Commonwealth of Independent States at Meizu Technology Co Ltd, another Chinese smartphone manufacturer that has accelerated its expansion pace in the Russian market.
According to Meizu, its sales of smartphones in Russia witnessed a peak in 2016, up 728 percent compared to 2015, while in 2017 they increased 72 percent.
Yu said the company was focusing on localization in Russia, such as making Russian-style TV ads to show the charm of Chinese brands. Meizu also sponsors football teams in the Russian Premier League.
Besides smartphones, Chinese brand electronic appliances are also being selected by Russian consumers, and many Chinese companies are of interest too.
Xie Xiaoxiang, deputy general manager of Shinco, said the company gained recognition among its Russian clients since 2016.
"With the Belt and Road Initiative, we all see Russia as a potential market thanks to helpful government policies," he said.
"2018 is a key year to enter the Russian market, and we hope to enhance our cooperation with Russian partners and explore more sales channels here," Xie told China Daily during the China Brand Exhibition, which was held in Moscow earlier this month.
More than 40 Chinese companies participated in the three-day exhibition, and the event attracted over 10,000 Russians each day.
Zhu Yugang, the deputy secretary-general of the China Council for the Promotion of International Trade, Shanghai Pudong district bureau, said the economic relationship between China and Russia is closer since the two countries signed an agreement for the coordination of the Belt and Road Initiative and the Eurasian Economic Union in 2015.
Sino-Russian bilateral trade volume reached $84.07 billion in 2017, a 20.8 percent increase compared with 2016, and China has been Russia's largest trade partner for three consecutive years, Zhu said.
Huang Long, the sales manager for Midea Group in Russia, said the Belt and Road Initiative created positive energy for bilateral trade, as there are more Russian companies contacting them this year.