Green dream dawns for a rainforest lost and regained
Share - WeChat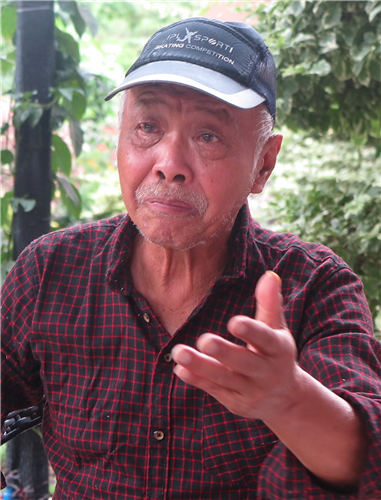 At the foot of Niuling Mountain in the southeast of Hainan island, lies a mysterious valley that is a palace of plants - from lowly weeds to the nobility of flowers.
Named Xinglong Tropical Garden, located a little bit north of the northern altitude of 18 degrees, the garden is home to more than 1 million trees belonging to 4,500 tropical species.
Famed as a natural oxygen bar, it boasts more than 65 kinds of rare plants that are on the endangered list, such as Shorea roxb, Hainan palm, Dracaena cochinchinensis, Vatica astrotricha, and Dalbergia odorifera, all collected from other places, both in China and overseas.
The garden is the fruit of 26 years of painstaking toil and scientific exploration by Zheng Wentai. Standing in the center of his huge tropical rainforest garden that radiate around for more than 800 hectares, one cannot help but be overcome with emotion by the amazing power arising from a deep rooted dream, courage and persistence.
"My friends said I was crazy, throwing large sums of money into a piece of unprofitable wasteland, and my parents even threatened to break off relations with me when I decided to launch my long-cherished plan to rehabilitate the forest in Xinglong in 1992," recalled Zheng, who is wearing a plaid shirt, a pair of blue jeans and Chinese slippers, his standard wear when working in his garden. And although 73 and thin, he remains incredibly fit.
Early days
Born in Indonesia in 1945, Zheng studied for four years at a middle school in Beijing and went to Xinglong in 1964, at the age of 19. He spent half his waking hours working and the other half studying at the Xinglong Overseas Chinese University, when he majored in tropical crops and plants. It was there Zheng developed his love for rainforests.
However, following the advice of his parents, he started his career in the early 1980s as a real estate developer after completing a university degree in architecture and design in the United Kingdom. And he made a handsome fortune in real estate.
Such that in 1992, at the age of 47, Zheng was able to say goodbye to his life as a successful realty boss and start his new life as a gardener, commencing to create the green world he had dreamed of .
"Traveling around China and overseas, I noticed the lack of environmental protection in the rush for economic development. And my heart ached during a visit to Xinglong, when I saw the once lush green land had become a barren Siberia after years of over-felling the trees," Zheng said, still sounding distressed at the memory.
"A serious illness in 1991 made me realize that life is short, and I must do something my heart really yearned for," Zheng continued, speaking standard Mandarin with a typical Beijing accent.
"Rainforests around the world are shrinking. So we must hurry up to save them before many species become lost," Zheng said, adding it was a difficult decision as it meant starting from scratch and required a huge amount of money.
But he decided to go ahead, selling his properties in Guangzhou, Hong Kong and Singapore for 100 million yuan ($15.58 million) and cooperating with the Xinglong Overseas Chinese Farm with the aim of building a brand new garden and a gene bank of tropical species for the nation.
Most Popular