Three-year action plan aims for blue skies
Share - WeChat Measures set to reduce pollution by targeting outdated factories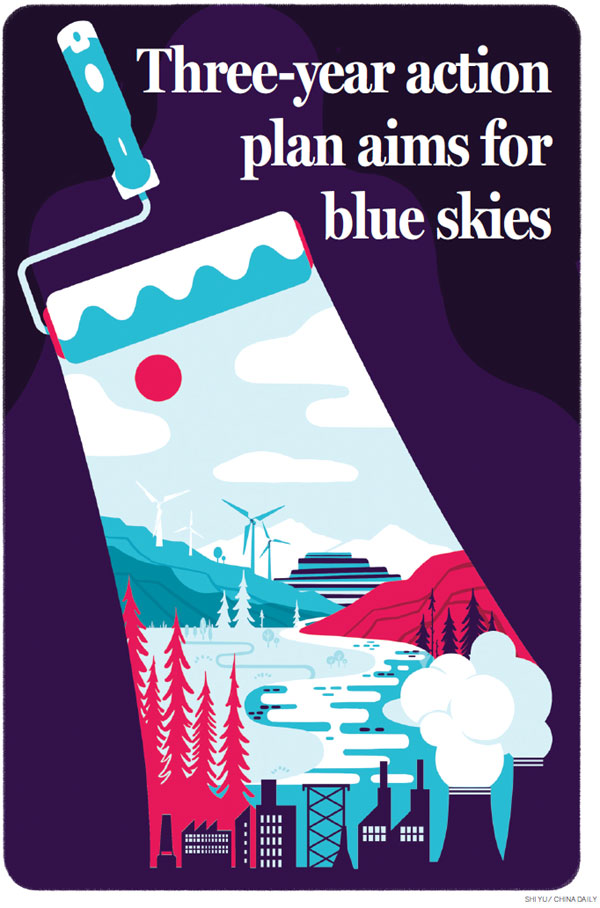 Within three years, air pollution in China's key urban areas will be significantly reduced, resulting in more blue-sky days, by shrinking outdated production capacity and the use of substandard coal, as part of efforts to change energy consumption and the industrial structure.
The State Council, China's Cabinet, approved a three-year action plan to achieve the target at an executive meeting, presided over by Premier Li Keqiang on Wednesday.
Analysts said economic and industrial restructuring will be key to reducing particulate matter density as smog has shrouded Beijing and surrounding areas for years.
According to the plan, a number of measures will be carried out, including cutting outdated production capacity in sectors such as steel, iron and electrolytic aluminum. No more extra capacity will be granted in these areas, said a statement released after the meeting.
From January, the country will supply gasoline for vehicles of higher national emission standards. Environmental protection industries will be boosted to promote energy conservation technologies and products, while substandard coal-fired power generation machines and boilers will be eliminated.
Key areas include the Beijing-Tianjin-Hebei cluster and the Yangtze River Delta and other heavily-polluted regions. For example, the Beijing-Tianjin-Hebei cluster is a region with some of the worst air quality. The ratio of blue-sky days in the provinces of Hebei, Shanxi, Henan and Shandong was less than 60 percent.
Li Ganjie, minister of ecology and environment, said earlier that the priority for pollution control is to battle for a blue-sky outcome. This means focusing on pm 2.5 (particulate matter with a diameter less than or equal to 2.5 micrometers) in key areas such as the Beijing-Tianjin-Hebei cluster and surrounding areas in the fall, winter and early spring, and key industries such as steel, iron and coal-fueled power generation.
The Ministry of Ecology and Environment launched a 10-month nationwide inspection this month to spur local governments to control air pollutants. Severe penalties will be imposed on violators to ensure more blue-sky days.
The battle for blue skies, which first appeared in Premier Li's Government Work Report in March last year, is a priority for pollution control and government at all levels should strictly enforce laws to ensure its success, the premier said at Wednesday's meeting. The move should meet public expectation for blue skies and also the demand for basic heating, he said.
The premier said air pollution fundamentally arises from the economic structure and consumption models, and concerted efforts should be made to change the industrial structure. "Outdated production capacity must be eradicated," he said.
The premier said industrial restructuring should be accelerated and energy conservation industries should be fostered. Environmental protection industries have great potential in the Chinese market and advanced management experience should be learnt to help transform traditional industries, he said.
Li added that innovation should be used for environmental supervision and the public should be encouraged to report illegal actions.
Ma Jun, president of the Beijing-based Institute of Public & Environmental Affairs, said progress has been made over the past five years in air pollution control, but about 70 percent of the country's cities still don't meet the national level-II air quality standard.
For the Beijing-Tianjin-Hebei cluster and the Yangtze River Delta, battling regional pollution requires coordination by the central government and the State Council's decision means more efforts will be made in these areas for more blue-sky days, Ma said.
In the next stage, the key to air quality improvement will lie in restructuring energy consumption, industrial layout and transport means, Ma said. Measures at Wednesday's meeting pushed forward the restructuring, which can fundamentally cut overall pollution and reduce smoggy days, he said.
The change in energy structure depends on economic restructuring, when more energy-consuming and polluting industries are cut, Ma said. For example, steel and iron projects usually consume a large amount of coal, resulting in dust and emissions. The number of these projects should be controlled, he said.