Fresh vitality of old bond holds great promise: China Daily editorial
Share - WeChat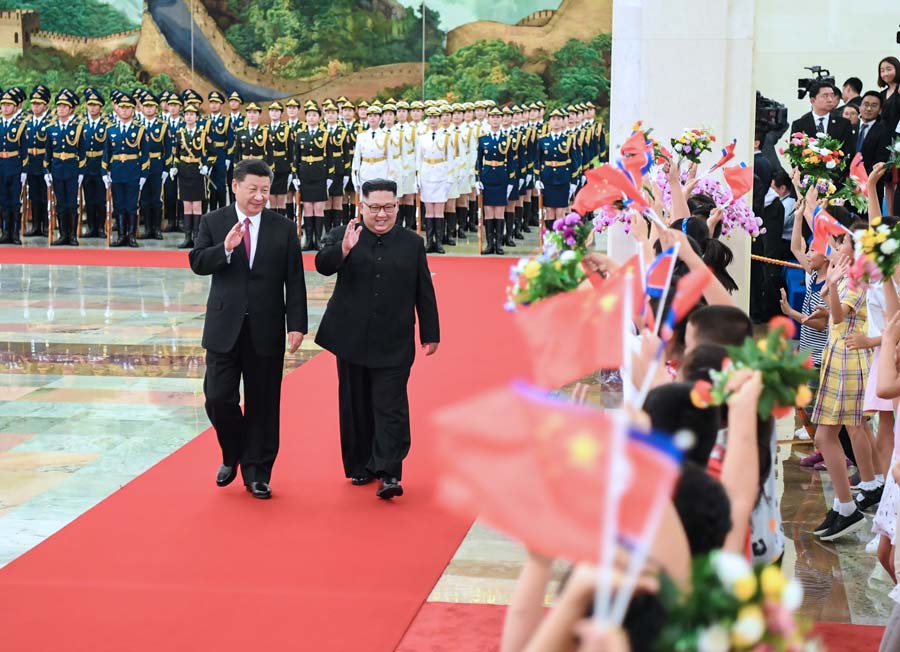 Since the Democratic People's Republic of Korea first began showing its commitment to improving relations with the Republic of Korea earlier this year, Beijing has thrown its weight behind Pyongyang's efforts to ease tensions on the Korean Peninsula and seek reconciliation with Seoul and Washington.
The third visit to China in less than three months by Kim Jong-un, top leader of the DPRK, is clear proof of the revitalized friendship between the two neighbors and the close communication between Kim and President Xi Jinping. It also underscores the coordination of Beijing and Pyongyang as they look to bolster the positive outcomes of Kim's meeting with US President Donald Trump in Singapore on June 12.
With the easing of situation on the Korean Peninsula having been effectively strengthened by the implementation of the consensus reached between Beijing and Pyongyang and the meeting between Kim and Trump in Singapore, maintaining the current desirable momentum was naturally high on the agenda for the latest talks between Xi and Kim.
Kim's two-day visit on Tuesday and Wednesday has once again highlighted the crucial role China has been playing as a mediator between the DPRK and the US, as well as the stake it has in regional stability and the denuclearization of the Korean Peninsula.
Looking forward, though, more still needs to be done to establish a lasting peace mechanism on the Korean Peninsula, and this requires all the parties involved to not only demonstrate political wisdom but also patience. The good relationship and communication Xi has with both Kim and Trump will hopefully be beneficial in this regard, by helping to ensure that Pyongyang and Washington remain on the same page.
Cooperative relations between China and the DPRK have radiated new vitality with their strengthened high-level communication. Kim's latest talks with Xi will have reassured him that China stands behind the DPRK as it switches its focus to economic development. Something that is clearly a priority for Kim, as he visited an agricultural technology park and rail traffic control center in Beijing on Wednesday.
The consolidation of the friendship between the two countries promises to be beneficial not only to themselves, but also the region. For if the joint efforts of the two longtime friends are reinforced by those of other stakeholders, the prospects for denuclearization of the Korean Peninsula and regional stability will be greater than they have ever been over the past more than 60 years.
Most Viewed in 24 Hours
China Views