Father sues Disney over child ticket
Share - WeChat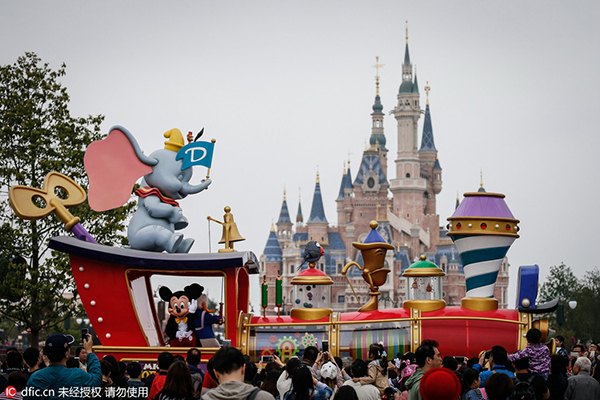 He claims Shanghai resort wrong to link price to height, not age
A Chinese father is suing Shanghai International Theme Park Co, co-owner of Shanghai Disney Resort, claiming the park refused to issue a discounted ticket to his 10-year-old child.
The father, Liu Demin, a judge at Guangdong High People's Court, took his child to Shanghai Disney in January. He said he purchased a parent-child package priced at 499 yuan ($76.80) online, but his son was refused entrance at the resort as his height exceeded the eligible maximum of 1.4 meters for a child pass. The father was told to purchase a full-price adult ticket for the child instead.
Under the park's rules, children whose height is between 1 and 1.4 meters are allowed to purchase children's tickets, which are priced at 299 yuan each on off-peak days and 431 yuan during holidays and weekends. Adults pay 399 yuan and 575 yuan, respectively.
"Is the child pass sold to children or to anyone below 1.4 meters tall?" Liu was quoted as saying by China Youth Daily. "I am upset by the park's unreasonable rules, which should be fairer, like the standards used at other Disney parks."
Disney parks in Hong Kong, Tokyo, Paris and the United States all use age rather than height as the standard for child tickets.
At Tokyo Disneyland, for example, child tickets are available to kids 4 to 11 years old. Kids under 4 enjoy free admission, while those aged 12 to 17 can purchase student tickets. Adult tickets are for people 18 and above.
At Hong Kong Disneyland, child tickets are for kids between 3 and 11. At Disneyland Resort in California, the age range is 3 to 9.
After Liu litigated the issue in Shanghai, a staff member of Shanghai International Theme Park contacted him in April to apologize and offered to refund his overpayment, hoping that he would withdraw the lawsuit.
Liu said he would not withdraw the suit unless Shanghai Disney revises the standards for child tickets and bases them on age rather than height.
Shanghai Disney is not alone in setting the standard for children tickets based on height, nor is Liu alone in demanding a change in the standard.
It has been a common practice for decades for tourist destinations, entertainment and education facilities across the country to charge children based on height, a practice that that has been challenged as it is considered unfair.
In a survey by China Youth Daily in April, 56.7 percent of nearly 2,000 interviewed parents said they disliked the current height standard used at most Chinese public places.
A majority of respondents thought age was an objective criterion and that height can be subjective.
The Law on the Protection of the Minors in China says that public places, including museums and zoos, must offer free admission to those under 18, or provide discounted tickets.
"However, it does not stipulate that the standard is to be based on age or height for the purchase of child tickets," said Tian Xiangxia, deputy secretary-general of the Shanghai Law Society's Institute of Minors Law.
"In any case, the eligibility to use child tickets should be grounded in the primary principle of protecting the rights of children in accordance with the United Nations Convention on the Rights of the Child.
"It is discrimination against children's interests that a kid less than 12 years old but taller than 1.4 meters should be forced to buy an adult ticket."