BYD opens battery plant in Qinghai
Share - WeChat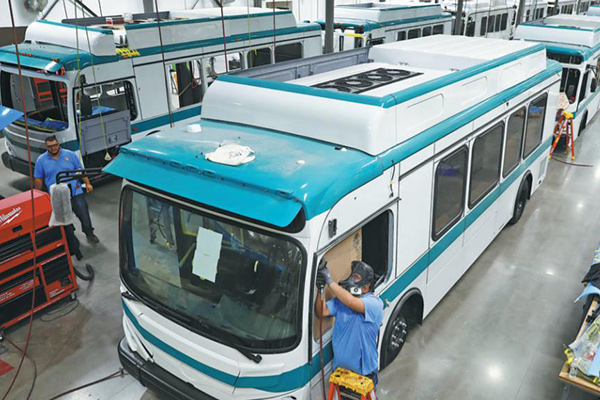 Chinese automaker BYD Co unveiled on Wednesday a new battery production plant for electric vehicles, and said the unit would be the largest of its kind in the world after it achieves full capacity in 2019.
The factory, located in western China's Qinghai province, will start full operation next year, with an annual capacity of 24 gigawatt-hours. Analysts expect the move by BYD to add fuel to the domestic burgeoning EV battery industry and zoom ahead of foreign counterparts.
Wang Chuanfu, chairman of the Shenzhen-based company, said at the launch ceremony, that the new energy automobile industry is expected to pick up more substantially, as governments the world over have issued a timeline to ban traditional fuel vehicles.
"The new factory owns world-class intelligent, automated and information technology," Wang said. "The entire process consists of nearly 100 robots, intelligent logistics system, and improved information management system."
The production line in Qinghai adds to BYD's current output of 16GWh. It is part of the company's long-term commitment to build a total capacity of 60GWh by 2020, with a 25 billion yuan ($3.78 billion) investment, said vice-president He Long.
"The majority of the new factory's output would be used for BYD's consumer and commercial vehicles," He said at the news conference. He added its capacity accounts for approximately 40 percent to 50 percent of the company's total.
According to He, the company may consider selling its products in the future to meet rising global demand, and is likely to compete with traditional battery behemoths.
Founded in 1995 as a pioneer in battery technology, BYD develops batteries for a broad range of applications-from cellphones and laptops to large-scale, grid-connected energy storage systems.
Fueling the ambition of the battery major is the government's push for electric vehicles, aiming to shift consumers away from internal combustion engines.
In the EV battery sector, other leading homegrown players include Contemporary Amperex Technology Co Ltd and Guoxuan High-Tech Co Ltd.
Zou Hui, an analyst at Orient Securities, said in a research note that Chinese companies are staying at the forefront of EV battery innovations, thanks to their improved technology strength and solid client base.