Is Guangzhou ready for its garbage regulation?
Share - WeChat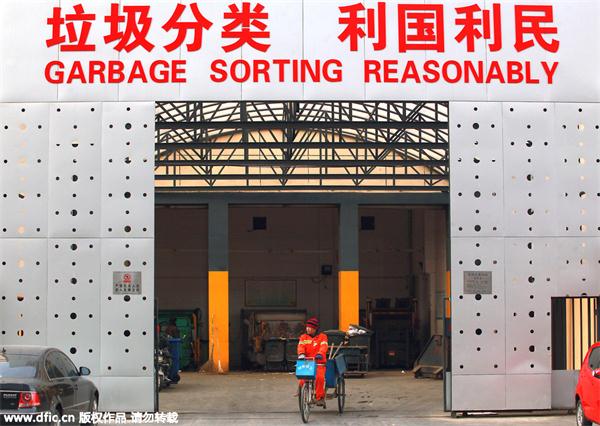 Guangzhou, capital of South China's Guangdong province, will implement a household garbage sorting regulation from July 1. Xinkuai Daily commented on Thursday:
Different from refuse sorting rules in other cities, Guangzhou's is compulsory, which means the law-enforcement departments can enact it by force, and some new practices are to be piloted to ensure the regulation is carried out.
For instance, residents will be charged according to the weight of different kinds of garbage they produce, and the public sanitation departments can refuse to collect unsorted refuse. There will be guidance to instruct the people how to avoid violating the regulation, which will result in fines of up to 200 yuan ($30.23) for individual lawbreakers and 50,000 yuan for residential units.
The authorities must make the use of the fines and charges transparent and make clear how the garbage sorting system works.
The city authorities can also explore the possibility of attracting social organizations to serve as a supervisor of the practice, while raising public awareness of the necessity and importance of household refuse sorting. People need to be encouraged to produce less waste and have more environmentally friendly lifestyles.
Experience from home and abroad shows that garbage classification requires the coordinated efforts of many parties, and it may take a long time to transform people's attitudes and life habits. But every effort in this regard is important.
It should be said that over the years, Guangzhou has actively explored the classification of domestic waste and accumulated some experience in the sorting, collection, transportation, and disposal of household garbage.
Guangzhou's implementation of compulsory domestic waste sorting by local residents has entered the final countdown. But since there has not been much of a fuss, one cannot help but wonder if all parties are fully prepared.
Most Viewed in 24 Hours
China Views