China would like to deepen cooperation with Mexico: FM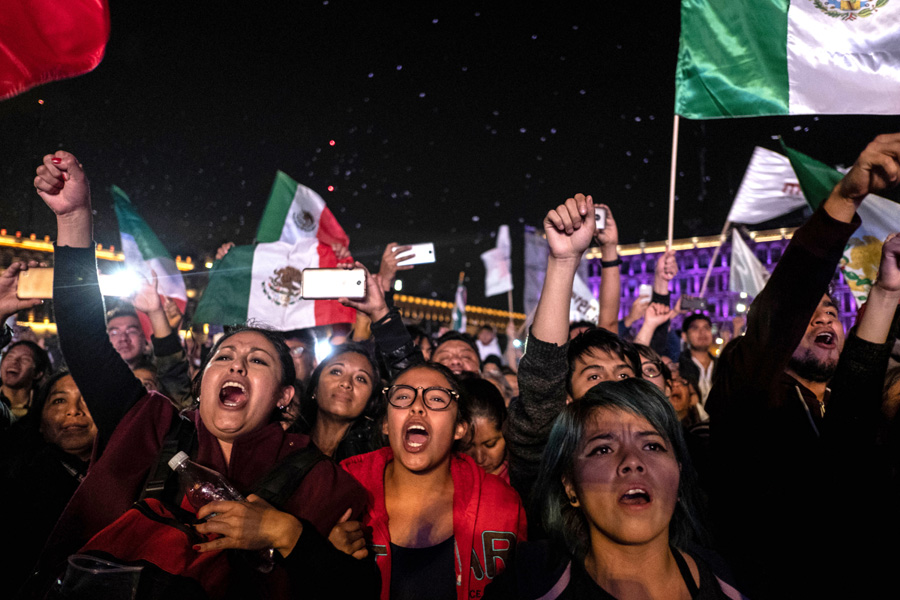 Left-wing candidate Andres Manuel Lopez Obrador claimed victory in Mexico's presidential election on Sunday, reflecting desire for change and reform.
The sharp-tongued, silver-haired politician known as "AMLO" won 53 percent of the vote, according to an official projection of the results.
It would be the biggest share of such a vote since the 1980s and give Lopez Obrador a platform both to address Mexico's internal problems and face external challenges.
It was the third time for Lopez Obrador, a former mayor of Mexico City, to bid for president. His victory makes him the first leftist president since 2000.
"Eradicating corruption and impunity will be the main task of our government," Lopez Obrador told supporters after the National Electoral Institute announced the results of a preliminary unofficial "rapid count" based on a sample of 5 percent of polling stations nationwide.
Lopez Obrador also vowed to fight against drugs, inequality and poverty.
Chinese Foreign Ministry spokesman Lu Kang on Monday congratulated Lopez Obrador. He said China believes that under his leadership, Mexico will continue making new achievements in national development and playing an important role in international and regional affairs.
China attaches great importance to the development of its ties with Mexico, and would like to work with the country to increase mutual trust, deepen cooperation, speed up national development, benefit the people of both countries and inject positive energy to the international community, he added.
Guo Cunhai, a researcher in Latin American studies at the Chinese Academy of Social Sciences, said China and Mexico have improved the bilateral relationships in the past several years with visits by top leaders and an increase in trade cooperation, while the deterioration of US-Mexico relations also seemed to push the two countries toward each other.
He said Lopez Obrador's success indicates that Mexicans are looking forward to a leader different from the past, although strong geopolitical and economic factors make the United States the largest diplomatic target of Mexico, regardless of which US president is in office.
"The Mexicans strongly called for reforms and changes as the government failed the public to solve the corruption, economic reform, drug and security issues," Guo said. "Especially US President Donald Trump's arrogance and pressure on Mexico seriously hurt Mexicans' feeling."
The president-elect will start his six-year term on Dec 1.
Trump said on Twitter: "I look very much forward to working with him. There is much to be done that will benefit both the United States and Mexico!"
However, Guo said the election result would have unpredictable impacts on Mexico-US relations.
"Trump is regarded as a right-wing populist, while Lopez Obrador is on the other side, and both show uncompromising posture by putting their own countries' interests first," he said. "Under such conditions, there may be very limited space to make a concession for the North American Free Trade Area or other controversial policies."
AP and Xinhua contributed to this story.