US will feel the blowback from its trade extortion: China Daily editorial
Share - WeChat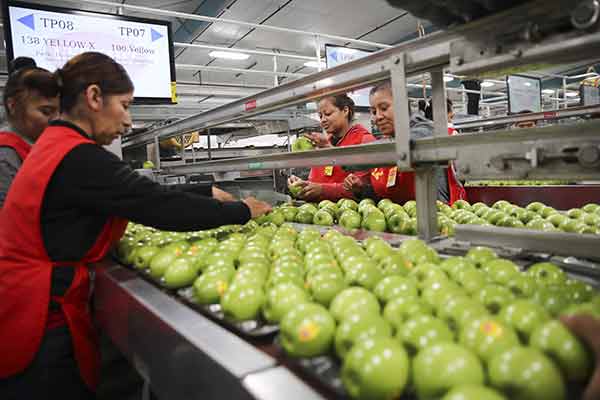 Although the World Trade Organization did not name any particular country, its warning that trade barriers are damaging the global economy and that the effects are already apparent should be heeded by the United States.
While the objective of the Donald Trump administration's protectionism is to reverse the relative economic decline of the US and benefit selected domestic industries and workers in the US, it will not achieve those aims. Instead, the effect will be rising prices in the US, which in turn will affect the balance sheets of many US companies operating in China, since they account for a large proportion of China's exports to the US.
In effect, the Trump administration is behaving like a gang of hoodlums with its shakedown of other countries, particularly China, and its unruliness looks set to have a profoundly damaging impact on the global economic landscape in the coming decades, unless countries stand together to oppose it.
China, which is in the crosshairs of the Trump administration's racketeering gun sights, has no choice but to fight back. While it has endeavored to avoid confrontation by engaging in sincere dialogue with the US in recent months, that earnestness has not been reciprocated. And there should be no doubting Beijing's resolve, it will not give in to blackmail and will not falter from its staunch defense of free trade and the multilateral trading system.
The road for China to grow into this role as a key part of the global economic system in the past decades has not been smooth. But it has shown its resilience before and it is capable of coping with the current US-initiated trade challenge this time; indeed it will emerge stronger from the test.
A predecessor of Trump once professed that he had one yardstick by which he tested every major problem: Is it good for the US?
The Trump administration may hope to keep "America first" with its attempts at extorting concessions in its favor, but its pursuit of economic hegemony is unlikely to prove good for the US.
The trade actions initiated by the Trump administration will not only harm China's economy, but also that of the US — not only as a result of reciprocal actions by China but also because of the damage done to the international supply chains by the US trade blows, since these also support the US economy.
While tariffs can be swiftly rolled back, Washington would do well to bear in mind these links will be harder to fix.
Most Viewed in 24 Hours
China Views