Gold in the old
Share - WeChat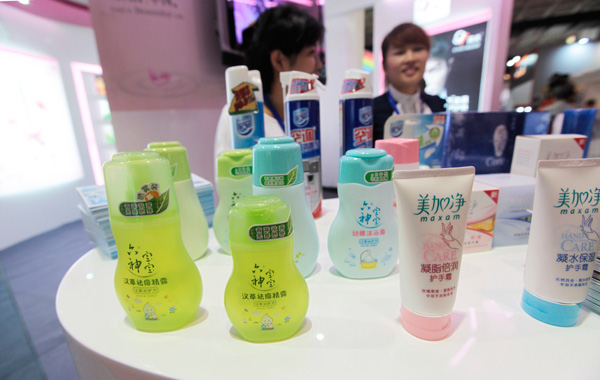 Local e-commerce firms reinvigorate the never-say-die spirit of China's time-honored but struggling brands
China's oldest, much-loved brands, which seemed set to die a natural death not long ago due to the onslaught of e-commerce and modern competitors, may yet survive and thrive again.
Paradoxically, their resurrection is being enabled by e-commerce giants.
The "618" online shopping gala, organized on June 18 by JD, China's second-largest e-marketplace, is the latest example.
Known as laozihao (Chinese for old brands or logos), they are typically associated with products like snacks, soap and china. They exude a sense of history-old-timers get all nostalgic and sentimental about them.
The 618 event, which is in the mold of Alibaba's "11-11"or "Double Eleven" Singles Day e-commerce festival, rode that brand equity by offering coupons, discounts and "red packets" (hongbao).
The festival presented time-honored Chinese brands a rare opportunity to connect with the younger generation among domestic consumers. Connect they did, using creative strategies like launching new products that were essentially brand extensions.
In the process, JD laughed all the way to the bank, clocking 159.2 billion yuan ($23.9 billion) in sales on a single day.
That shows there is still a lot of gold in the old, market observers said.
For instance, Jahwa, a 120-year-old cosmetics brand based in Shanghai, partnered with bottled cocktail brand Rio to launch an exclusive 618 cocktail.
Infused with the fragrance of Six God Floral Water, arguably China's most popular mosquito repellent made by Jahwa, the cocktail managed to sell out all of its 5,000 limited-edition bottles within 17 seconds of their launch on JD on June 18.
What's more, an empty bottle of the 618 cocktail sold for as high as 400 yuan in an online auction, almost 40 times the price of the traditional fragrance.
Similarly, Fulinmen, China's leading soybean oil maker, launched a makeup cleansing oil during 618. Its label's image contained hundreds of fonts of Chinese character "Fu", which means blessing and was traditionally used only by the monarch in olden times.
Snack chain Zhou Heiya, which originated in Wuhan, capital of Hubei province, offered its patrons a new brand of lipstick in three hues. The lipstick promised to leave a lasting red tinge, resembling the tell-tale sign of having savored spicy hot duck-necks, Zhou Heiya's signature snack.
"These clever brand extensions weren't about sales but all about reigniting the passion for old brands among young consumers," said Yin Jie, a brand consultant with the China Council for Brand Development.
"Also, this might well be the last chance for these old brands to get back to the center stage of the domestic retail landscape and reconnect with their target consumers, who grew up using their products."
In Yin's view, China's old brands are facing a "do or die" moment.
The Ministry of Commerce defines laozihao as businesses established before 1956 that make distinctive products or offer services or technologies of historical or cultural value. In the 1950s, China boasted more than 16,000 laozihao.
But now, there are just 1,128 MOC-certified laozihao. Their average age is 140 years. The oldest among them is Huang Gu Lin Artware of Ningbo, Zhejiang province; it is known for its bamboo and straw plaited beddings, which date back to more than 1,300 years.
Not all of them are profitable businesses now. In fact, only one-third of them earn a profit. The rest have either fallen upon hard times or are on the brink of bankruptcy.
In May, the State Administration of Market Regulation and the China Council for Brand Development jointly released a list of 100 most valuable Chinese brands of 2018. Their total value was estimated at over 5 trillion yuan. Only one laozihao, Tsingtao Brewery, dating back to 1903, figured among the 100, at the 41st place in the list. The Tsingtao beer brand's valuation is an estimated 42.4 billion yuan.
"The fact that most of laozihao are State-owned has somehow shadowed their performance," said Fan Yiping, secretary-general of the laozihao association in Guangdong province, which is a thick cluster of old brands.
Fan explained these brands, like an obsolete ship, are likely to be dragged down by intensified competition from Western companies, soaring rental and labor costs, and the shifting interest of impatient consumers, to name just a few factors.
In April, for example, six laozihao were asked to leave the shopping compound at Qianmen Street in Beijing, one of the most popular tourist destinations in the capital city that receives around 54 million visitors every year. The unfortunate brands, known for their snacks or canvas shoes, have been a regular fixture at the compound for about a decade.
The compound operator later said, "We can't always count on government subsidy to keep these brands alive. They should get creative to survive and thrive in a competitive market. Maybe, they should explore partnerships with e-commerce firms to keep their sinking ship afloat."
In May, the municipal government of Tianjin signed an agreement with China's e-commerce giant Alibaba to throw a lifeline to struggling old brands. A dozen laozihao, mostly from the food and beverage industry, were promised a boost on e-commerce platforms and at offline New Retail outposts of Alibaba.
Tianjin's famous mahua (fried dough twist), jianbing (Chinese pancake) and goubuli (steamed buns) are among the beneficiaries.
Tianjin's initiative is part of the Tianzihao project by Alibaba's Tmall, an e-marketplace of established brands and retailers. Tianzihao was launched last Septmeber, and has so far covered half of MOC-certified laozihao.
For its part, JD vowed in January to include around 500 national laozihao and 1,000 local old brands on its website and app by the end of this year.
JD said it is also committed to not only stocking laozihao as an online retailer but partnering in services like marketing, logistics, product development by using big data about consumers.
JD's dream is to enable at least one laozihao to reach 1 billion yuan in annual sales in three years, and another 10 old brands to clock 100 million yuan in annual sales, said Feng Yi, president of the e-commerce platform's consumer goods department.