Sichuan, Gansu bear brunt of deadly floods
Share - WeChat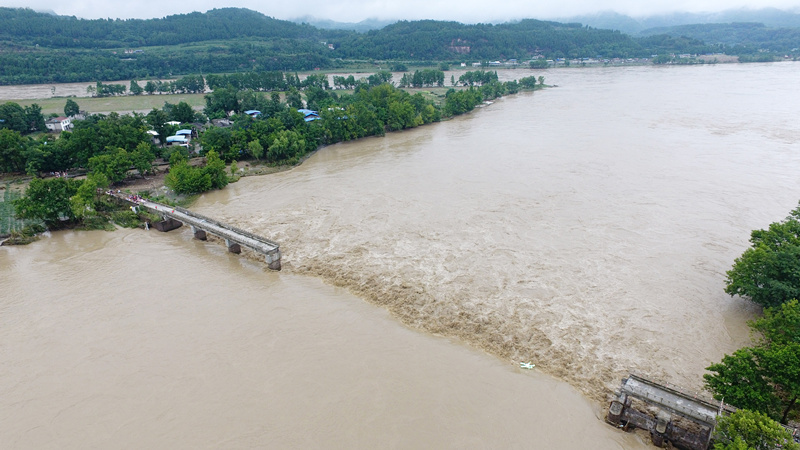 Rain-induced floods have killed three people and affected 932,000 in 62 cities, districts and counties in Sichuan province, with direct economic losses amounting to 2.4 billion yuan ($360 million).
Gansu province was hit even harder, according to the Ministry of Emergency Management.
The floods, caused by heavy rainfall that started on Saturday, have toppled more than 600 homes, damaged nearly 8,800 dwellings and triggered the evacuation of 101,000 people in Sichuan. A total of 36,900 hectares of crops have been affected by the floods and 5,200 hectares will have no harvest this year, the ministry said.
In addition, 12 people have died in neighboring Gansu province, four have gone missing and more than 1 million people in 44 cities, districts and counties have been affected by flooding that started on Saturday. Direct economic losses there are estimated at more than 1.4 billion yuan so far.
More than 1,200 houses collapsed, some 7,700 houses were damaged and 27,000 people were evacuated, the ministry said.
On Thursday, the ministry sent work groups involved in disaster relief, firefighting, geological hazard management and production safety to Sichuan.
The Ministry of Finance and Ministry of Emergency Management allocated 180 million yuan in subsidies to Fujian, Zhejiang and Jiangxi provinces on Thursday.
The money will be used to evacuate people affected by typhoon Maria in Fujian and Zhejiang provinces and people affected by rain-induced floods in Jiangxi province, to serve as living allowances for people affected by the disasters in the three provinces, and to rebuild their toppled and damaged houses.
Combining efforts with the National Disaster Reduction Commission, the Emergency Management Ministry sent work groups to the three provinces to assist in disaster relief.
Since the flood season started on May 1, precipitation in Sichuan, which is situated in the upper reaches of the Yangtze River, has been 40 percent above average, the provincial flood control and drought relief headquarters said.
The headquarters organized emergency response teams on Wednesday afternoon and worked with reservoirs in the upper reaches of the river to reduce the pressure that floods have brought to Chongqing municipality and southwestern Sichuan.
So far, around 52,000 Chongqing residents affected by floods have been relocated to safer places.
The water level in 27 sections of the Dadu, Fujiang, Minjiang, Jialing, Tuojiang and Yalong rivers has exceeded the warning line.
On Wednesday morning, China Railway Chengdu Group Co put heavily loaded cars on the Fujiang River Railway Bridge to stabilize it.
Five hours later, the floods receded and the bridge stood firm, said Xia Yongjing, an information officer with the company.
A thunderstorm lasting from 10 pm on Tuesday to 3 am on Wednesday stranded nearly 10,000 passengers in the Shuangliu International Airport in Chengdu, Sichuan.