No quick fix to US-Russia differences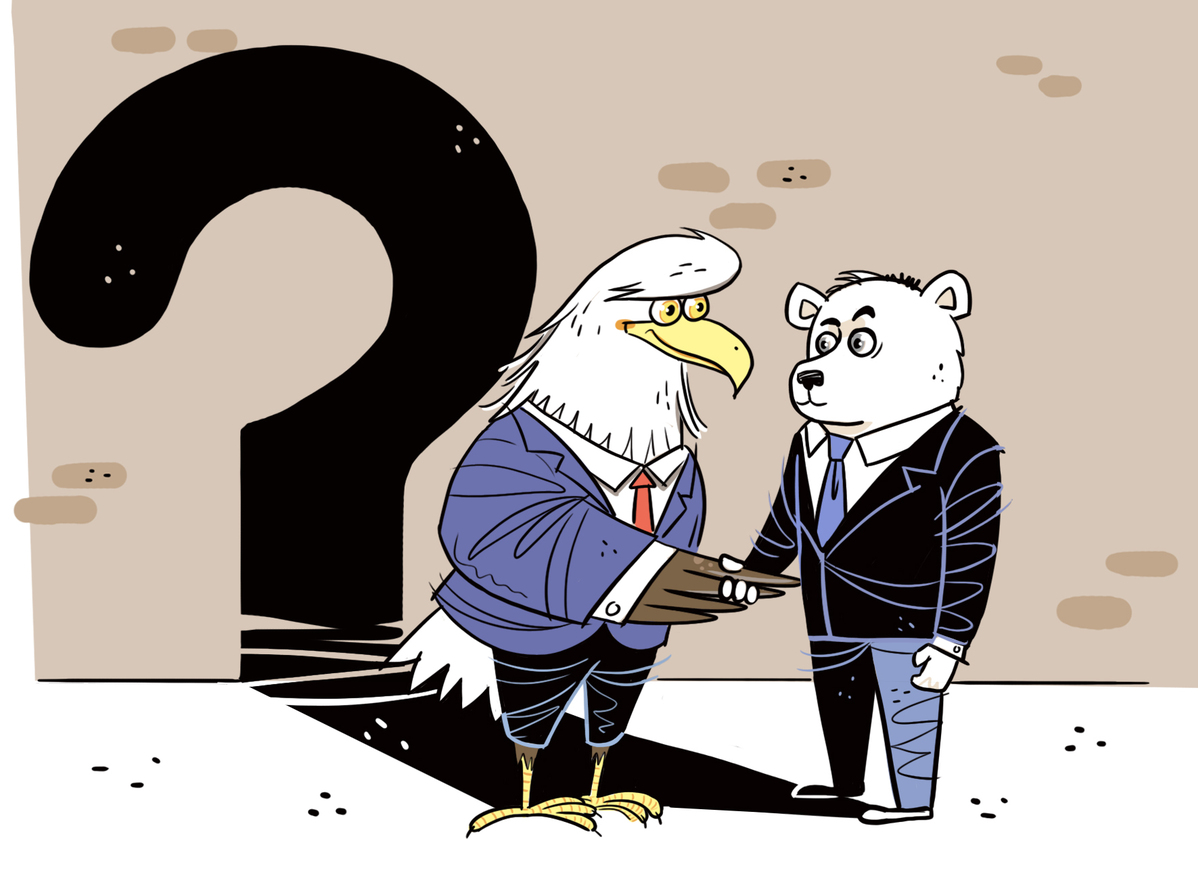 Editor's note: US President Donald Trump initially said his summit meeting with Russian President Vladimir Putin in Helsinki, capital of Finland, on Monday was a "success". But under tremendous domestic pressure, a day later he reversed his denial of Russian meddling in the 2016 US election. Two experts share their views on US-Russia relations with China Daily's Pan Yixuan. Excerpts follow:
Leaders' pursuit may hit roadblock

Despite the US and Russia improving their strategic preparedness, especially for warfare in cyberspace, and information and intelligence fields, they will try to limit such activities so as not to spark a real confrontation, as it would result in huge losses to not only the two countries but also the whole world.
Even then Putin and Trump need to hold more talks for their domestic political benefits. Russia needs to coax the US (and the European Union) to lift the strict sanctions so it can enhance its economic growth. In fact, Putin's meeting with Trump has already raised the profile of Russia as a major power, and it is an added bonus to Putin following Russia's successful hosting of the 2018 Football World Cup.
Trump has been grappling with a scandal: that alleged Russian interference helped him to win the 2016 presidential election. Perhaps he wanted a one-on-one meeting with Putin to refute once and for all the claims of Russian involvement in the election. And perhaps he thought a summit with Putin, ostensibly to improve US-Russia ties, would add to his diplomatic achievements after his historic meeting with Kim Jong-un, the top leader of the Democratic People's Republic of Korea, last month.
At his joint news conference with Trump, Putin trashed the charges of Russia meddling in the US election, and Trump termed it a "powerful denial". Besides, Trump claimed that he met with Putin despite the dissent wave in the US because he "would rather take a political risk in pursuit of peace than to risk peace in pursuit of politics".
No political observer expected the summit to yield remarkable results, and no statement of substantial achievements was issued. Yet Trump and Putin both said they had reached wide agreements on issues such as international security, regional crises, terrorism, economy, technology and the environment.
But despite the two leaders saying they discussed the possibility of further high-level talks, their efforts to improve US-Russia ties may hit roadblocks.
To begin with, a couple of days before the Helsinki summit, US special counsel Robert Mueller indicted 12 Russian military intelligence officers for hacking the emails of Democrat presidential candidate Hillary Clinton and the Democratic Party and releasing thousands of private conversations as part of Moscow's conspiracy to meddle in the 2016 election. Following the meeting, Trump has drawn sharp criticism in the US, with many accusing him of siding with Russia instead of his own country.
And on Tuesday came Trump's reversal: he claimed to have been tripped by a double negative, and explained he meant to say "wouldn't" when he said "I don't see any reason why it would" be Russia that interfered in the US election.
Such factors these could worsen Washington-Moscow relations. And even though Trump and Putin reached agreements on how to improve bilateral ties and "deepen" cooperation, it will be difficult for Trump to do so given the reactions of the people and political leaders in the US.
Feng Yujun, head of the Research Center of Regional Studies of Russia and Central Asia and vice-dean of the Institute of International Studies, Fudan University
Most Viewed in 24 Hours
China Views