Advanced rescue ship planned
Share - WeChat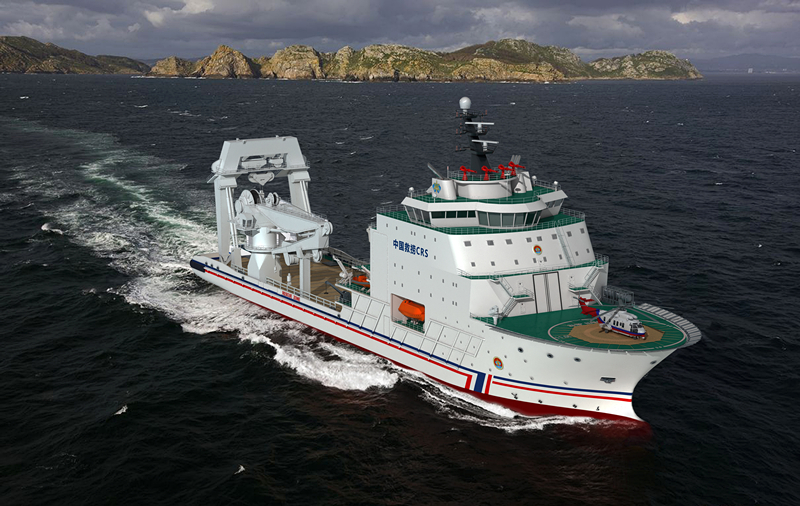 Primary task will involve search operations in the South China Sea
China State Shipbuilding Corp is designing what it says is the world's most advanced rescue ship, and plans to commission it around 2021.
The State-owned shipbuilder's Shanghai Merchant Ship Design and Research Institute said in a statement that the ship, which has yet to be named, will be tasked with conducting search-and-rescue operations in the South China Sea with the Transport Ministry's Nanhai Rescue Bureau.
It will be powered by two 7,000-kilowatt engines and have a displacement of more than 16,000 metric tons. It will be 133 meters long and 26 meters wide, making it the heaviest and largest of its kind in China.
It will be capable of sailing nearly 30,000 kilometers or operating 90 days in a single operation without needing to reach port or receive supplies, the institute said, adding that the ship's cruising speed will be 17.5 knots, or 32 kilometers per hour.
The vessel will be able to conduct search, rescue and salvage tasks for ships, aircraft and submarines in very tough conditions, as it can withstand typhoons as strong as 12 on the Beaufort scale, the statement said.
In addition to rescue and salvage operations, the ship can also be used to tow disabled ships, monitor oil spills, perform deep-water scanning and surveys, extinguish fires or ferry supplies to vessels in emergencies.
Shi Gongqian, the ship's project manager, said the craft is designed to carry 30 crew members and up to 90 search-and-rescue personnel, and it will be capable of accommodating as many as 200 people rescued from disasters.
"The ship will be able to operate independently in any ocean worldwide," he said. "It will have cutting-edge equipment such as rescue submersibles that can dive 300 meters below the surface and remotely operated underwater vehicles or autonomous underwater vehicles capable of reaching a depth of 6,000 meters."
He added that it will also have a landing pad to handle large helicopters.
A ship-mounted crane will be able to salvage capsized vessels or wrecks as heavy as 350 metric tons, Shi said. Moreover, the ship will be equipped with medical facilities, such as operating rooms.
"Once the ship is put into service, it will strongly improve our country's maritime search-and-rescue capability and offer better services to any party that uses the South China Sea for peaceful, civilian purposes," he said.
According to the 2017 Report on Navigation in the South China Sea, which was published in June by the China Institute of Navigation and Shanghai Maritime University, the South China Sea is one of the busiest waterways in the world and is crucial to the global shipping industry. Nearly 8,000 large ships passed through the sea every month in 2017.
China has been an active contributor when it comes to search missions and saving lives at sea. Figures from the Nanhai Rescue Bureau show that from June 2003, when the bureau was founded, until January this year, it carried out 4,136 rescue operations in which 1,136 ships and 17,322 people were saved.
zhaolei@chinadaily.com.cn