Cooperating to encourage global trade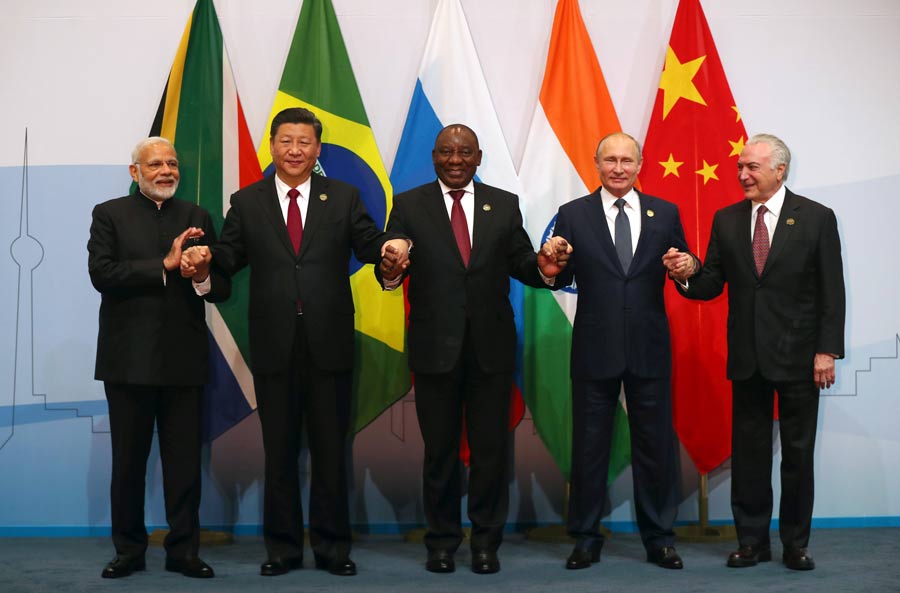 In view of great trade uncertainties facing the global economic landscape, the role of BRICS countries-Brazil, Russia, India, China and South Africa-in sustaining international trade is of paramount importance. It can be safely assumed that BRICS and other multilateral groupings such as the G20 and the World Trade Organization will continue to foster international trade despite the uncertainties arising from the actions of the Donald Trump administration.
This comes as finance ministers and central bank governors from the world's 20 largest economies called for the heightening of bilateral and multilateral discussions to prevent trade and geopolitical tensions from hurting global growth. This happens at a time when the United States and China, the world's two largest economies, don't see eye to eye on a host of trade and trade-related issues.
All the BRICS member countries agreed during the G20 meeting of finance ministers to strengthen multilateral cooperation and uphold economic globalization. Close cooperation between BRICS member states and other emerging and developing countries from the South such as Mexico and Turkey will likely continue to boost global trade, because their growth and that of the global economy rely on active trade interactions and they all oppose protectionist policies. This is because more and more economies, primarily those from the North such as the European Union, Canada and Japan understand that sustainable growth rests on international trade flows.
The BRICS countries could play a bigger role in encouraging global trade, by fostering cooperation between themselves and the economies in their regions.
The net contribution of BRICS member states to the global trade turnover has nearly tripled since Jim O'Neill, former chairman of Goldman Sachs Asset Management, coined the term "BRIC" in 2001. This indicates the growing role BRICS has been playing in international trade flows.
The rising contributions of BRICS countries to global trade flows are evidence of the increasing role the group is playing in international trade. And BRICS will continue making greater contributions to and encouraging international trade given that the group itself was founded on the principle of multilateralism and global cooperation, and all its member states are committed to building an economically prosperous and stable world.
BRICS is also a bloc of the most prominent emerging economies whose economic and political influence in world affairs is growing and it has a strong desire for promoting infrastructure and sustainable development projects within the bloc as well as in other emerging and developing countries.
The author is a research assistant at the Institute for Global Dialogue associated with the University of South Africa. The author contributed this article to China Watch, a think tank powered by China Daily.