Cui: Can't let China-US relations 'fail'
Share - WeChat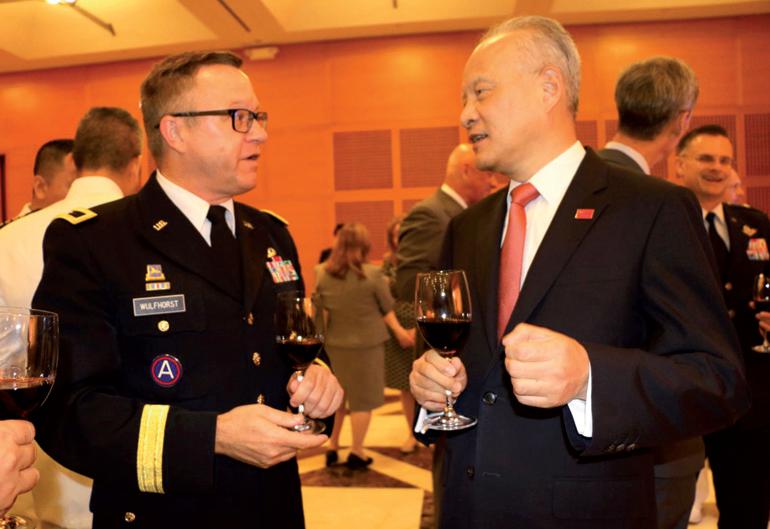 Nearly 40 years after forging diplomatic ties, China and the US have a "historical" responsibility to get their relationship right, Chinese Ambassador to the US Cui Tiankai said on Monday.
"Cooperation is the only right choice that our two countries should make," Cui said. "What the interests of our two peoples have put on us is the historical responsibilities to get the China-US relationship right, not the liberty for anyone to make it fail."
The envoy made the remarks at a reception in Washington to mark the 91st anniversary of the founding of the People's Liberation Army of China, which falls on Aug 1.
Speaking to a gathering of 500 guests including US brigadier generals Kevin Wulfhorst and Robert Spalding, Cui said that China and the US had fought shoulder to shoulder in the World Anti-Fascist War.
Today the two countries have "increasing needs" for cooperation in promoting strong global economic growth, improving international economic governance, responding to numerous global challenges, combating terrorism and maintaining international peace and stability, Cui said.
As to US-China military exchange, Cui said that following US Secretary of Defense James Mattis's visit to Beijing in June, China's State Councilor and Defense Minister Wei Fenghe and Commander of the PLA Navy Shen Jinlong will visit the US in the second half of this year.
China's strategic goal is to develop itself rather than to challenge anyone else, Cui said, in an apparent response to recent rhetoric by the Trump administration that claims China is a kind of "revisionist country" trying to challenge international rules.
"China has no intention to challenge the international standing and interests of any other country or the existing international order and system," the ambassador said.
Rather, China offers the world "unprecedented opportunities" and opens up the prospects of jointly building a community with a shared future for mankind.
"Anyone without biases shall see this very clearly," Cui said.
It is "only natural" for China and the US to compete in some areas, which is nothing unusual in international relations, according to Cui.
The world's top two economies are embroiled in a dispute intensified by a fresh round of tariff threats from the US, following penalizing duties it started to impose on $34 billion worth of Chinese imports on July 6. A public hearing proposing tariffs on another $16 billion worth of Chinese exports was held last week.
"Our two sides need to promote cooperation through competition and achieve win-win results from cooperation. Only in this way can the interests of both countries be best served and can we honor our responsibilities to the whole world," Cui said.
Ralph Winnie Jr., director of Eurasia Center's China Program, said Cui "set the right tone" in his speech.
"The most important thing is to get everybody to the table and start having a dialogue to promote free and fair trade between the US and China," said Winnie, who is also vice-president of the Eurasian Business Coalition's Global Business Development.
"I think people-to-people exchanges and relationships are so important. I'm very confident that both the US and China want to see strong relationships between the two countries," he said.
Contact the writers at huanxinzhao@chinadailyusa.com