Heineken to buy stake in CR Beer
Share - WeChat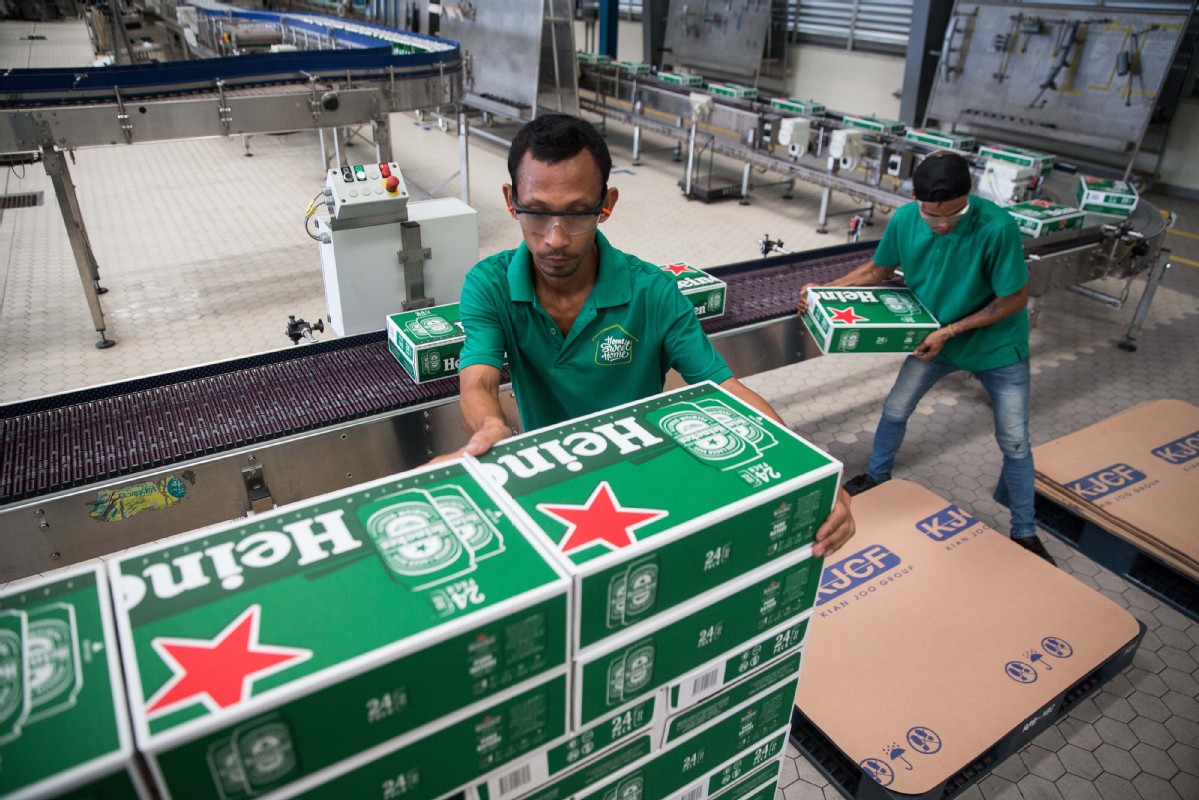 Companies team up to tap growing demand for premium beverages
China Resources Beer Co Ltd, the largest brewer in the country and the maker of the best-selling Snow Beer brand, has signed an agreement with Dutch premium brewer Heineken NV to further develop the high-end beer market in China.
Amsterdam-based Heineken, the second-largest brewer worldwide, will acquire 40 percent stake in CR Beer for HK$24.35 billion ($3.1 billion), and Heineken will have greater access to the network of China's premium beer segments and better understanding of the Chinese market, according to a statement from CR Beer on Friday.
Heineken will license its brand trademark in the Chinese mainland, Hong Kong and Macao to CR Beer, and integrate its China operations with that of CR Beer, according to the statement.
Meanwhile, China Resources Enterprise Ltd, the owner of CR Beer, which focuses on three business segments, beer, food and beverages, will buy 0.9 percent of Heineken shares with 463.63 million euros ($537.5 million).
CR Beer said with the help of Heineken's global distribution network, the company will be able to speed up the growth of Snow Beer and other brands in overseas markets, and the deal will provide important long-term strategies and opportunities for expansion in the high-end beer market, the statement said.
CR Beer has been looking to further expand in the high-end segment with new products and rebranding, so as to cater to the demands of young consumers and keep pace with the changing market dynamics.
Shares of Hong Kong-listed CR Beer closed 0.99 percent lower at HK$35.1 per share on Friday, with a peak of HK$39.15 during the day's trading.
Last year, CR Beer achieved sales revenue of 30.24 billion yuan ($4.4 billion), adding 3.5 percent year-on-year. Its net profit reached 1.18 billion yuan, jumping 86.8 percent over the previous year, according to its earnings report.
CR Beer accounts for 25.6 percent of China's beer market, making up the largest market share. About 10 percent of the beer market in China is the high-end segment, industry reports said.
Heineken, which entered Chinese mainland market in 1983, now mainly sells its premium lagers Heineken and Tiger. It has a smaller market share in the country than its peer Budweiser, which is owned by ABInBev.
Jacco van der Linden, managing director of Heineken China, earlier said that Heineken sees significant growth potential for its products in China, fueled by a growing demand for high-end products from younger Chinese consumers who pursue high-quality lifestyles.
"With the increase of disposable income, Chinese consumers have higher requirements on the quality of beer. The domestic beer market now faces fierce competition, with severe homogeneity of products, and the products available in the market lag behind consumers' demand for diversification and high-quality products," said Neil Wang, president of consulting company Frost & Sullivan in China.
"The domestic beer industry has entered a bottleneck period. In recent years, the sales growth of high-end beer is higher than traditional beer, and many international beer brands have accelerated their steps to expand in the China market, indicating that the future of China's beer market will develop with a high-end trend."