PepsiCo powers up its China food presence
Share - WeChat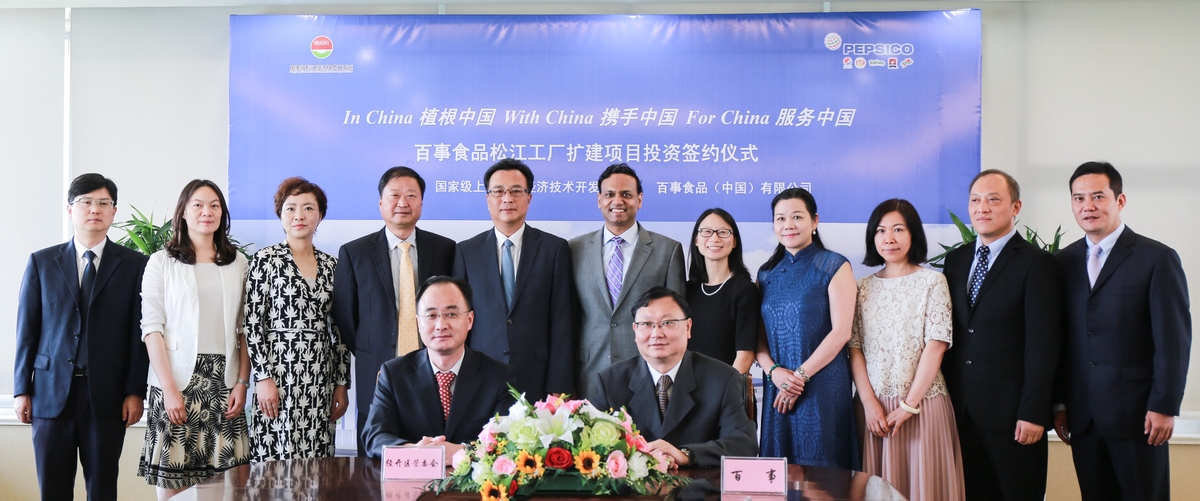 PepsiCo highlighted its strong and growing presence in China, announcing plans at the start of the month to invest $100 million to expand and transform its Shanghai Songjiang Foods plant.
The investment will establish new manufacturing lines and introduce advanced packaging and warehouse technologies to expand and fully modernize the factory.
The move reflects PepsiCo's continued and long-standing commitment to the Chinese market, according to the company.
"China is one of the top global markets driving PepsiCo's growth," said Ram Krishnan, president and CEO of PepsiCo Greater China Region.
Krishnan said that through active expansion, the company's foods business had achieved "remarkable results" over the past 20 years.
"This additional capital investment in our Songjiang plant reflects not only our 'In China, For China, With China' commitment, but also represents PepsiCo's continuous investment that is based on the changing local needs," he added.
The Songjiang plant opened in 1998. In the past 20 plus years, the drinks manufacturer said the facility has contributed positively to the economic development of Songjiang district.
With this additional investment, PepsiCo will build a two-storied packaging workshop and a major warehouse.
The new warehouse will use advanced automatic packaging and warehousing technologies.
On completion, the Songjiang plant will boost PepsiCo's potato chips production capacity, to meet ever-increasing demand from Chinese consumers, the company said.
With its expansion and transformation, the plant is expected to create around 370 jobs directly as well as thousands of indirect job openings elsewhere, it added.
"PepsiCo will continue to make great efforts in its China operations, striving to contribute more to the sustainable development of China," Krishnan said.
As one of the first multinational companies to enter China, PepsiCo has been operating in the country for 37 years.
In 1981, PepsiCo established its first bottling plant in Shenzhen, Guangdong province, starting its investment journey in the country.
Together with its business partners, PepsiCo has invested over 48 billion yuan ($7 billion) in China over the last 10-plus years, creating more than 100,000 direct and indirect jobs.
In 1993, PepsiCo Foods entered the China market with the introduction of Lay's potato chips.
Since then, PepsiCo's food business has grown into seven foods plants, six large-scale modern potato farms and 10 cooperation farms in China.
The company said that at the same time, its food business has been providing support for he sustainable development of China's agricultural sector.
More than 10,000 farmers benefited from PepsiCo's agri-business in China over the past 10 years, the company added.
In September 2011, PepsiCo GCR signed a memorandum of understanding with the then Ministry of Agriculture — since renamed the Ministry of Agriculture and Rural Affairs — to promote sustainable agricultural projects and accelerate the development rural China.
As part of the joint initiative, the ministry and the company committed to building and operating sustainable demonstration farms, utilizing advanced irrigation, fertilization and crop management techniques.
Through the collaboration, both sides aim to promote best practice among potato plantations across China's farming system, to improve yields and increase income levels for farmers throughout the country.
From 2013 to 2016, the two parties jointly held training sessions on sustainable agricultural development of the potato and management of farms in the Inner Mongolia autonomous region.
Experts from PepsiCo offered training to nearly 100 agricultural professionals from over 10 provinces and regions in China to promote the sustainable development of potato cultivation.
PepsiCo also shared its best practice in global modern farm management — to help increase the quality and efficiency of potato production, accelerate agricultural modernization and improve management skills for agriculture in China.
Those attending the additional capital investment signing ceremony in Shanghai on Aug 2 included Chen Xiaofeng, deputy head of Shanghai Songjiang district and director of the Administrative Committee of the national-level Songjiang Economic and Technological Development Zone.
Others in attendance included Yuan Qiukun, secretary of the Party working committee of the zone's administrative committee and Gu Jun, deputy director of the administration committee, together with PepsiCo GCR President Ram Krishnan and Bob Shi, supply chain vice-president of PepsiCo GCR.