Politicians seek tariff relief for fishing industry
Share - WeChat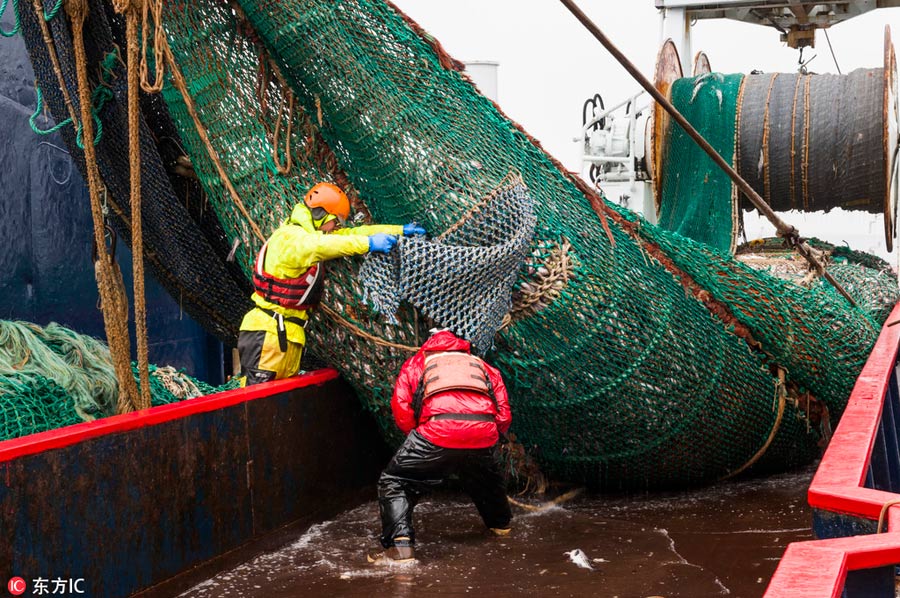 On the heels of US President Donald Trump's $12 billion aid package to help American farmers who may suffer losses in the tariff dispute with China, several members in the US House of Representatives are backing a plan to help fishermen and the fishing industry.
Representative Seth Moulton, Democrat from Massachusetts, introduced a bill to amend the Magnuson-Stevens Fishery Conservation and Management Act, which governs marine fisheries management in US federal waters. The House approved a reauthorization of Magnuson-Stevens last month.
The bill introduced by Moulton would provide disaster relief for fisheries due to certain tariffs imposed by other countries, and for other purposes.
Co-sponsors of the bill, introduced on July 25, are all Democrats and include representatives Chellie Pingree of Maine, Stephen Lynch and William Keating, both of Massachusetts, Jared Huffman of California and Raul Grijalva of Arizona.
"It was introduced on the day before the Congress adjourned for August recess, so not yet," said Pingree spokeswoman Victoria Bonney in an email on getting support from Republicans for the legislation. Republicans control the House and the Senate.
"Farmers haven't been the only ones to suffer the consequences of the Trump administration's sloppy trade actions. And while I'm glad that USDA (US Department of Agriculture) will offer aid to agricultural producers, the government needs to step up for others who have been harmed - especially fishermen," Pingree said in a statement.
Pingree said she has heard mostly from Maine's lobster industry.
"They've been concerned about these tariffs for months and have weighed in with our office about the impact. For companies that do large contracts with Asian markets, it is a big concern, and Congresswoman Pingree is very worried about impacts throughout the supply chain," said Bonney.
China's tariff on lobsters was launched in response to US tariffs on Chinese goods. Chinese buyers can get the same species from Canadian harvesters with only a 7 percent tariff.
Jeff Bennett, an analyst at the Maine International Trade Center, said Maine sold at least $57 million worth of lobster to China last year.
The Maine Lobster Dealers' Association says that lobster is the state's second-largest export to China. It estimates the loss of revenue at $60 million. There are about 4,500 licensed lobstermen and distributors in Maine, with an additional 10,000 workers in the industry, according to the association.
Contact the writer at paulwelitzkin@chinadailyusa.com