AI tech boosting smart agriculture
Share - WeChat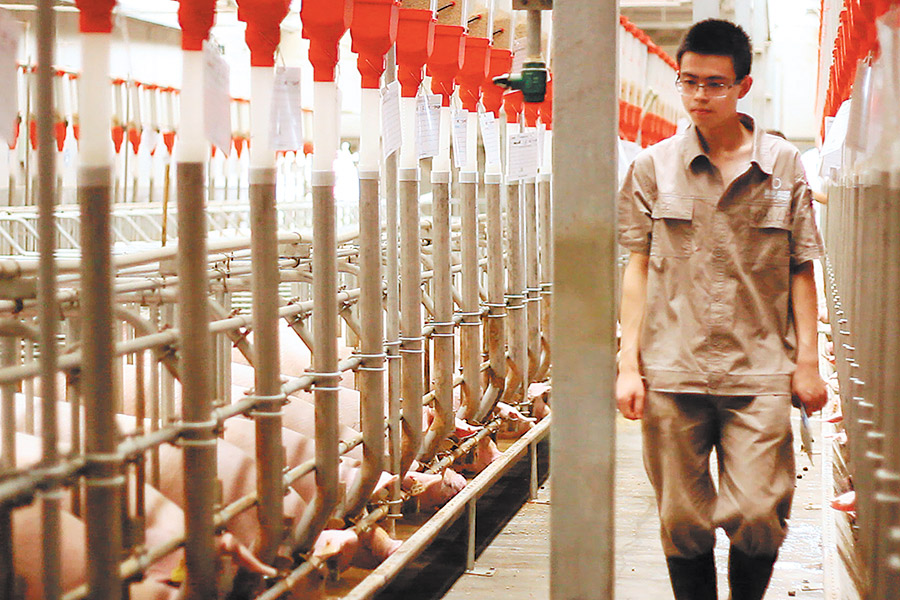 Alibaba applies cloud and big data in animal husbandry, forestry, fisheries
As an old saying goes, agriculture is a trade "that solely depends on the sky".
Most livestock and field crops rely heavily on the weather for their comfort, and providing water and energy. But China's more than 1.3 billion residents, a growing number of whom are becoming mid-income earners, are building up such an appetite that farmers are having to change the way they grow and sell food.
In order to transform an ancient business that was largely run using intuition, the modern answer is technology. Artificial intelligence has come to the farmyard, helping to ensure the country's increasing numbers of pigs remain active and crop yields grow ever larger.
This is the case for Wang Degen and his company Tequ Group, a major hog farm in Southwest China's Sichuan province. The company aims to breed 10 million pigs by 2020, in what Wang said is "a scale that no ordinary automation system could cope with, let alone a human system".
The winning recipe lies in the vast array of AI solutions offered by the cloud computing arm of Alibaba Group Holding Ltd. Using smart sensors and data analytics, Alibaba Cloud can help Tequ's farm to monitor each hog's activity and log their state of health in real time.
Dubbed ET Agricultural Brain, it is the same technology that the tech giant has been applying to optimize urban transportation and run its e-commerce platforms more smoothly. Now Alibaba Cloud is training its sights on agriculture to provide efficient and technically advanced farm management approaches.
Replacing RFID (radio frequency identification) tags that are time-consuming to manage, the latest solution is to use machine vision technology, tracking pigs using overhead cameras that identify numbers tattooed onto their bodies.
At a basic level, this system will be able to count pigs and piglets, but Alibaba also intends to offer more sophisticated analysis. Visual recognition and real-time environmental monitoring have been deployed on the platform to gather individual data on each hog's daily movements, as well as analyzing growth indicators, pregnancies and other health-related matters.
The smart sensors alert farm operators if the body temperature of the pig warrants medical attention, meaning farmers can detect sick pigs before the illness spreads or becomes fatal. With this technology, the farm's pigs per sow per year (PSY)-the standard metric used to measure pork production-is expected to increase to 32 from 20 to 25 last year.
That would put China on a par with advanced pig-farming countries such as the US.
China churned out 53.4 million metric tons of pork last year, followed by the European Union and the United States, according to the USDA Foreign Agricultural Service in May.
The country is also the top pork consumer, representing half of total global consumption last year, according to Singapore-based DBS Bank in a report. It also projected China's annual pork consumption would hit 58.1 million tons by 2021, up from 54.5 million in 2016.
"After just several months' implementation of the ET Agricultural Brain, the PSY at Tequ has seen a mild increase to an average of 22 to 25, up from last year's 20 to 25," said the farming group's senior researcher, Su Zhipeng.
The system can even ensure that piglets are not just alive, but healthy too. It automatically charts a workout regimen for hogs on a daily basis and tracks their running distance, duration and speed. Pigs that have not fulfilled their daily exercise target will be singled out and deprived of the right to rest until they meet the minimum running distance.
The technology follows Chinese consumers jumping on the healthy-eating bandwagon, as shoppers and diners alike demand higher-quality and safer meat as part of healthier lifestyles.
Consultancy Mintel Group Ltd found in a study last year that Chinese people tend to favor pork products that bear QR codes on their packaging. These allow customers to scan the code to learn more about the pigs' treatment and other related information.
"We want a pig that can run 200 kilometers instead of weighing 200 kilograms," said Simon Hu, president of Alibaba Cloud. "It is the pig's exercise volume that is shaping up to be the new standard for pork quality."
Wang touted the technology that helps realize the "true industrialization" of pig farming. He said it brings a new level of interactive automation and upgrades the whole supply chain, especially sales and logistics.
"The agriculture and animal husbandry industry is a strategic sector and it affects billions of lives across China," said Hu. "ET Agricultural Brain can be adopted across many other sectors, including forestry and fisheries, helping enterprises and individual producers to increase efficiency and improve the quality of production, and providing greener and healthier options for consumers."
Pig farmers are not the only beneficiaries of the technological leap. Early adopters of the ET Agricultural Brain include Haisheng Group, a Shaanxi province-based agriculture firm that operates nearly 40 orchards, each larger than 2,667 hectares.
Details related to the production of apples, oranges, berries and cherries can be recorded digitally via a management app installed on a smartphone. Each fruit tree will soon bear a unique QR code, which farmers can scan and track its inputs, including water, fertilizer and pesticide.
Based on algorithms, the ET Agricultural Brain can provide optimal fertilizing suggestions by building up a database, as well as locating ideal sites for each type of fruit tree according to their different soil and climate requirements.
The system is estimated to save 200 yuan ($29.40) per mu (about 667 square meters) for farmers, leading to an annual cost reduction of over 20 million yuan for Haisheng Group, Alibaba said.
"Technology is now being used to engineer solutions for the stretched global food supply," said Jenny Zegler, a global food and drink analyst at Mintel.
"A technological revolution is playing out in manufacturing, as some forward-looking companies are developing solutions with scientifically engineered ingredients," Zegler said. "It will help brands and retailers forge more personalized connections with shoppers."