Trump-backed candidates eke out small leads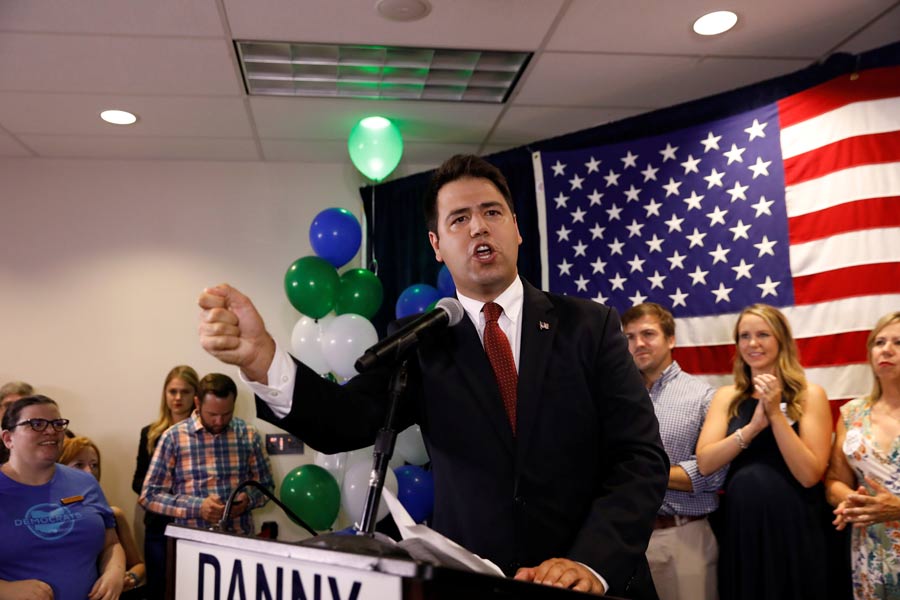 Republican candidates backed by President Donald Trump clung to small leads in closely watched races in Ohio and Kansas on Wednesday, with the narrow margins serving as encouraging signs for Democrats heading into November's elections.
Republicans looked likely to hold onto a US House of Representatives seat in a reliably conservative district in Ohio, where Troy Balderson led Democrat Danny O'Connor by about 1,700 votes in a special election.
The Ohio secretary of state's office said it could not yet declare a winner. More than 8,000 absentee and provisional ballots cannot be counted for 11 days; an automatic recount occurs if the margin is within 0.5 percent of votes cast.
Republican Pat Tiberi resigned before finishing his term, triggering the special election. No matter the outcome, Balderson and O'Connor will face off again in November to serve a full two-year term.
Trump won the Ohio district by 11 percentage points in the White House race in 2016.
In a Kansas primary in the governor's race, staunch Trump ally and conservative firebrand Kris Kobach held a lead of less than 200 votes over current Governor Jeff Colyer, but a final tally could take days or weeks.
Kobach sought to declare himself the virtual winner, saying at a press conference on Wednesday afternoon that he will begin campaigning as the victor. He also said he spoke with the White House on Wednesday and with Trump on Tuesday but declined to detail the conversations.
The narrow margin in Ohio — less than 1 percentage point separates Balderson and O'Connor — is little comfort for Republicans looking ahead to the Nov 6 vote, as they outspent Democratic groups by more than 4 to 1 to retain a seat they have held for three decades.
"This gives me optimism," Democratic National Committee Chairman Tom Perez told CNN on Wednesday.
Democrats need to win 23 seats in the House and two in the Senate to control Congress. All 435 House seats, 35 of 100 Senate seats and 36 of 50 governors' offices are up for grabs in November.
Trump took credit for Balderson's lead, writing on Twitter that his fellow Republican's campaign took "a big turn for the better" after he campaigned for him in the district last week.
Mark Weaver, a Columbus-based Republican strategist who did not work for Balderson, said that it will be harder to replicate that effort nationwide in November when Trump and outside groups cannot focus on one specific race.
Other Republicans, including Vice-President Mike Pence and Ohio Governor John Kasich, had also rushed to Balderson's aid in a district Kasich once represented.
In other primary elections on Tuesday, Trump-backed candidates pulled off two wins in Michigan, where John James won the GOP Senate primary and Bill Schuette won the party's nod for governor
Reuters