E-cigarettes included in tobacco control
Share - WeChat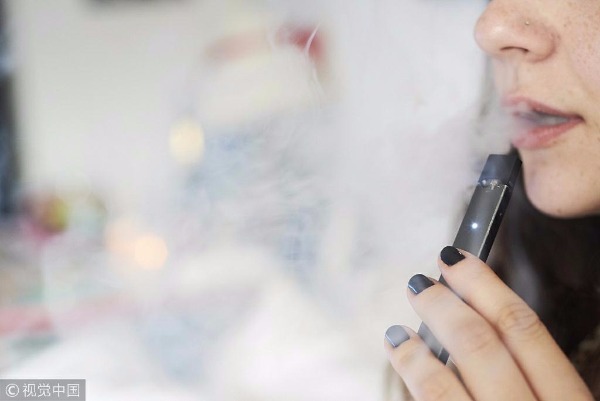 A recent incident inside a subway car in Beijing, in which a passenger smoked an electronic cigarette and quarreled with other passengers who complained, has aroused wide public discussions. Legal Daily comments:
The Beijing Tobacco Control Association has responded by stating that electronic cigarettes release harmful smoke, too, and should be prohibited in public places. It also said it plans to clearly put electronic cigarettes on the control list to prevent similar incidents from happening again.
With the strengthening of tobacco control law enforcement, more people realize it is illegal to smoke in public and the majority of smokers choose to refrain from doing that. However, the tobacco control regulations do not include electronic cigarettes yet, which is a loophole that needs to be closed.
There is no controversy over electronic cigarettes among medical professionals. The World Health Organization has long pointed out that electronic cigarettes contain heavy metals and other harmful substances in their smoke, too, which poses a danger to human health. Many developed countries have also made it clear that electronic cigarettes should be controlled, too.
However, domestic electronic cigarettes sellers have made use of the legal loophole to claim "electronic cigarettes are neither cigarettes nor under the control of regulations". Some of them even claim their electronic cigarettes meant to help people quit smoking.
As a result, some consumers have been misguided into believing they can smoke electronic cigarettes in public, too. The fact that regulations do not include electronic cigarettes on their control list has made things worse.
Now the Beijing Tobacco Control Association has clarified the matter. But in order to effectively control electronic cigarettes, it is necessary to improve urban tobacco control regulations so as to unambiguously include them on the control list.
Most Viewed in 24 Hours
China Views