US cranberry growers face tariff squeeze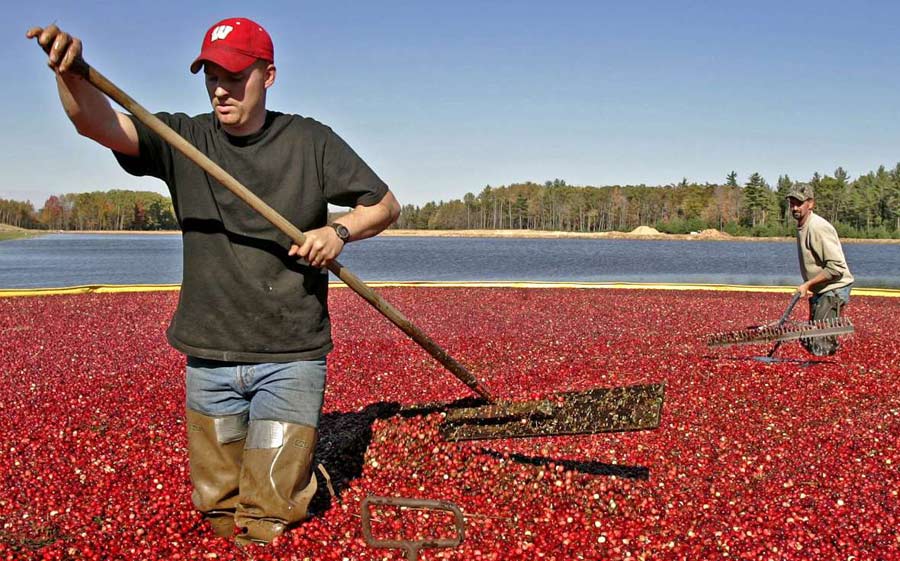 Cranberries are frequenting the lists of retaliatory tariffs imposed by nations in trade disputes with the United States.
And for US cranberry producers, the tariffs are crimping sales of the fruit that is a staple of American Thanksgiving dinners.
China, the European Union and Mexico — the top three markets for US cranberry exports and which together count for more than half of those exports — all are slapping tariffs on the bitter berry produced primarily in the US and Canada.
The tariffs come at a time when a sluggish US domestic market made exporting a viable option. US cranberry prices have been falling since 2015, according to US Department of Agriculture (USDA) data.
Overproduction had been so concerning that the USDA announced volume control in July, asking the industry to withhold 15 percent of the current corp.
Concerns about losing share in the increasingly important international market due to the tariffs have arisen among US cranberry growers, said Terry Humfeld, executive director of the Cranberry Institute.
Particularly affected are Wisconsin growers, who have been producing over half of US cranberries for more than a decade, at prices below the national average.
Approximately 250 Wisconsin growers, as well as cranberry processors, product manufacturers and others that rely on a strong cranberry industry will be affected, said Tom Lochner, executive director of the Wisconsin State Cranberry Growers Association.
"International exports are an important part of the Wisconsin cranberry industry and market. The EU, Mexico and Canada are and have been significant purchasers of US cranberries, and China is a targeted growth market for our industry," he said.
Before the tariffs, exports to those markets were expanding. The European Union, the industry's biggest importer for years, took in 16 percent more cranberries last year.
China, a relatively new but fast-growing market, had been increasing imports for six consecutive years.
Both markets are now tightening for US cranberries, with the EU's 25 percent tariff on US cranberry juice concentrate imports started June 22, and China's 25 percent tariff on fresh and dried cranberries effective July 6.
Based on the 2017 crop and export levels to those countries, the industry projects that the EU, Canadian, Mexican and Chinese tariffs already in place and those proposed could have a $50 million impact annually on a $270 million industry, according to Lochner.
Wisconsin is the home state of House Speaker Paul Ryan, who has repeatedly criticized the Trump administration's use of tariffs. For the top importers of US cranberries, there is an alternative.
In 2017, EU imports of Canadian cranberries increased 286 percent, according to data from the USDA. The Comprehensive Economic and Trade Agreement between the EU and Canada, which entered into force provisionally in September 2017, might further encourage the trade.
China recorded a 328 percent increase in dried cranberry imports from Canada, as indicated in a USDA report.
Mark Mariani, chairman and chief executive of Mariani Premium Dried Fruit, which processes cranberries in Wisconsin, told The Wall Street Journal that China was his largest export market and that the orders just stopped.
Noting that the Chinese market alone would cause more than $11 million in losses for the US industry, Humfeld called for free and fair trade across all markets.
"We remain hopeful that all parties involved can reach solutions that allow us to remain competitive in providing cranberry products to millions of consumers worldwide," he said.