A cool idea to help children stay healthy
Share - WeChat Teens raise cash to send much-needed vaccine containers to Africa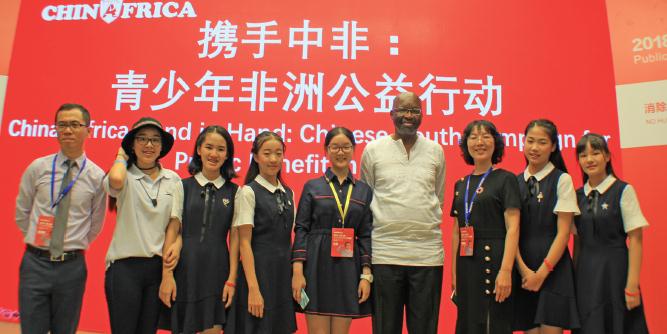 Four Chinese students have been working on a big plan this summer. As members of a volunteer organization, the junior grade one pupils - aged 12 to 13 - propose to send special refrigerated vaccine containers to African countries.
The four girls formed a team called Aurora and competed on Aug 5 with nine other teams, each proposing an idea to help Africa, in the final of the Public Benefit International Challenge for Youth 2018. Although they didn't win the competition, the girls are still going ahead with their plan.
Zeng Hao from Beijing No 159 Middle School, Aurora's team leader, says they have raised nearly 100,000 yuan ($14,599; 12,750 euros; £11,400) since they signed up for the PBIC in early June. Each vaccine container costs about 40,000 yuan. They plan to raise enough to pay for several containers this summer, and more in future volunteer activities in partnership with the Sower International Volunteer Service Federation.
Zeng, together with her three team members - Lu Yanwu from the Middle School Affiliated to Beijing Normal University and Wang Zixuan and Sun Yuzhuo from Beijing No 4 Middle School - as well as the other 800 Sower members, have been raising money by recycling waste, holding charity sales and inviting companies to sponsor them.
They also visited the factories of Aucma, the electrical appliance company in Shandong province that makes the containers, to see how they are are manufactured.
Cooperating with the Bill & Melinda Gates Foundation, Aucma developed a container - known as Arktek - that can keep vaccines at a safe temperature for 35 days without electricity.
"It's a problem in some African countries that vaccines lose function when they are transferred or stored. Sower wants to make a difference to that part of the chain for children's vaccines," says Zheng Chunling, adviser to team Aurora and Sower.
Zheng says that, equipped with the containers, medical staff in some isolated African locations will be able to bring vaccines back to their hospitals when they go to the nearest city to collect their salaries - "a very practical idea that suits the local facts".
Last year, in the first PBIC competition for teenagers, Team Sower had the idea of donating Arktek containers to Africa and made it to the final. Three vaccine containers donated by Sower with the money that they raised for the contest have arrived in Zimbabwe and will soon be in use.
The Aurora team members joined Sower last year and have inherited the dream of helping African children have access to safe vaccines. Thanks to their efforts, more containers will be sent to store DPT (diphtheria pertussis and tetanus) and pneumonia vaccines.
Sponsored by the China-Africa Business Council and the China Social Assistance Foundation, the PBIC 2018 aimed to widen teenagers' international vision, enlighten them to needs around the world and encourage them to engage with charities.
The council and the foundation are supporting the teenagers, putting them in touch with sponsors and partners and providing transportation and technical support.
The United Nations is appealing to organizations, companies and individuals worldwide to help in its efforts to eradicate poverty and stop the transmission of AIDS.
"The young contestants are the messengers of love between China and Africa," says Wang Xiaoyong, secretary-general of the China-Africa Business Council.
Hundreds of teams signed up for PBIC 2018, and 10 made it to the final. They included the eventual winners, Solar Heart, five teenagers who propose to donate 1,000 school bags that can harness solar power so that African students can have light in the evening when they are doing their homework. Another group of contestants, One World and One Team, wants to give African boys a good environment in which to play basketball, while Phytoman, a team of five teenagers from Beijing and Guangdong province, proposes to provide mosquito repelling products and funds to Malawi.
yandongjie@chinadaily.com.cn