Building together for the future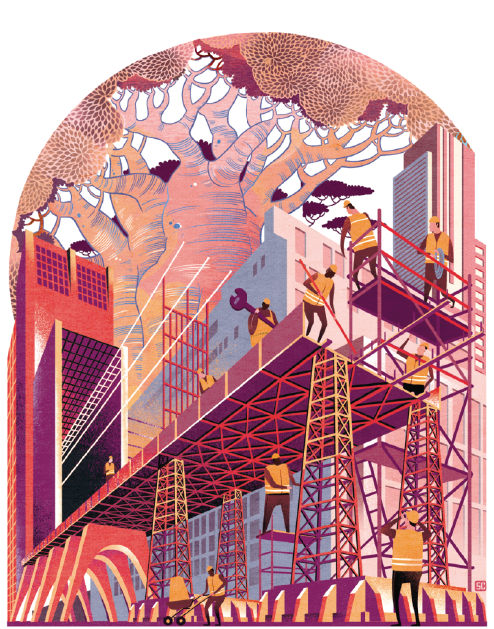 Experts from China look at the achievements of the China-Africa relationship and at how various issues should be tackled in the years to come
Q1. The China-Africa economic relationship has been on a continuous upswing this century. That relationship has included generous amounts of aid, vast support for major infrastructure projects, building of industrial and agricultural parks, technology transfers and personnel training. Will this trend continue? Is it sustainable? Is there another model for collaboration? Overall, what direction will the relationship take in coming years?
Q2. China is testament to the fact that infrastructure is both a prerequisite and a force multiplier for economic growth. Africa, despite some notable successes-many with Chinese collaboration-is grappling to fill the infrastructure deficit to reach its potential. What are the obstacles? What are the solutions? How can Africa draw on China's success? Apart from China-Africa collaboration, are there possibilities involving other parties such as Europe and the US?
Q3. Since many African countries gained independence they have focused on agriculture with mixed results. The continent's food sufficiency rate was 96 percent during 1962-64; and 83 percent during 1972-74. But severe drought in the 1970s brought this rate down to 60-70 percent in the 1980s, and 50 percent in the 1990s. The United Nations Food and Agriculture Organization says that from 2014 to 2016 the percentage of people in sub-Saharan Africa affected by severe food insecurity was the highest in the world, at about 30 percent. What can be done to raise food production levels? How can China and the world help?
Q4. There has been much talk about Africa becoming the next China in manufacturing as the latter moves up the global value chain and focuses more on services, IT and artificial intelligence. A prime example is a joint venture industrial park near Addis Ababa in which the shoemaker Huajian is the poster child. But Africa would need dozens of giant industrial parks if the economy is to shift to manufacturing as one of the engines of growth. What policies, plans and incentives are needed to build industries that meet domestic demand and aim to export? How can countries draw on the success of Chinese special economic zones and industrial parks?
Q5. China's trade with Africa has grown phenomenally over the past 40 years, rising from $765 million a year to $170 billion a year. What more can be done raise the figure? How can exports and imports diverge from the current pattern? How can e-commerce be an accelerator in bilateral trade?
A1 This development trend will continue. The main reason is that it suits Africa's development needs on the basis of respect for the continent's autonomy.
China and Africa can also explore other ways in which they can work together. For example, China can take advantage of sound cooperative relations with Russia to promote dialogue between the African Union and the Shanghai Cooperation Organization and strengthen collaboration on economic issues.
The future direction of China-Africa economic development should be first to consolidate the industrial base and accelerate industrialization. Second, China will establish comprehensive strategic partnerships with more African countries. Third, China will strengthen consultations with the African Union and African subregional organizations to promote coordinated development.
A2 The main obstacles to economic development in Africa are: a continued drop in prices of raw and semifinished materials in the international market.
Solutions include increasing investment in infrastructure construction, improving the national business environment, promoting multi-source economic growth, expanding domestic demand, and deepening structural reforms.
A3 First, African countries should focus on tapping the agricultural production potential. Second, great importance should be attached to the development of agriculture and the introduction of foreign capital, the formulation of agricultural development plans and preferential policies, and the expansion of foreign cooperation to attract foreign investment and technology. Third, Africa should improve the agricultural development environment.
China and other countries also need to strengthen agricultural collaboration with African countries.
A4 For Africa to develop industries that meet domestic needs and are aimed at exporting, the measures that need to be taken are: First, ensure political and policy stability. Second, improve the financial environment, improve credit ratings and avoid financial turmoil. Third, optimize the investment environment. For example, African countries should pay attention to reducing tariffs, developing laws and regulations, establishing production standards, expanding social public service facilities, and improving electricity supply and transport infrastructure.
A5 The two sides should continue to synergize their development strategies and tap the cooperative potential in infrastructure, industrialization, agriculture and people's livelihood and other fields.
The establishment of a China-Africa e-commerce information base or a dedicated e-commerce website could help Chinese and African companies expand their markets and find partners. Major e-commerce companies could consider entering Africa's e-commerce centers such as Cape Town to conduct business.
Xu Guoqing, associate researcher at Chinese Academy of Social Sciences