JD.com shares slide on police report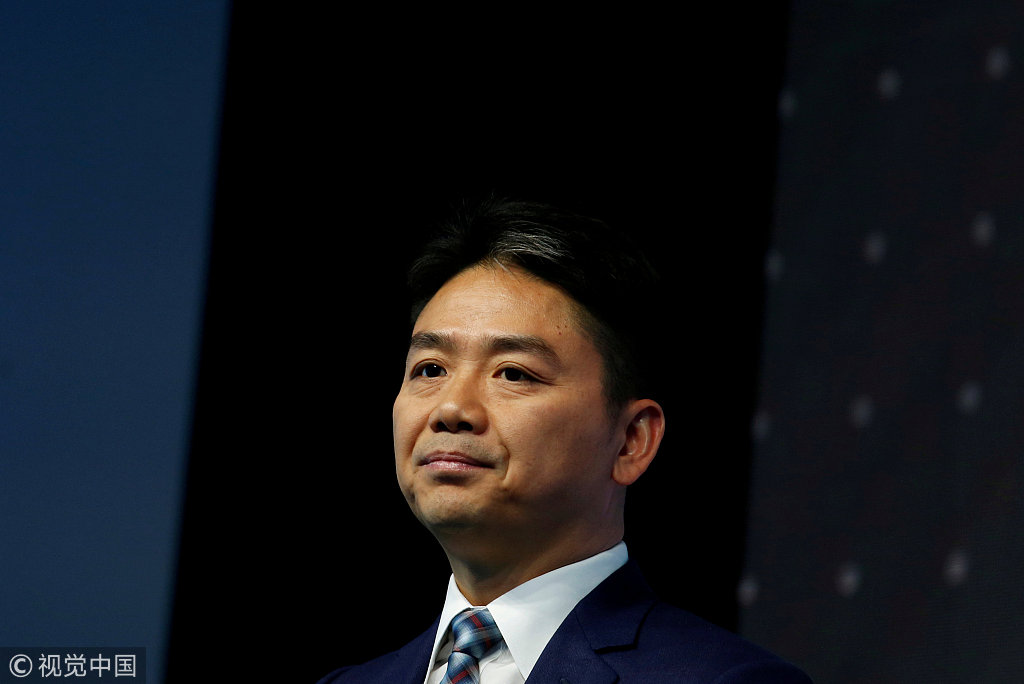 Billionaire founder of online giant is back in China after 'rape' filing
JD.com's shares plummeted on Wednesday by 10.64 percent, as the Minneapolis Police Department released a report on JD founder Liu Qiangdong's case saying Liu was arrested on an allegation of rape.
Chinese billionaire Liu, CEO of one of China's largest online retailers, was taken into custody on Friday on an accusation of what was originally described "criminal sexual conduct" – a term that covers a range of unwanted contact, according to Hennepin county records.
The latest revealed police report obtained by China Daily confirmed the specifics of the accusation against Liu as "criminal sexual conduct-rape-completed."
No charge has been filed against Liu, as the matter is still under investigation by the sex crimes division of the Minneapolis Police Department.
Liu was released from custody on Saturday without being charged and without having to post bail. He has returned to China, appearing at a business event at JD.com headquarters in Beijing on Tuesday morning.
"To do this properly, this is an extensive investigation. When we have the opportunity, we want to ensure that we leave no stone unturned," Minneapolis Police Department spokesman John Elder told the Wall Street Journal on Wednesday."We are very confident that as it comes time for us to reconnect to him in this investigation we will be able to do it."
Joseph Friedberg, an attorney who represents Liu, said on Tuesday he is confident there will be no criminal charges and that the CEO did nothing wrong, according to the Bloomberg News.
By Minnesota law, the maximum penalty for first degree sexual assault is 30 years and the minimum is 12 years.
The accusation put JD.com under pressure; its shares, listed on NASDAQ, fell as much as 11.6 percent on Wednesday, closing the day down about 10.6 percent at $26.3.
The company said on its official social media Weibo account that Liu has been falsely accused. "During a business trip to the United States, Mr. Liu was questioned by police in Minnesota in relation to an unsubstantiated accusation," it read.
JD.com is also facing class action lawsuits from several US law firms which allege the company may have failed to disclose information pertinent to Liu's arrest on Friday.
"The investigation focuses on whether the Company issued false and/or misleading statements and/or failed to disclose information pertinent to investors. JD.com Chairman and CEO Qiangdong Liu was arrested in Minnesota on charges of sexual misconduct on August 31, 2018. Based on this news, JD.com's share price fell by almost 6% on September 4, 2018," wrote the Schall Law Firm, one of three firms along with Pomerantz LLP and Rosen that said separately on Tuesday that they are investigating potential securities claims on behalf of shareholders of JD.com.
Liu owns over 15 percent of JD.com's stock and controls nearly 80 percent of the company's voting rights.
Liu was in Minneapolis to take classes at the University of Minnesota, where he was enrolled in the Carlson School of Management to complete the American residency for a US-China business administration doctorate program.
Given the seriousness of the allegation, his release is "very, very strange," David Levine, a law professor at the University of California Hastings College of the Law told the Journal.
China and the US don't have an extradition treaty. If authorities charge Liu and issue an arrest warrant, the Chinese government could refuse to hand him over, Levine said.
In that case, he said, the Hennepin County Attorney in Minneapolis could ask the Federal Bureau of Investigation to post a "red notice" on Interpol, which acts as a request to member nations to locate and provisionally arrest an individual. China and the US are both members of Interpol.
Contact the wrtier at ruinanzhang@chinadailyusa.com