LDC committed to growing with China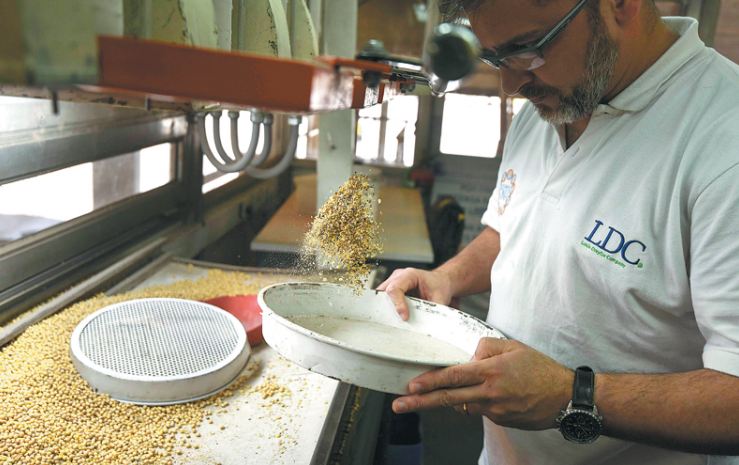 Editor's Note: This year marks the 40th anniversary of China's reform and opening-up. China Daily interviewed top executives of well-known multinational companies for their views on the country's socioeconomic development.
Leading trader of agricultural goods working toward safe, sustainable future
Please use three words to describe China's changes in the past 40 years.
Transformational, influential and inspiring.
What are the biggest achievements in China since the introduction of the reform and opening-up policy 40 years ago?
China has grown with exceptional speed and constancy over the past 40 years. As the world's second-largest economy today, China is a key driver of economic growth, creating positive momentum and expectations across the global economy, particularly among a host of developing countries.
China has also made great strides to improve people's quality of life since the reform and opening-up. Over 400 million of China's population are now in the middle-income group and demanding a better quality of life and food, which has created tremendous opportunities for economic development and trade.
How has your company benefited from the reform and opening-up policy?
As a European business with French roots and a strong family heritage, Louis Dreyfus Company has a long trading history in the Chinese mainland, dating back to our first cotton trade in the 1970s. As we consolidated our presence over the years, we witnessed first-hand China's incredible growth trajectory.
Today, LDC is active across the value chain, operating fixed assets and merchandizing a wide range of products in almost every province in China, employing some 1,000 people to support our grains, oilseeds, coffee, cotton, sugar, rice, freight, juice and dairy activities.
Building on China's reform and opening-up policy, the Chinese government is creating opportunities and favorable conditions for companies like LDC to fulfill its mission in an increasingly dynamic market through new investments, always within the framework of its national economic policies and conditions.
Our vision as a leading global merchant of agricultural goods is to work toward a safe and sustainable future, contributing to the global effort of providing sustenance for a growing population. As such, we are more committed than ever to keeping growing with China - a key market for global agricultural trade as well as for LDC's growth - investing in its future by leveraging our scale, know-how and global reach to meet the increasing and evolving needs of its people and local customers.
A recent example is our acquisition earlier this year of a modern oilseeds crushing and refining operation in Tianjin. Responding to the Chinese government's positive encouragement for more foreign direct investment in agricultural processing, this investment is fully aligned with our corporate strategy to strengthen LDC's presence in the Chinese market and bolster our foothold in the group's core businesses.
Has competition intensified between your company and Chinese companies?
Over our 167-year history, LDC has always stood out as an industry leader, with a vision, ambition and approach geared toward the long term. Beyond this, we believe that healthy competition encourages entrepreneurship and innovation, both of which are growth drivers and help to raise the bar of the entire industry by embracing new trends and customer preferences - for example, the active adoption of disruptive technologies to meet demand for new buyer experiences or to allow product traceability, and the increasingly intense scrutiny of food production methods, as consumers look for healthier, environmentally friendly or more responsibly produced alternatives.
But we also strongly believe that collaboration and forming win-win partnerships is key to collective success in an increasingly connected world - digitally, socially and economically. So with China's reform and growth showing great potential to benefit both multinational and local companies, we are committed to forming new partnerships - and reinforcing existing ones - with Chinese partners and peers.
It is essential that we work alongside each other to advance subjects that will benefit the industry as a whole, for example the supply-side reform in the agricultural sector, food industry safety and sustainability, to name only a few.
How do you view China's role in the world today?
There is no doubt that China plays an increasingly important role in global economic development, not least by having raised a significant portion of its population into a wealthier class, whose high level of dedication and education is recognized the world over.
China also shows huge potential in terms of innovation and advanced technology. For instance, the demands of China's younger generation and the ever-evolving impact of online shopping translate into futuristic experiences like the JD store, or 7 Fresh, with face recognition and allocation of purchases without presenting products individually to a cashier.
That the digital revolution is transforming the world, including the commodities sector, is very clear, and that China is and will remain a driving force in this revolution is equally clear.
We saw a recent example of this process in action this year, when LDC teamed up with Shandong Bohi Industry Co Ltd, ING, Societe Generale and ABN AMRO to complete a full transaction using a blockchain platform. It is a first in the agricultural commodities sector.
The transaction for a shipment of soybeans included a full set of digitized documents and automatic data-matching to avoid duplication and manual checks. This is only the start of many ideas we will bring to the marketplace by embracing the newest technologies, such as blockchain.
What measures are needed if China wants to deepen reforms?
The reform and opening-up policy is definitely a success story, with China embracing the outside world. As part of the further opening-up of its financial markets, we believe China will allow a more open flow of US dollars in and out of the country, with a special focus over initial margins and daily differences of futures markets in the West, which will certainly benefit China in participating in and leading global trade.
In parallel to its dynamic economic and social development, the country would also benefit from a focus on sustainability as part of its reforms, driving toward a cleaner, more energy-efficient China.