Chinese, African diplomats in US celebrate FOCAC as family
Diplomats from at least 30 African embassies to the United States gathered in Washington on Thursday night to mark the success of the 2018 Beijing Summit of the Forum on China-Africa Cooperation, which concluded on Tuesday.
While the forum in Beijing was described by President Xi Jinping as the reunion of the China-Africa big family, the event in Washington was an intimate get-together for African and Chinese diplomacy communities to celebrate the progress and promise they share as family members.
"We thought it was really important for us to celebrate. Athough we are all here accredited to Washington, it's also an African way to show appreciation and thanks to our Chinese counterpart," Gabon Ambassador to the United States Michael Moussa-Adamo said at the party, which was held at his residence in downtown Washington.
The FOCAC summit saw China roll out a raft of cooperation initiatives for Africa that target the bottlenecks in development on the continent, in areas ranging from industrial promotion to infrastructure connectivity and green development.
Moussa-Adamo had the idea to hold a celebration even before the Beijing summit started. In addition to Moussa-Adamo, hosting of the event was joined by Serge Mombouli, ambassador of the Republic of Congo to the US, and their Chinese counterpart, Cui Tiankai.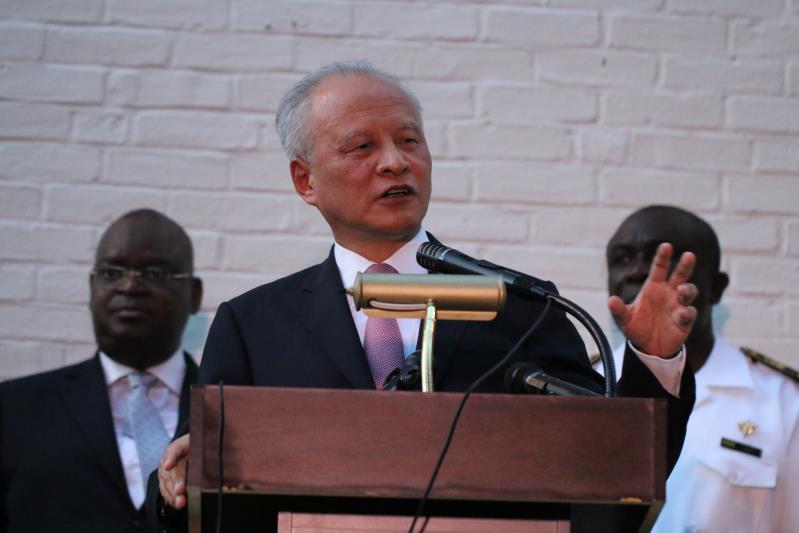 "The president of China has reaffirmed the independence and sovereignty of every African country and not to mingle in domestic issues," Moussa-Adamo said. "This is crucial to us because it shows respect."
He said Chinese logging companies in his country are now processing wood locally, and Chinese companies are building "amazing" roads and bridges. "The cost of Chinese infrastructure work is half of what we've been paying in the past," the envoy told China Daily.
African envoys also bristled at some Western criticism characterizing China-Africa cooperation as a "debt trap" and "neocolonialism".
"What does the West do better than China right now in Africa?" said Mombouli, also dean of the African Diplomatic Corps to the United States.
The Congolese diplomat said everyone needs good advice for good governance and democracy, but development means tangible development, and when people talk about development, it must be tangible.
"China is a very tangible partner for development in Africa. Because China builds infrastructure, hospitals — what China is doing in Africa is concrete," Mombouli told China Daily.
KerfallaYansane, ambassador of the Republic of Guinea in Washington, said African countries are borrowing money not for consumption, but to invest in infrastructure, which is the foundation for development.
Speaking at the gathering, Chinese Ambassador Cui said China and African countries may have differences in the size of economies, cultures and political systems. "But we do have a shared common name: We are all developing countries."
In the multilateral financial institutions, there is a system of so-called graduation, meaning that if an economy develops to a certain level, it has to graduate, Cui said.
"People can graduate from the multilateral financial institutions, people can graduate from school, but people never graduate from families, people never graduate from brothers and sisters. In this sense, China will always be part of developing countries," he said.
Cui also said China-Africa unity is driven by the mutual need to respond to a host of global challenges, such as disease, natural disaster, climate change, environment, refugees and terrorism.
"When China and African countries are working together, we have much better chance to succeed, we have a much better chance to respond effectively to all these global changes," he said.