Alibaba co-founder Jack Ma to retire
Share - WeChat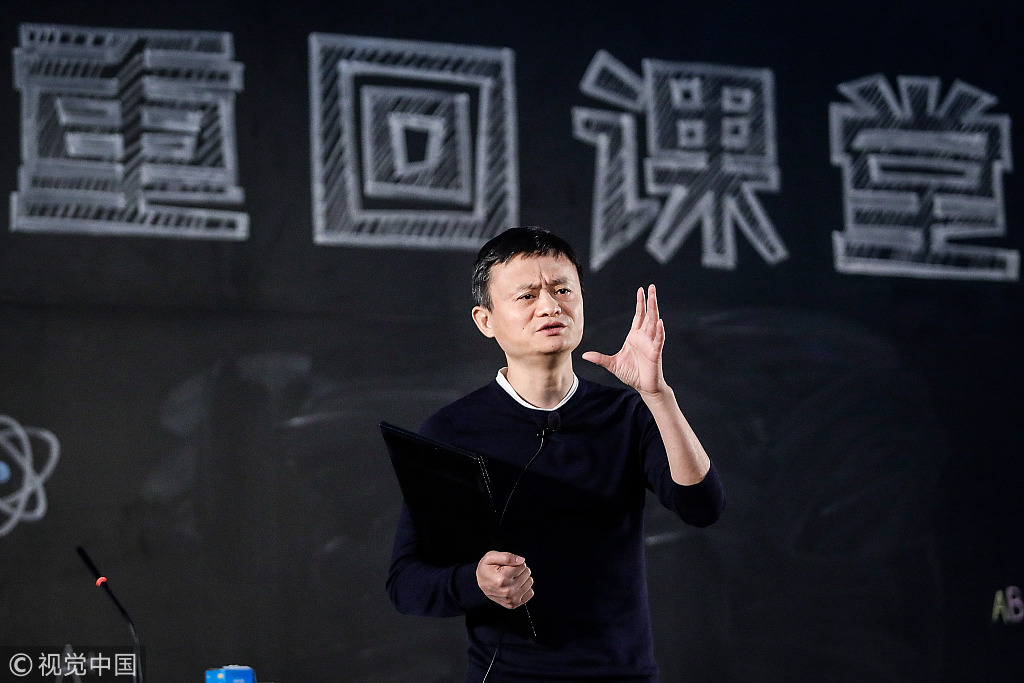 Alibaba's co-founder and executive chairman Jack Ma said he planned to retire on Sept 10, which is also Teachers' Day and his 54th birthday, the New York Times reported.
In an interview, Ma said his retirement is not the end of an era but "the beginning of an era." He said he would be spending more of his time and fortune on education.
Ma will remain on Alibaba's board of directors and continue to mentor the company's management, the newspaper added.
Jack Ma hinted he would retire very soon in an interview with a Bloomberg TV journalist on Friday, by showing his passion to pursue philanthropy in education and environmental protection.
"Very soon. You will know that," Ma said, when being asked about the exact time of retirement in the interview.
Ma also said there were a lot of things he could learn from Bill Gates, but there is one thing he could do better than Gates, who retired at the age of 58.
"I can never be as rich as Bill Gates but one thing I can do better than him. I can retire earlier than him. I can do something from the education field, (which) is unique, different and something in Jack Ma's mind. I want to do something using my own way," Ma said.
Believing teaching is something he could do better than being Alibaba's CEO, Jack Ma saw himself as an accidental executive who entered the business world as a teacher nearly two decades ago and learned a lot during the process of running the company.
Ma said he had gone through many tough decisions and difficult days during the process of leading Alibaba to become a world leader in the e-commerce industry, and he would like to share his experiences with young entrepreneurs and teach them how to face challenges.
Education is something he would like to devote his time to when he retires, and he had prepared for this starting 10 years ago, when he proposed to invest 0.3 percent of Alibaba's revenue in education.
"I have prepared the Jack Ma Foundation, rural area teachers and headmasters, kindergartens. All these things I have been preparing for 10 years," Ma said, emphasizing 0.3 percent of Alibaba's revenue, not profit, is not a small amount of money, and it takes effort and responsibility to do it well.
No relevant news on Jack Ma's retirement has been released by Alibaba Group's official website and social media.
The company's current CEO is Zhang Yong or Daniel Zhang, who took over the post in May 2015, and it is not immediately clear whether the company will appoint a new chairman.
Jack Ma, who founded Alibaba in 1999, ended his time as CEO in 2013, but he has remained the chairman and public face of the company, and his net worth is over $40 billion, according to the Bloomberg Billionaires Index.
Alibaba's current market value is over $400 billion and its business has evolved by expanding beyond e-commerce to include digital payments, cloud computing and the production of big-budget movies.