Kung fu helps build road to success, strength
Share - WeChat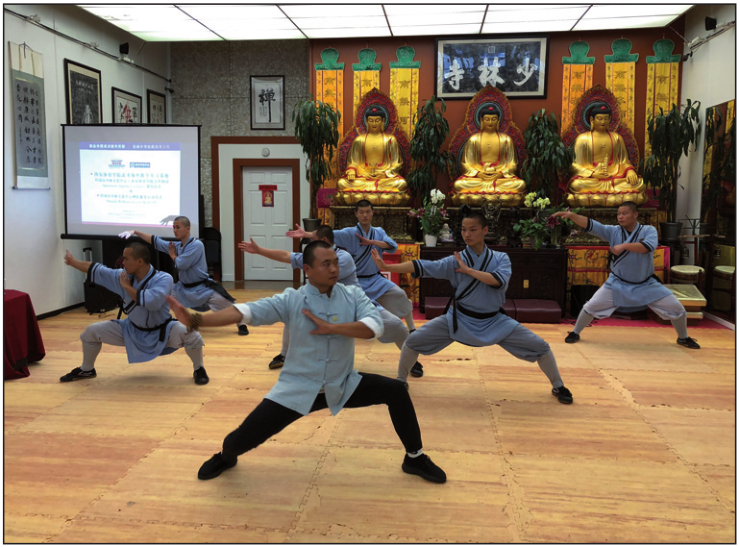 Like any other boy, Jason Luo wanted to be strong, so he started practicing kung fu eight years ago. As he grows, he finds that he has honed skills that can help prepare him for the future.
"I started out because I had too much energy, and then I thought this is a good place to release it," said Luo, 14, who lives in the San Francisco Bay Area.
"As I got older, this is not just a place to vent all my energy out, not only exercise, but to use as a stepping stone for something I need in the future, like college applications," he said.
Luo enrolled in a Shaolin kung fu program eight years ago and has been practicing almost every day since.
He said he's a lot healthier now and a lot more confident through participating in competitions.
"I build confidence when hundreds and thousands of people are watching me doing what I'm prepared for. That's a very helpful skill that I developed through this program," he said.
"I feel it paid off a lot. Sometimes I got frustrated that I don't get every move down immediately, but that's part of the process," said Luo. "You work hard for it, and after eight years, I've grown to what I am now. I'm grateful. I feel satisfied for where I am now, even though I have more to work for."
Chinese kung fu became popular among Westerners thanks to Bruce Lee and Jet Li, but more people study the traditional Chinese martial art because they benefit from it, said Yan Ran, chairman of Shaolin Temple USA, a non-profit organization committed to promoting Shaolin kung fu in the US.
Since the organization was founded in 2007, four centers have been set up in the Bay Area and another in Herndon, Virginia, with more than 2,000 students enrolled.
"When I first arrived in the US 11 years ago, I felt the enthusiasm of the American people for Chinese kung fu, but there were few programs offering kung fu classes," said Yan Ran. He admitted that he fell in love with Shaolin kung fu because of Jet Li's 1982 film Shaolin Temple.
For more than 1,500 years, the monks of Shaolin Temple have been practicing Chan Buddhism through martial arts. Shaolin kung fu is the most famous form of ancient Chinese martial arts and was listed as a national intangible cultural heritage by the Chinese government in 2007.
Among Shaolin Temple USA's students, about 70 percent of them come from non-Chinese backgrounds, so the biggest challenge is the language, said Yan Ran.
But Steven Delaney, 6, has no difficulty understanding his instructor. "I don't speak Chinese. I don't understand it. But I just look at what he (the instructor) is doing," he said.
Young as he is, Delaney has been practicing kung fu for two years. He was drawn into the Chinese martial arts when passing by a training center in San Francisco.
"We took him to the Shaolin Temple (class), and he tried the class and he wanted to do more," said Delaney's mother. He was almost 5 when he started. He really likes it, and he wants to move forward. He goes to the class almost every day," said Delaney's mother.
Delaney's parents researched a lot on Shaolin kung fu before they put him in the martial arts program. The mother said they also fell in love with the Chinese culture because of her son.
Unlike most of the kids who were attracted by Shaolin kung fu almost immediately, Kaitlyn Tran, 17, said she was "reluctant and hesitant" at first when her dad wanted her to try a Shaolin class years ago.
"The first few weeks, I wasn't really into it, but as I continue practicing, I kind of fell in love with it. I kept going day by day," said Tran.
"I found this is one of my passions and started to train every day for it. As I got better and better, I'm really into it," she said.
Last year, Tran represented the US at the 7th World Kungfu Championships in Mount Emei in China's Sichuan province, and won a gold medal for dahong quan (large-frame red boxing) and a silver medal for damo sword.
Next year, she is going to college and wants to major in sports medicine.
"I hope to be able to continue in the future, even in college, it just might be hard to find time," said Tran.