Su's season was simply superb
Share - WeChat Su Bingtian clocked 10.03 seconds to take the silver medal in the 100m at the IAAF Continental Cup in the Czech Republic on Sunday, wrapping up a brilliant 2018 season for the 29-year-old from Zhongshan.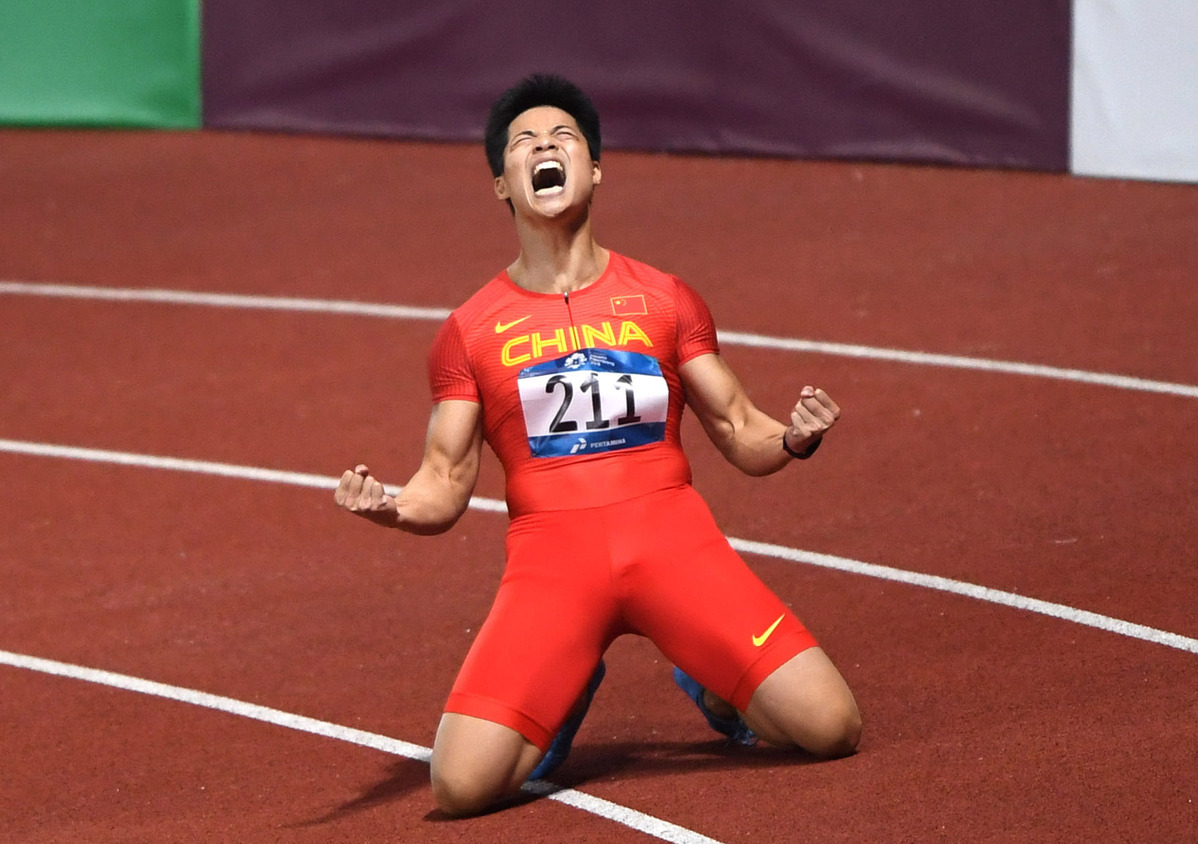 Su twice equaled the Asian record of 9.91 earlier in the year and clocked 9.92 to take the Asian Games title in Jakarta last month.
Those achievements were unimaginable a year ago, when many fans thought he was ready to be put out to pasture.
"The 2018 season has been remarkable ... and it made me see that I can do even better," Su said after Sunday's win in Ostrava, Czech Republic.
"After 14 competitions this year, I will face even tougher challenges next year. I'm not afraid, because everything's possible. I believe as long as we fight hard, we can be the best of ourselves.
"I believe in myself and I want to thank everyone who helped me and supported me through the whole season."
Su also revealed he became a university professor after the Asian Games, where he took the gold medal by clocking a Games record 9.92 seconds.
"Technically speaking, I have retired from the national team as an athlete and I'm now an associate professor at Jinan University," said Su, who finished second to Xie Zhenye in the 100m at last year's National Games.
In addition to his gold in Jakarta, Su tied the Asian men's mark of 9.91 sec with a tail wind of 0.2m/s at the IAAF World Challenge meet in Madrid in June and matched that time later in the month at the IAAF Diamond League/Prefontaine Classic in Paris.
He also clocked a wind-assisted 9.90 at the third stop of the IAAF Diamond League in May in Eugene, Oregon, and claimed the overall 60m title on the IAAF World Indoor Tour and took silver at the Shanghai Diamond League meet.
Su continued intensive training throughout the season after returning from a winter training program overseen by US coach Randy Huntington, who has renewed his contract with the Chinese Athletics Association through the 2020 Tokyo Olympics.
"We tore him apart and put him back together again," said Huntington, who believes Su can continue to get faster.
"All I do is give him the opportunity through my eyes and abilities, and he absorbed it incredibly quickly."
Su's efforts have made him a role model for China's next generation of sprinters, including Xie who became just the third Asian male to run the 100 under 10 seconds when he blazed to victory in 9.97 at the Meeting de Montreuil in France in June.
"Since the first time I joined the national team, I admired my big brother Su for his self-discipline and professionalism," said the 25-year-old Xie, who missed the Asian Games due to injures.
"He always does extra training while the younger athletes sometimes slack off."
Su's hectic schedule separated him from his wife and baby son for most of the season.
"After the Asian Games, I decided to take a break and spend more time with my family," he said. "Because of training and traveling, I had spent less than a week with my wife and son since he was born. I want to go back to them.
"The gold medal is the best gift for my son. I want him to know his father is good because of diligence and hard work. I want to set an example and inspire him."
For China's fastest man, the competitive fire still burns.
"I believe that I'm faster than 9.91 and I believe Asian athletes can reach 9.85," said Su. "I'm not saying that I will definitely be the first Asian man to break the 9.90 barrier-but I'm the one with the best chance to do it."