Entente is what drives Sino-Russian ties
Share - WeChat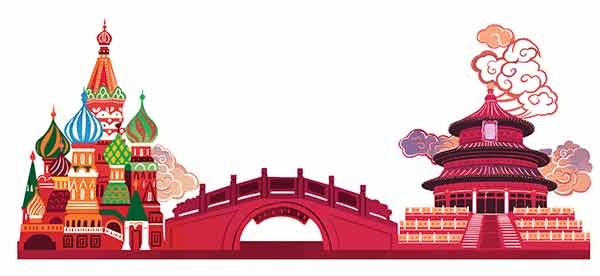 For Russian President Vladimir Putin, bringing together in Russia's Far East the leaders of China, Japan, the Republic of Korea, and Mongolia is certainly a major diplomatic success. And that President Xi Jinping is also taking part — for the first time — in the annual event indicates the growing togetherness of Beijing and Moscow on the regional and global platforms. As major-power competition has re-emerged, and transformed into rivalry, even confrontation, Russia and China have been discovering more common ground.
Putin and Xi are on the same page when it comes to the fundamental concept of a desirable world order: several independent power centers instead of a single-nation hegemony; protection of state sovereignty from foreign political and ideological influence; and full equality in relations among the major powers, including the United States. Chinese and Russian strategies and tactics in foreign affairs are as different as their cultures, but now that the liberal democratic order led and dominated by the US has past its prime, the two neighbors' efforts are pretty much aligned. As global developments quicken their pace, it makes sense for Xi and Putin to confer more frequently.
There are other reasons as well. The Belt and Road Initiative, which Xi proposed five years ago, has marked a departure in China's foreign policy toward much closer economic, political and strategic engagement with other countries, not least on Eurasian continent. Moscow had its own measure of hopes and fears related to the Belt and Road Initiative before it came to a realistic assessment of Beijing's new approach and its likely impact on Russia. The Sino-Russian economic engagement has broken new ground with Moscow giving Beijing access to some of Siberia's energy riches, and promising some infrastructure projects.
Crucially, China on the whole kept has away from the US-Russian confrontation, while Russia doesn't want to be drawn into disputes between China and the US. Rather than a list of weaknesses and deficiencies of the Russia-China relationship, this ability to allow for side exemptions and set clear limits for expectations to keep the core intact testifies to the resilience of the relationship.
The Vladivostok forum coincides with Russia's biggest military exercise in three decades, taking place in Siberia and the Far East. For the first time, the People's Liberation Army has been invited to participate in the drills of this nature. This invitation surely serves the purpose of reassuring Russia's neighbor. Yet there is more to it than just that. The Russian Armed Forces and the PLA have been exercising together for several years, both in Russia and in China.
Still, a Russia-China defense alliance is a far-fetched possibility. Both China and Russia regard themselves as self-sufficient military powers. Neither Russia nor China would want — or tolerate — a hierarchical relationship with the other. Permanent military alliances in peacetime are a thing of the past, or — as in the case of NATO — a reflection of dominance and voluntary submission, hardly relevant for China and Russia.
Yet the Moscow-Beijing relationship, while not an alliance, is also more than the strategic partnership it still calls itself. To borrow a word from the past century, it is best described as an entente — a basic agreement about the fundamentals of world order supported by a strong body of common interest.
The author is director of the Carnegie Moscow Center.
Most Viewed in 24 Hours
China Views