PLA takes part as massive military drill begins
Share - WeChat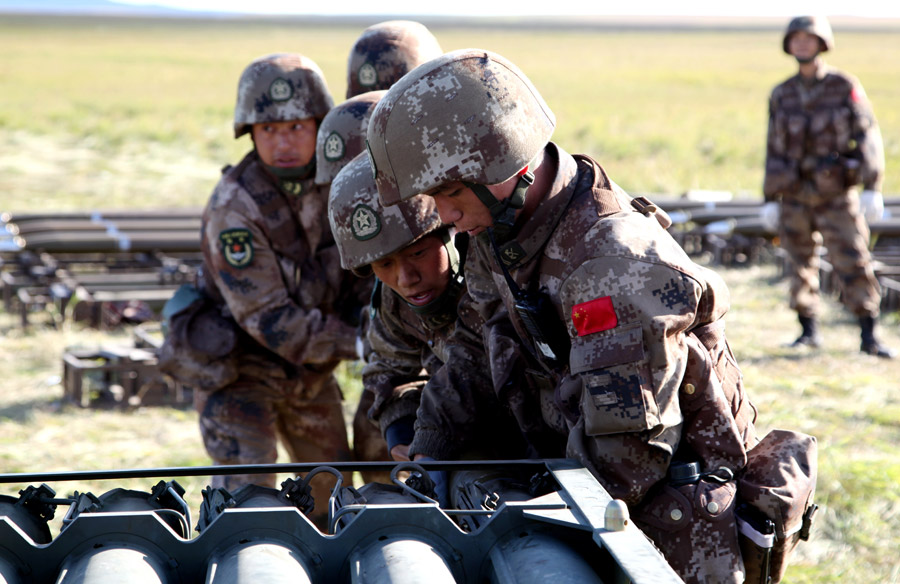 Russia's largest military drill in over three decades, in which Chinese military forces are participating, started at Tsugol training range in Russia's Trans-Baikal region on Tuesday.
Code-named "Vostok-2018", the drill is thought to be Russia's largest military exercise since "Zapad-1981", which was held 37 years ago by the Soviet Union and involved some 100,000 to 150,000 troops.
Russian Defense Minister Sergei Shoigu said earlier that this drill involves nearly 300,000 Russian troops, about 36,000 military vehicles, more than 1,000 aircraft and around 80 ships.
About 3,200 Chinese troops, along with over 1,000 pieces of weaponry and 30 fixed-wing aircraft and helicopters from the People's Liberation Army's Northern Theater Command, are scheduled to conduct combat training together with the Russian troops from Tuesday to Thursday.
The Chinese troops participating in the drill were transported to the region by railway and highway by the end of August and immediately started training in the field.
Shoigu said the drills "will be unprecedented in terms of geographic scope and the strength of command and control centers and forces due to participate".
In the strategic drills, the PLA and Russian forces have formed a joint operational command system, under which military forces from the two countries will hold joint exercises including mechanized defense strikes and counterattack training.
A Chinese operational commander said this drill marks the first time that China has sent such a large group of troops to attend a military exercise held by a foreign country.
Beijing and Moscow now regularly participate in and lead bilateral and multilateral drills under different frameworks, including "Peace Mission" under the Shanghai Cooperation Organization. But unlike in other drills, "Vostok-2018" focuses on the training for traditional military subjects of defense and counterattack rather than anti-terrorism, he said.
"The level of the strategic drills is higher, the scale larger, the content more comprehensive and the level of unity between the two is stronger, which indicates that the level of mutual trust and military cooperation between China and Russia has reached a record high," the commander said.
According to China's Ministry of National Defense, the drills are aimed at consolidating and developing the China-Russia comprehensive strategic partnership of coordination, deepening pragmatic and friendly cooperation between the two armies, and further strengthening their ability to jointly deal with varied security threats, which are conducive to safeguarding regional peace and security.
"The exercises are not targeted at a third party," the ministry added.
The exercises will help the two armies deepen exchanges and enhance their actual combat capabilities, said Li Shuyin, a researcher of Russian military studies at the PLA Academy of Military Science.
She said Vostok drills are one of the Russian military's four large-scale annual training exercises, which include "Zapad", "Central" and "Caucasus".
The PLA's participation shows a new model of cooperation between the two armies. "It is not a joint military drill," Li said. "It is the first time that the Chinese military has sent troops to participate in a foreign country's military exercises, which undoubtedly showcases the further deepening of Sino-Russian ties."