'Iceman' Raikkonen returning to roots with Sauber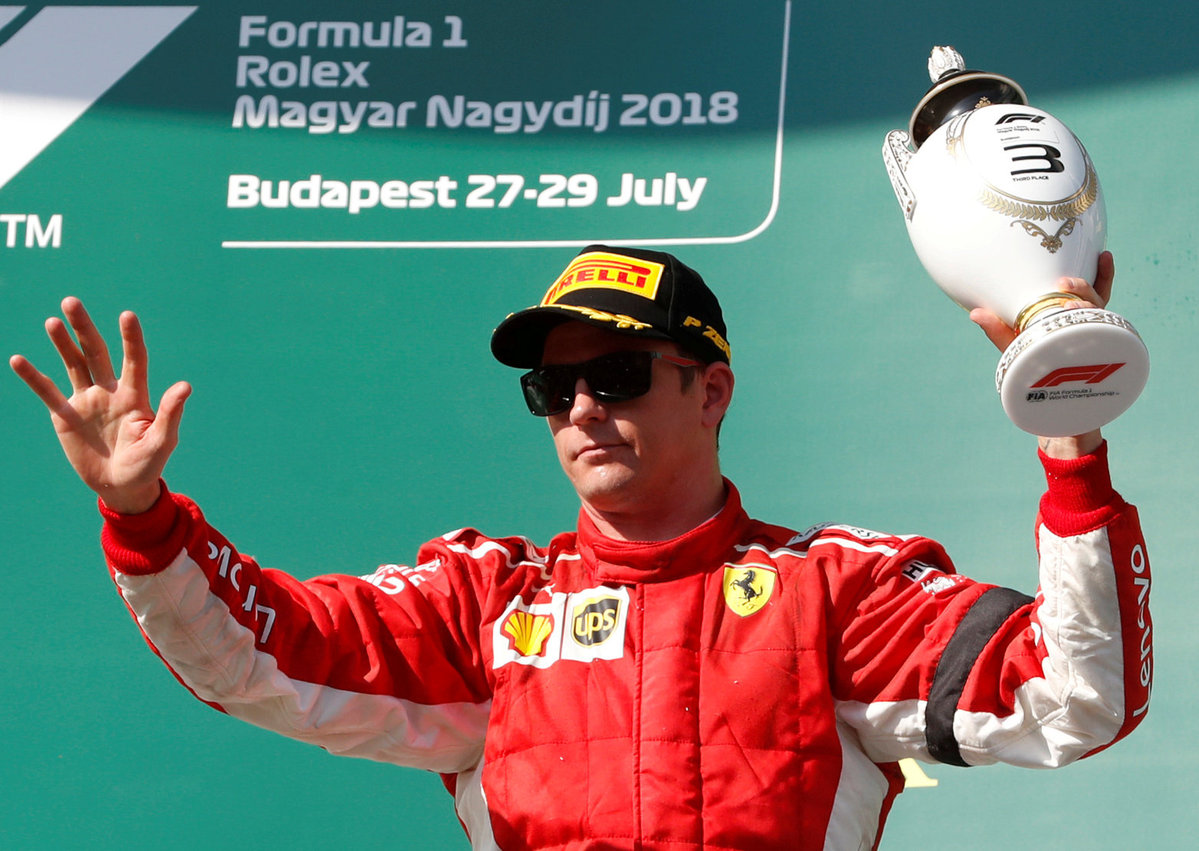 MILAN-Young Monaco driver Charles Leclerc will replace veteran Kimi Raikkonen at Ferrari next season when the former world champion from Finland returns to Sauber, where he started his career.
The two Formula One teams announced the moves on Tuesday.
The 20-year-old Leclerc-a Ferrari Driver Academy graduate-is a rising star in the sport, winning GP3 in 2016 and Formula 2 in 2017 before debuting in F1 this season with the Sauber.
"Scuderia Ferrari announces that, at the end of the 2018 season, Kimi Raikkonen will step down from his current role," the team said in a statement.
"In the next Formula One racing season, Charles Leclerc will drive for the team alongside Sebastian Vettel," it added.
Leclerc was quick to respond, tweeting: "Dreams do come true. I'll be driving for @scuderiaferrari for the 2019 Formula 1 World Championship."
Leclerc has had a promising start to his rookie season, finishing sixth at the Azerbaijan Grand Prix, with 16 points from 14 races.
He has been nurtured by Scuderia Ferrari for several years and is managed by Nicolas Todt, son of former Ferrari team principal and current FIA president Jean Todt.
"I will be eternally grateful to @scuderiaferrari for the opportunity given. To @nicolastodt for supporting me since 2011. To my family," Leclerc added.
Leclerc also paid tribute to former French driver Jules Bianchi, who died in 2015 from injuries sustained at the Japanese Grand Prix.
"To Jules, thank you for all the things you taught me, we will never forget you," he add-ed of Bianchi, whom he knew from his karting days in southeast France.
The 38-year-old Raikkonen has entered 287 Grands Prix-144 for Ferrari-winning 20 since his debut with Sauber in 2001.
Known as the "Iceman", Raikkonen notched his 100th podium finish by finishing second at the Italian Grand Prix in Monza this month after claiming his 18th pole with F1's all-time fastest lap.
This season he has had nine podium finishes and is third overall, 92 points behind Britain's Lewis Hamilton.
"During these years, Kimi's contribution to the team, both as a driver and on account of his human qualities, has been fundamental. He played a decisive role in the team's growth and was, at the same time, always a great team player," chairman Maurizio Arrivabene said.
Raikkonen left F1 two years after winning the world title with Ferrari and spent two years competing in the World Rally Championship, before returning to F1 with Lotus in 2012.
Returns to F1 roots
Raikkonen moved back to Ferrari in 2014, and was a popular figure. More than 87,000 fans signed a petition this week to keep him at the Maranello-based team.
"As a world champion for Ferrari, he will always be part of the Team's history and family. We thank Kimi for all of this and wish him and his family a prosperous future," the team added.
Sauber later confirmed Raikkonen will return to the team he debuted with in 2001.
"The Alfa Romeo Sauber F1 Team is delighted to announce that Kimi Rkken will join the team from 2019. The 2007 Formula One World Champion has signed for the next two seasons," Sauber confirmed.
Raikkonen left Sauber for McLaren in 2002 before rejoining Ferrari in 2006.
"Signing Kimi Rkken as our driver represents an important pillar of our project, and brings us closer to our target of making significant progress as a team in the near future," said Sauber team principal Fric Vasseur.
"Kimi's undoubted talent and immense experience in Formula One will contribute to the development of our car and accelerate the growth of our team as a whole."
AFP