California, China: climate boosters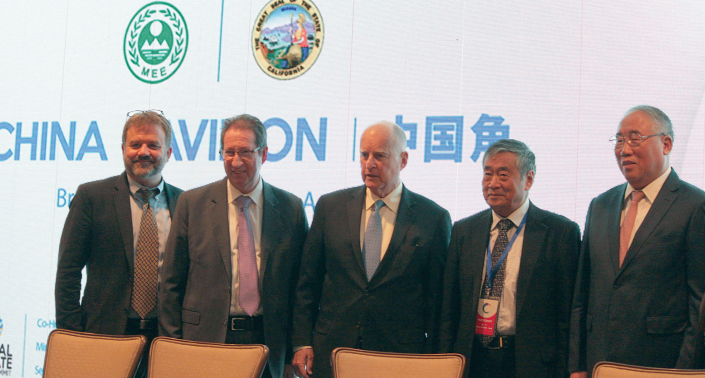 California and China, building on their successful partnership on climate and clean energy, have pledged to raise their ambitions to lead the global fight against climate change.
Government officials, academia and investors from China and California got together in San Francisco on Wednesday to share best practices and explore solutions to climate issues while boosting economic growth.
Despite the different systems, both the US and China, the world's largest two polluters, are equally threatened by climate change, and the two countries are "getting better together", said California Governor Jerry Brown at a forum on the sidelines of the Global Climate Action Summit.
"I signed an executive order yesterday that commits California to zero emissions by 2045. We have no chance of getting there unless China invests hundreds of millions of dollars in all the technology that we need," he told the forum, called "China Pavilion", which runs through Friday.
"The challenge, which is an existential threat to our civilization, is also a stimulus to greater green activity ... the new economy is low- and zero-carbon economy. That's the path to the future," he said.
California is driving economic growth while curbing greenhouse gas emissions. The state, recently ranked the fifth-largest economy in the world at almost $2.8 trillion, has reduced emissions by 9 percent over the last two decades.
China also demonstrates that a country can sustain economic development while reducing carbon emissions.
As the world's biggest energy consumer, China cut its 2005 carbon intensity level by 46 percent in 2017, three years ahead of its goal of 40-45 percent by 2020, and the country's GDP grew one and a half times from 2005 to 2017, said Xie Zhenhua, China's special representative on climate change affairs.
The share of non-fossil energy in total energy consumption is 13.8 percent in China, and it's likely to realize the goal of 15 percent by 2020, said Xie.
"The long-term and stable goal has attracted funds and technologies across the whole society, which creates a huge market. We are also actively exploring the important role of markets in driving low-carbon development," Xie said.
China also emphasizes raising public awareness of climate change and the notion of low-carbon development through nationwide promotions, like National Low-carbon Day, he said.
"The fact that California and China are here joining hands providing leadership is a truly significant development," said Al Gore, former vice-president of the US.
He said it is also significant that China is the global leader in financing renewable energy with up to 40 percent of global clean energy investment coming from China last year, and 60 percent of the world's solar panels manufactured in China last year, he added.
Gore also called for attention to the negative financing "that is still continuing toward fossil fuels".
"On global basis, tax payers and governments are financing fossil fuel development, which is 38 times larger than the encouragement of the speedier adoption of renewable energy," he said.
Contact the writers at liazhu@chinadailyusa.com