The rock of Kaishan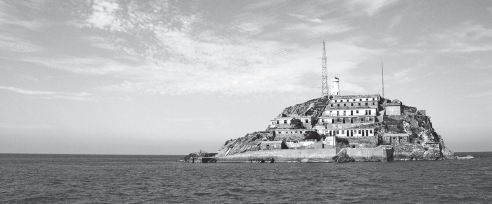 Wang Jicai's story of resilience and sense of duty against the odds on an island in the Yellow Sea remains after his death, Li Yingxue reports.
When Wang Jicai first landed on Kaishan Island there was no fresh water, no electricity, and no trees.
In the first year he planted 100 aspen; in the second, 50 pagoda trees, and the third year, more than a kilogram of neem seeds-all died but one grew into a sapling.
An outpost of the Yellow Sea, near the junction of Japanese and South Korean international waters, Kaishan Island is a barren land about 12 nautical miles from Yanwei Port, Guanyun county, Lianyungang, Jiangsu province.
Wang was the fifth militia sentry director of the island. His four predecessors had given up trying to guard the island due to the harsh environment-the longest lasting just 13 days-yet Wang dedicated his life to it.
Until, on July 27, at the age of 58 and struck with a sudden illness, he died while on duty-two weeks after the 32nd anniversary of his arrival on the island.
President Xi Jinping has since hailed Wang's patriotism and dedication, suggesting that his hardworking spirit should be pursued by people in the modern era.
Wang was 26 years old when he reported for his first day of duty on Kaishan Island. It was July 14, 1986 and what he faced was stone riprap and several rows of empty barracks.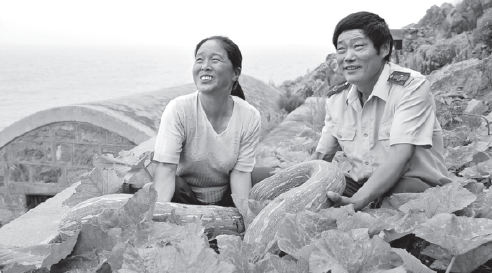 "It was dark at night," he recounted in 2014. "I felt such fear that I couldn't sleep. I eventually took up smoking and drank to steel my nerves."
Wang's wife, Wang Shihua, visited him on the island 48 days later and was shocked at her discovery.
"He was thin and his beard covered all his chin. There were empty liquor bottles and cigarette stubs everywhere," Wang Shihua says.
She decided to move to the island and take care of her husband. She quit her job as an elementary school teacher and left their 2-year-old daughter with her grandmother.
A year later, the couple were expecting their second child, but a typhoon stopped Wang Shihua from getting to the mainland to give birth, so Wang Jicai was forced to deliver his son, Wang Zhiguo, on the island, following instructions given to him by an experienced friend over the walkie-talkie.
When he reached school age, Wang Zhiguo left the island to live with his sister and grandmother-along with the couple's third child, his younger sister, Wang Fan.
Wang Su, the eldest daughter, dropped out of school to take care of her brother and sister when she was 13, and she looked out for her parents, too-when the couple needed supplies, it was Wang Su who would go to the port at 2 am to ask the fisherman to deliver them.
Wang and his wife's story was discovered by reporters in 2011, and they have received multiple awards.
Xu Yunbang, who works for Guanyun TV and has interviewed Wang Jicai a dozen times, says he was a tough guy, no matter how hard life was on island, but when he talked about his parents or children, he became soft.
"He thought of himself as an incompetent son and father," says Xu.
To guard the island, Wang Jicai missed his eldest daughter's wedding and the last visit before his father died.
However, he was resolute in his duty. When money was put in front of him as bribe, Wang Jicai would refuse. In 1999 he was kidnapped and beaten after he turned down a bribe to open a gambling house on the island. He refused to yield, even when his tormentor set fire to Wang Jicai's office.
His resilience earned him a feared reputation among lawbreakers, but local fishermen saw him as a trustworthy member of their seafaring family.
Shi Dongcai, a local fisherman, recalls the time he heard banging while shipping under bad weather.
"I know it was Wang Jicai, he was sending me a message that there was danger ahead by banging a basin," recalls Shi. "He would also put lights on for us at night to show the way."
Wang Jicai also made a medical box in case passing fishermen met with an emergency. They called him the barefoot doctor.
Each day at 7 am, Wang Jicai and Wang Shihua would raise the national flag before making an inspection of the island, which is the size of two soccer pitches.
They walked all 208 steps and visited all 78 barracks on each tour, and repeated the task again at 6 pm. Once, Wang Jicai fell into the sea during an inspection tour, breaking two of his ribs. He was lucky that the tide washed him back to the shore where he was saved by his wife. From then on, the couple tethered themselves to each other with a rope when carrying out such inspection.
In 2006, the wharf on the island sustained significant damage due to a typhoon and, to save 40,000 yuan ($5,825) in renovation costs, Wang Jicai and his wife rebuilt the wharf by themselves. With help from the local fishermen, who would ship sand and rock to the island, it took them two years to finish the work.
"I hurt my waist and my wife broke her leg while we were building the wharf, but we kept learning and working on how to build it," Wang Jicai had said while alive. "The rain and sea would sometimes trick us-the sea would wash away the concrete before it dried, and we'd have to do it again."
Over the years, trees and plants have thrived on the once-bare island under their care, and Wang Jicai was proud to let visitors taste the nectarines grown on the island. Unfortunately, some trees were damaged in a typhoon shortly after he passed away and, upon her return in August, Wang Shihua noticed the vegetable field looking unkempt-something Wang Jicai would have fixed.
However, Wang Shihua has vowed to continue his work and has applied for the position left vacant by her late husband.
"I'll continue to guard the island until the day I can't."
Contact the writer at liyingxue@chinadaily.com.cn