Cities urged to go low carbon, green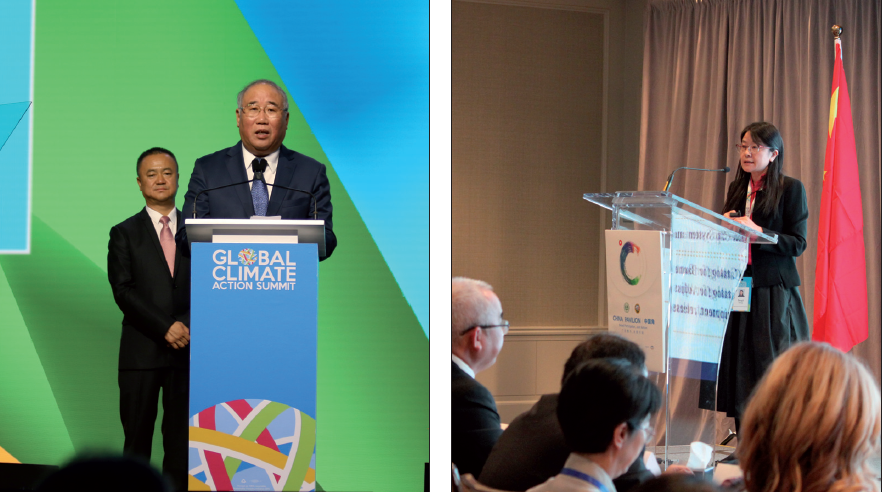 The message from a climate meeting on Thursday was that local governments in the United States and China need to take action to facilitate low-carbon and green economies.
City leaders and experts from both countries gathered on Thursday for the Global Climate Action Summit in San Francisco. They shared local-level experiences and explored pathways to reduce greenhouse gas emissions while sustaining economic growth.
Chinese Special Representative on Climate Affairs Xie Zhenhua said in his speech to the summit's opening plenary that local governments, enterprises and non-profit organizations have made remarkable achievements in low-carbon development.
He also said that China will step up efforts to implement existing policies to ensure 100 percent delivery of the country's pledge to fight climate change.
"The leadership often starts at the local level. Many of California's ambitious state goals started in cities first," said Kate Meiss, executive director ofthe Local Government Commission. She spoke at the China Pavilion, a forum hosted by the state of California and China, on the sidelines of the summit.
The city of Los Angeles went 100 percent to renewables, and smaller cities like Lancaster and Santa Monica also went renewable before the state has, said Meiss.
She said the important role that local governments can play is to run the pilots and be innovative.
"We often see that cities will be really innovative and at the forefront. That gives political backing to the state, and the state can pass legislation and (issue) executive orders. That will take the leadership to scale," she said.
China has made low-carbon development a high priority by establishing a "green economy indicator" system to evaluate local government leaders' performances, to stimulate motivation on a local level, said Wang Zhigao, program director of low-carbon cities at Energy Foundation China.
He said that most Chinese cities face a challenge to transform from energy-intensive industries to new-energy industries.
"There are 609 cities in China, and they vary in size and development level," said Wang. Less than 10 percent of Chinese cities are developed, and the pressure of reducing emissions comes from changing consumption behavior, he explained.
More than 200 Chinese cities are "shrinking", with populations declining, but the local leaders still want expansion. For those cities, China should curb their desire to expand and help retrain the labor forces of industries heavily reliant on energy for new-energy industries, said Wang.
In California, transportation pollution is a big challenge, Meiss said. "California is ahead of the 2020 goals. But we have actually seen transportation emissions increase in the last quarter of century."
She said the city of Sacramento is a great example of developing a car-share program - 2,000 residents have access to a free car-share program. "So that's a great example of tackling social equity challenges while also being environmentally friendly," she said.
Los Angeles Mayor Eric Garcetti said he hosted the first US-China Climate Leaders Summit in Los Angeles in 2015, where major American and Chinese big cities came together on climate issues.
"It was there that Beijing and Guangzhou set their cap emissions 'by 2020' instead of 2030," he said.
Contact the writers at liazhu@chinadailyusa.com