Former US envoy: Tariffs unproductive, harmful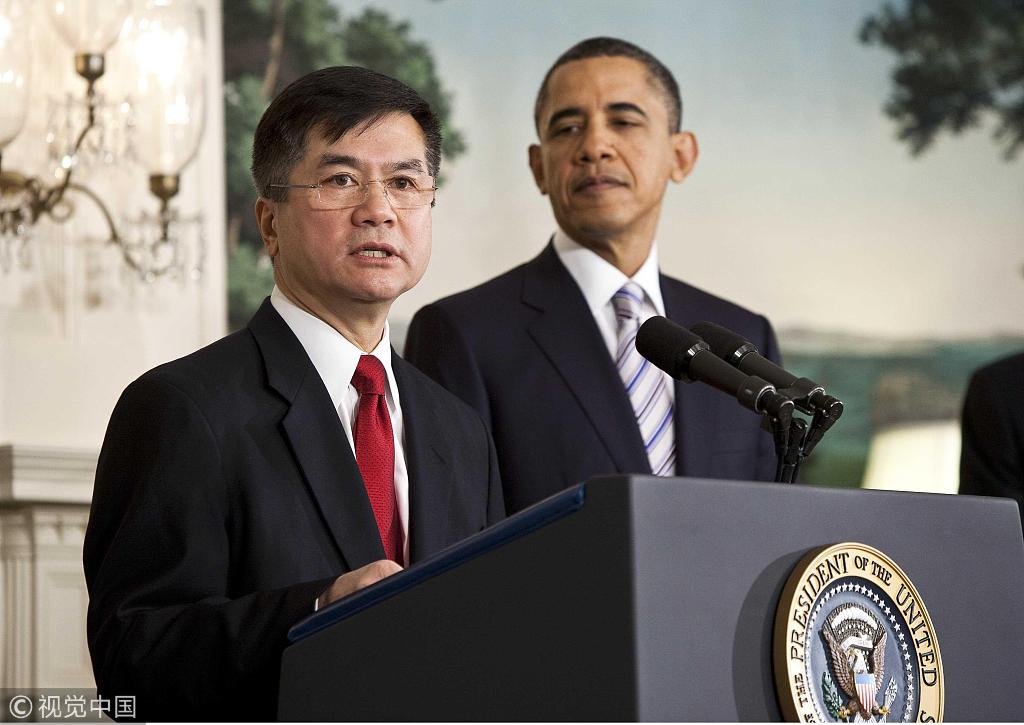 Direct talks key to solving trade disagreements, Gary Locke says
Gary Locke, former US ambassador to China and commerce secretary in the Obama administration, said imposing tariffs is not the best way to handle trade disputes with China.
Locke spoke in an exclusive interview with China Daily at his Seattle office on Sept 18.
"America, both the businesses and government, has deep concerns over some of the trade policies of China," he said.
"I would say to (current US Commerce) Secretary Wilbur Ross, the way to solve that is not through imposing tariffs on Chinese goods, which will automatically hurt the Chinese people and the American people. The key to addressing these concerns is to have direct negotiations, face-to-face meetings, discussions and negotiations with Chinese leaders."
US tariffs on $200 billion in Chinese goods and retaliatory Chinese tariffs on $60 billion in US goods took effect on Monday. The administration of US President Donald Trump has said the 10 percent tariff on the new amount would increase to 25 percent on Jan 1. Trump threatened to impose tariffs on an additional $267 billion worth of goods if China retaliates.
During his tenure in Beijing, Locke worked to open markets for US-made goods and services. And as former governor of the state of Washington, Locke has pushed hard to increase exchanges between China and the state.
"The current frictions between the United States and China are very detrimental to the interests of both sides," Locke said. "Trade benefits both sides. And in a trade war there are no winners. All sides lose, especially consumers and workers."
Along with earlier US tariffs, the recent announcement means nearly half of all goods imported from China will be subject to tariffs.
Others in the US also have criticized the Trump administration's tariffs.
"The US' China strategy is a revised form of containment that uses economic warfare more prominently than in the past," said Clifford A. Kiracofe, an educator and former senior staff member of the US Senate Committee on Foreign Relations.
Roger Wang, chairman of the Committee of 100, a New York-based nonprofit organization of prominent Chinese-American leaders, said dealing with the trade frictions requires patience, an open mind and communication. "Then we will see gradual changes," he said.
Locke said, "I am very disappointed in President Trump. I disagree with his tactics. The concerns that American companies and the American government have had for quite some time over China trade policy are real, very legitimate, very serious. But engaging in a trade war and imposing tariffs on Chinese goods will not really help us solve those problems.
"In the meantime, you will hurt the American companies that buy some of these Chinese products to be used in their own manufacturing to build something else," he said. "So the cost of the inputs will be more expensive for American companies, which will automatically raise the price of the products made by American companies."
At the same time, Locke said, "Chinese tariffs on American goods will deprive Chinese of high-quality products, whether agricultural, food, medicines or technology, and perhaps slow down the growth of the Chinese economy and job creation potential in China."
He said US officials "need to sit down with Chinese leaders, to really focus on the reform and opening-up issues they have, whether it's restrictions on investment, the requirement of sharing technology, intellectual property with Chinese partners, to some high tariffs on American goods. Let's address those very specifically," he said. "We need to lower the temperature and get back down to direct, meaningful, sincere negotiations."
Chang Jun contributed to this story.