US retailers pursue Chinese students with spending power
Share - WeChat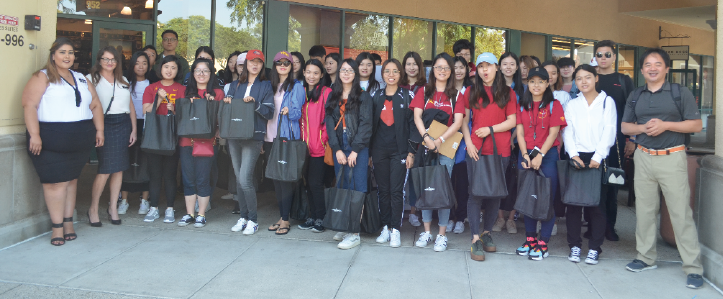 Soon after Ray Chen entered State University of New York Stony Brook in 2011, he and friends saw the opportunity to make some money by selling fellow Chinese classmates cars.
Their small business eventually evolved into a car dealership, New York Auto Depot, where Chen is the director of marketing and car culture.
Now Chen is experiencing what other US retailers are experiencing: Many Chinese students attending universities and colleges in the US have more spending money.
Auto Depot has eight fulltime employees and 54 promoters at universities and colleges on the East Coast who help to sell luxurious cars to foreign students, especially Chinese.
Nicolas Lam, co-founder of Auto Depot, who also went to Stony Brook, said 95 percent of his buyers are Chinese.
"Since the spending power of Chinese students is getting higher and higher, the cars we sell are also have been getting more expensive over the years," Chen told China Daily.
Fancy cars
"I remember that when we first started the business in 2012, many of our customers' budget was around $7,000 to $15,000, but in 2014, the average car budget for Chinese international students had increased to around $20,000. It was very common to see cars such as BMW, Audi roaming around campus at the time," Chen said.
"When 2015 and 2016 arrived, students' average budget had increased to $40,000 to $50,000, and one of the most popular cars we sold that year was the Italian luxury car brand Maserati."
That spending power of some Chinese students in the US also is being targeted by more than car dealers. Retailers of luxurious goods want to attract Chinese students and tourists. For the buyer, it can mean acquiring a status brand that is less expensive than at home.
In 2017, outbound Chinese tourists on average spent $5,565 per person, and it is expected to reach $5,715 in 2018.
According to a survey conducted by China Luxury Advisors, a global consultancy that works with luxury brands, tourism boards and retailers on China consumer strategy, 31 percent of Chinese students in New York and Boston escort their friends and family on shopping trips at least once every three months.
More than 5,000 Chinese students are studying at the University of Southern California, and Camarillo Premium Outlets, about 50 miles north of the campus, recently welcomed a group of 43 Chinese students from the school for a "back to school shopping trip".
The event was organized by the Indianapolis, Indiana-based Simon Property Group, which owns premium shopping, dining, entertainment and mixed-used destinations, such as the Camarillo outlets.
Simon offered gift cards and coupons as well as a shuttle service from the campus to the outlets. In exchange, students talk about Simon companies on social media and tell their friends and families.
"We notice there are a lot of Chinese customers and a lot of students, and we know a lot of them carpool to come here, so we wanted to make sure that they have this experience," said Jimmy Hsieh, at The Gold Linq, a Los Angeles-based marketing and consulting firm that helped Simon organize the event.
Not all wealthy
Tan Jiayi, an electrical engineering graduate student at USC who took part in the outlets trip, said many Chinese parents and relatives expect students to purchase goods for relatives and friends while studying abroad.
"The good part of it is the coupons and savings that consumers get, the bad part is it could lead more people to think that Chinese people are all very wealthy, which is not the case," said Tan.
Serena Wang, a freshman communications student at USC, said that Chinese students of today have more spending power compared with their peers who studied in the US in past decades.
"I feel that a lot of them depended on scholarships to pay for their tuition, whereas families of Chinese students today could usually afford to pay US school tuition," Wang said. "But it still depends on your family's condition."
China's Ministry of Education reported that 608,400 Chinese students pursued advanced studies abroad in 2017, and 541,300, or 88.97 percent, of all Chinese students studying outside China that year were self-funded.
Simon, which uses social media such as Weibo and WeChat to reach more Chinese customers, is not alone trying to reach deep-pocket Chinese consumers.
The Beverly Center in Los Angeles, which touts itself as "Southern California premiere fashion destination", has launched a China Ready Program that includes a series of programs designed to "woo" Chinese customers.
There are concierges in the mall who speak mandarin, and the outlet provides tour bus and retailers discounts for Chinese tourists, as well as shopping shuttles, professional networking mixers and VIP shopping events and promotions that target Chinese students.
304,000 strong
The number of students in the US from mainland China in the 2013-2014 academic year was 304,040, according to the Institute of International Education, an 11 percent increase year-on-year. The US Travel Association estimated that Chinese students in the US spent $11.4 billion on tuition, fees and other expenses in 2015.
As for spending on cars in the US by Chinese students, it reached about $15.5 billion in 2012 and 2013, according to Bloomberg, while a comparative American group of US students spent just $4.7 billion on vehicles.
Chen said most of his customers are not luxury car buyers.
"Around 20 percent of buyers purchase cars within $10,000; around 40 percent buy cars that cost less than $30,000; around 20-30 percent buy cars ranging from $50,000 to $80,000," he said. "There are only a few people who buy the very expensive luxury cars, such as those that sell above $100,000."
He said many students buy expensive cars because they are paying much more for the same model in their country. "It's not fair to label them as fuerdai because of it," Chen added. Fuerdai — or "rich second generation" — is a term used to describe Chinese children of "nouveau riche" parents, many of whom send their children to study abroad at universities. These students are generally associated with driving expensive cars and wearing luxurious brand-name clothing.