Foreign minister urges 'honesty' on Paris climate accord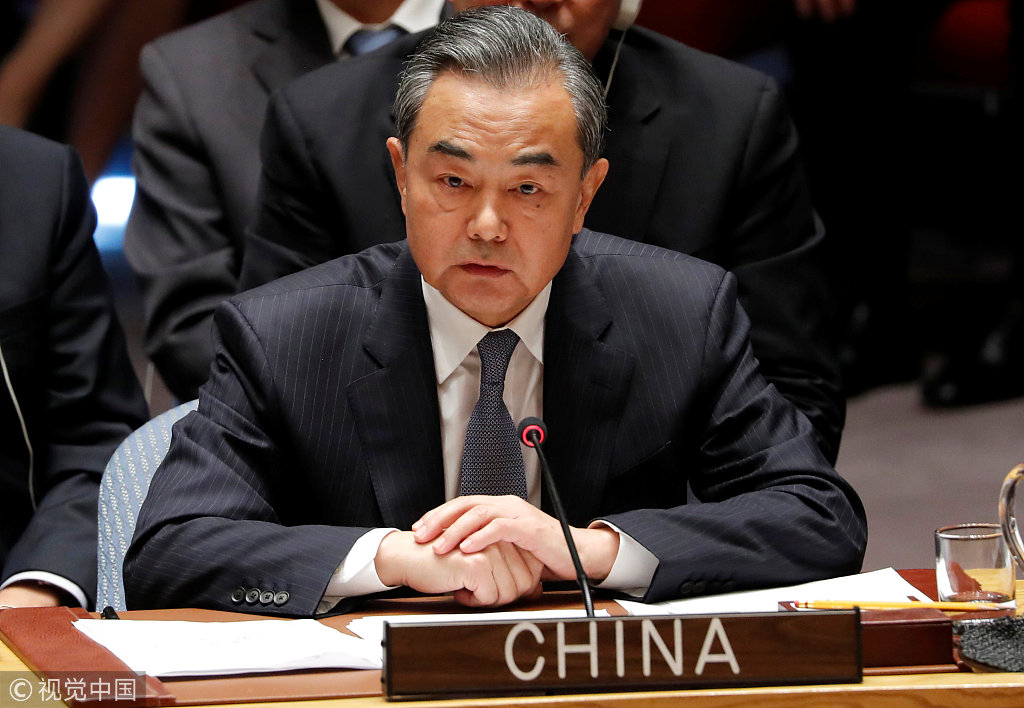 State Councilor and Foreign Minister Wang Yi urged on Wednesday that the international community implement the Paris Agreement and tackle the challenges of climate change together, as it has entered a critical stage.
"Implementing the Paris Agreement honestly is a political commitment made by leaders of each country," Wang said at a high-level informal dialogue on climate change at UN Headquarters in New York. "It's also an inescapable legal obligation and historical responsibility that corresponds with the trend of global development that each country should take."
Wang said climate change has a close bearing on the future of mankind, and stressed that China firmly supports the collaboration of the international community in tackling the challenges of climate change.
Under the current circumstances, we must honestly implement the Paris Agreement, adhere to the principle of common but differentiated responsibilities, equity and respective capabilities, conclude the follow-up negotiations on the implementation of the Paris Agreement as scheduled, and unswervingly stick to the general direction of tackling climate change, Wang said.
Wang said time and climate change wait for no man. In order to implement the Paris Agreement successfully, developed countries need to make good on their pledge of annual contributions of US$100 billion by 2020, provide assistance to developing countries through technology transfer, and help them to enhance their capabilities of dealing with climate change and sustainable development.
We should also consolidate the global partnership on dealing with climate change and mobilize the whole international community to implement the 2030 Agenda for Sustainable Development, Wang added.
Wang stressed that China is committed to its development concepts of innovation, coordination, green, openness and sharing and actively responding to climate change, putting the implementation of the Paris Agreement as its intrinsic requirement of sustainable development, and taking a series actions that produce results.
Wang said in the past five years, China has transformed its development pattern, optimized its energy structure and pushed for progress in energy conservation and emission reductions in key industries.
"Both of our energy and water consumption per unit of GDP have fallen more than 20 percent," said Wang, adding that China has also cut its share of coal consumption by 8.1 percentage points and increased its share of clean energy consumption by 6.3 percentage points, and the environment has seen gradual improvement.
Wang said that at the same time, China has enhanced South-South Cooperation and collaborated with other countries to build a green and sustainable Belt and Road Initiative.
"China remains steadfast in its determination to deal with climate change with the international community," said Wang. "China is willing to join hands with all countries to make efforts to walk on a sustainable path of green and low-carbon and create a home planet featuring bluer skies, cleaner water and greener mountains for our offspring."
Contact the writer at ruinanzhang@chinadailyusa.com