China's foreign minister says China will not seek to replace US leadership
Share - WeChat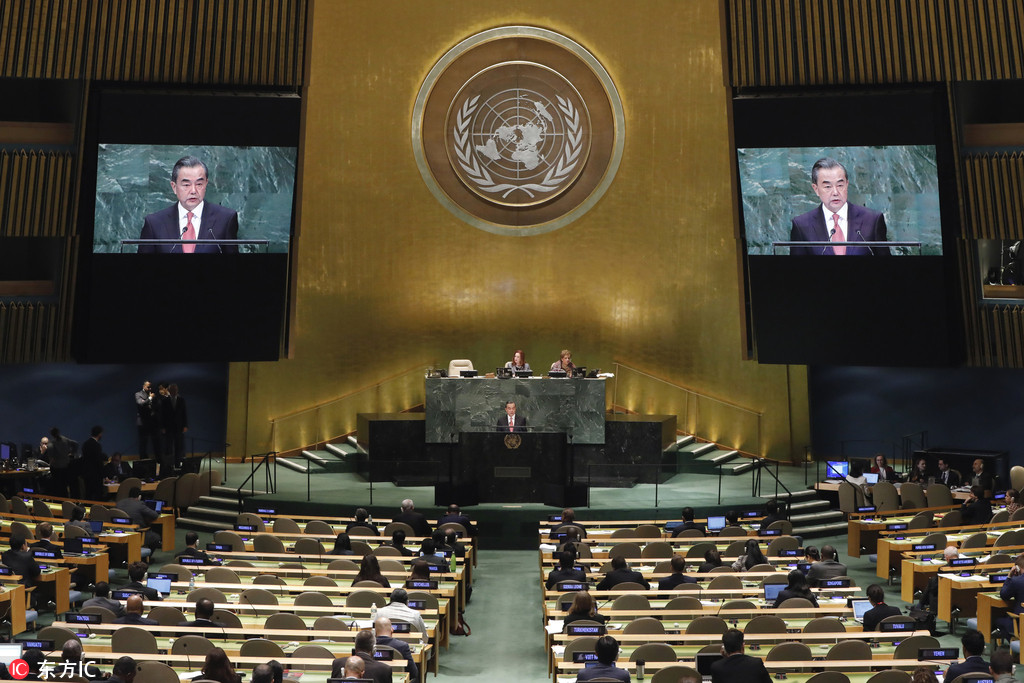 Chinese State Councilor and Foreign Minister Wang Yi said that China does not seek hegemony and will not seek to replace US leadership in the world.
"China will not become, will not challenge, will not take the place of the United States," Wang told the Council on Foreign Relations in New York on Friday.
"Some people in the US contend that a stronger China is bound to follow the beaten path to seek hegemony and pose a so-called threat to the US's leading position in the world," Wang said. "This is a serious strategic misjudgment that would bring exceptional harm to the future and the interests of the US."
Wang said it was these "self-imagined" suspicions that amplify problems in relations between China and the US, making it more difficult for the two nations to work together to solve practical problems.
Wang stressed that China's development path will differ from that of a traditional power. This is a path with Chinese characteristics which determines that China will not repeat the old path in which a strong power would surely seek hegemony, said Wang, adding that China will neither become another United States, nor challenge or replace the United States.
China will stick to the path of peaceful development, and that has been written into China's constitution and the constitution of the Communist Party of China, Wang added.
"This year marks the 40th anniversary of the establishment of diplomatic relations between our two countries, it's a critical year for both sides," Wang said. "We must objectively view the shifting dynamics between the two countries with historical perspectives, calibrate our relations and make sure we are on the right track in the future."
Wang said in the past 40 years that cooperation between the two nations has led to significant achievements and tangible benefits to people of both nations.
Wang said it was natural that tension and suspicion would arise between countries with such different history, culture, social systems and levels of development, Wang said. "What is important is how [those differences] are viewed, evaluated and handled," he said.
Wang said that China has made major contributions to world peace, citing as examples: China resolving boundary issues with most neighbors peacefully; taking part in UN peacekeeping missions and being the largest contributor of peacekeepers among the five permanent members of the UN Security Council; and lifting around 800 million people out of poverty, accounting for more than 70 percent of the global poverty reduction rate.
Is it China that stays committed to the peaceful development, cooperation and opening-up an opportunity or challenge? Is it China that makes positive and constructive contributions to the international community a friend or foe?, Wang asked, adding that anyone without bias would come to a rational conclusion.
Wang said now that the China and the US relations have reached a historical turning point, if the both sides could view each other in a positive and inclusive perspective, deepen practical cooperation and properly manage and control disputes and conflicts, there will be a brighter prospect in the future of the countries' bilateral relations.
Contact the writer at ruinanzhang@chinadailyusa.com