Brazilian presidential candidate Bolsonaro leaves hospital after being stabbed
Share - WeChat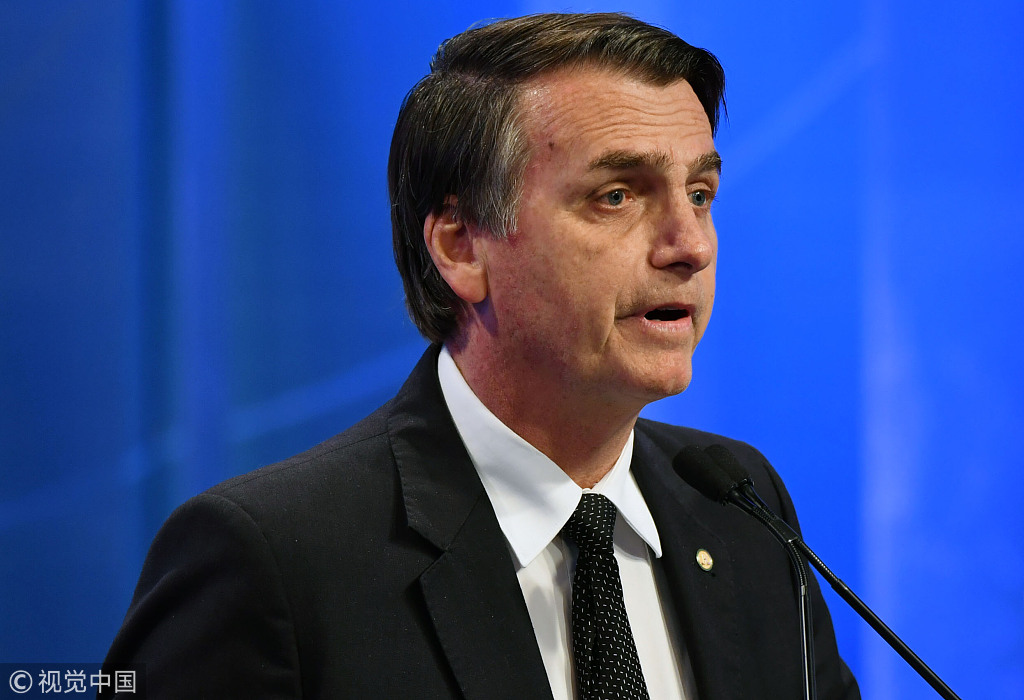 SAO PAULO - Brazil's far-right presidential candidate Jair Bolsonaro has been discharged from hospital after 23 days following a knife attack at a campaign event, said medical sources on Saturday.
The discharge of the controversial politician came on the same day that thousands of women across Brazil protested against the current leading presidential candidate.
Bolsonaro, a former military officer, has angered many Brazilians by praising the country's military dictatorship and making sexist, racist and homophobic remarks.
He left the Albert Einstein Israelite Hospital in Sao Paulo on Saturday morning.
The Social Liberal Party (PSL) presidential candidate left via a side door, far from waiting supporters and press, said PSL President Gustavo Bebbiano.
Bolsonaro suspended campaigning in the streets on Sept. 6 after he was stabbed in the abdomen at a campaign event in the city of Juiz de Fora, in the southeastern state of Minas Gerais.
Bolsonaro will now continue his recuperation at home in Rio de Janeiro. His participation in Thursday's final televised presidential debate is currently in doubt.
The candidate underwent two surgeries in hospital -- the first one stopped a hemorrhage immediately after he was stabbed and the second corrected intestinal complications.
Polls had shown the PSL candidate in a clear lead since his hospitalization, but recent results have narrowed.
On Friday, opinion pollsters Datafolha released a new poll showing that Bolsonaro has 28 percent support for the election's first round, followed by Fernando Haddad of the Worker's Party (PT) with 22 percent.
If no candidate receives more than half the vote in the first round, to be held on Oct 7, there will be a second round on Oct 28.