From Belt and Road to silver screen: Cinema could be China's next big cultural export
Ever since President Xi Jinping unveiled the Belt and Road Initiative in 2013, the impact of the international connectivity and infrastructure program linking China with Europe has been immense for all countries affected. But the progress of what may turn out to be one of its most significant elements has barely started. That is cinema.
In April 2018, Variety magazine reported that, in the first quarter of this year, China's box office takings had overtaken those of North America. Over the next five years, China will build as many new cinema screens as currently exist in the world.
China does not just love watching films, it loves making them, and, as the audience for films in China grows, so does the importance of its cinema industry, both as an exporter and an importer.
The Raindance Film Festival taking place in London this month is one of the world's leading independent film festivals, and the 2018 event began with a day devoted to discussion and debate about the state of Chinese cinema and what its future might be. One thing all delegates agreed on is that its future is very bright indeed.
"We live in strange times – there's so much hatred in the world at the moment, and so much of it is caused by basic misunderstanding of how people work, live, and play, so what better way to overcome this than through cinema?" said Elliot Grove, the founder of Raindance.
"Anything that can help tell stories and educate people on either side of the divide about one another, and show how we're all human, will stop us thinking about people as just being part of a block, and make us realize we are individuals. That's what films do. They don't have to be preachy – in fact, I think those are the least interesting films – as long as it fits the cultural confines and tastes of the audience it's playing to, it can make a real difference. Cinema has a huge role to play in the Belt and Road Initiative."
The Raindance Festival features exhibitors and films from all over the world, ranging from Kaiser!, the incredible true story of Brazilian Carlos Henrique Raposo, who managed to spend 26 years as a professional soccer player without playing a single game, to Borders, Raindrops, a drama about love and identity in the aftermath of the 1990s war in the former Yugoslavia.
But it was Chinese cinema that was the main focus of the festival's opening event, and Grove said that, as time passes, it is an industry that is only going to become bigger, both as a market to buy from, and to sell to.
"For any filmmaker in Europe, the Chinese market is huge, but they play by different rules, so you have to know what they want and how to appeal to them," he said. "The basic principles of how you make a film are the same around the world – get a camera, find an actor, start filming, and that's it – but there's so much we can learn from Chinese filmmakers. The facilities they have are amazing, and the style and speed with which they work are beyond belief. The way they cut through so many of the problems that impede filmmaking in other countries to get the job done is something we can really learn from.
"In some ways, though, the talent in China is so untapped and they're only now discovering the full extent of their own ability. For so long, China was a cultural island – people didn't look up to the skies and see how their tales can be relevant to other people. By contrast, American films are successful everywhere because so many of their stories are ones that people all over the world can relate to. Once Chinese filmmakers adjust to this, that cultural Great Wall will come down and those films can come out along the Belt and Road.
"That's why it's such an exciting time for anyone who wants to get involved with filmmaking and China. Cross pollination of ideas is the way forward. I think it can result in pyrotechnics the like of which we've never seen before."
Flying Tiger Entertainment is a film development and production company with extensive experience working in the Chinese market. Its founder, Paul Brett, agrees that the cultural aspect of the Belt and Road Initiative is one with huge potential.
"Look at traditional stories we've all grown up with in the West, like Aladdin and Cinderella," he said. "Where did those stories originate from? China. They were taken to Europe via the old Silk Road, and became part of our culture, but how many people know that? The Belt and Road is a conscious effort to create a modern equivalent of the Silk Road, and the modern equivalent of those stories is cinema, so it couldn't be more obvious how big an opportunity this is for filmmakers in China and the West to interact with one another."
To make this work, however, it is not simply a case of making the same product as usual and hoping it plays as well abroad as it does at home.
"All those screens that are going to be built need filling," said Brett. "So, my advice to British filmmakers hoping to get a slice of that is to see what works there and make those kind of films. The UK-Sino co-production treaty is really solid, there are so many stories out there waiting to be told and the headline here is that British filmmakers want to be part of helping tell those tales."
Flying Tiger believes it knows what works in China, and says market awareness is key to success.
"We've got the rights to the Fighting Fantasy book series, which has very clear Chinese overtones and I think could become a sort of Chinese Game of Thrones," he said. "Something else that China has which I think will be an absolute gamechanger is animation. We have a memorandum of understanding with Ori Animation in Suzhou, and I think we can do great things together. The success of Japanese anime has shown the way – it's easy to dub and can go all around the world. I think it's going to be huge and we really want to be part of helping make it happen."
As CCO of Dreamax Media, Wang Yi is someone else who knows the ins and outs of the Chinese film industry. In 2008, he worked at the Raindance Festival as an intern, and in 2018 he returned as the head of a major Chinese entertainment industry player.
He said the possibilities for collaboration make this a thrilling time for filmmakers in both China and Europe.
"Europe has been developing films for a lot longer, so China has further to go in that sense and can learn a lot," he said. "For a long time, Chinese audiences have liked Hollywood blockbusters – if I'm tired after a long day, I just want something direct and entertaining, so good action and comedy are always going to be popular, but tastes are developing and people are now getting interested in a bigger variety of styles, so China is definitely a growing market for European filmmakers now."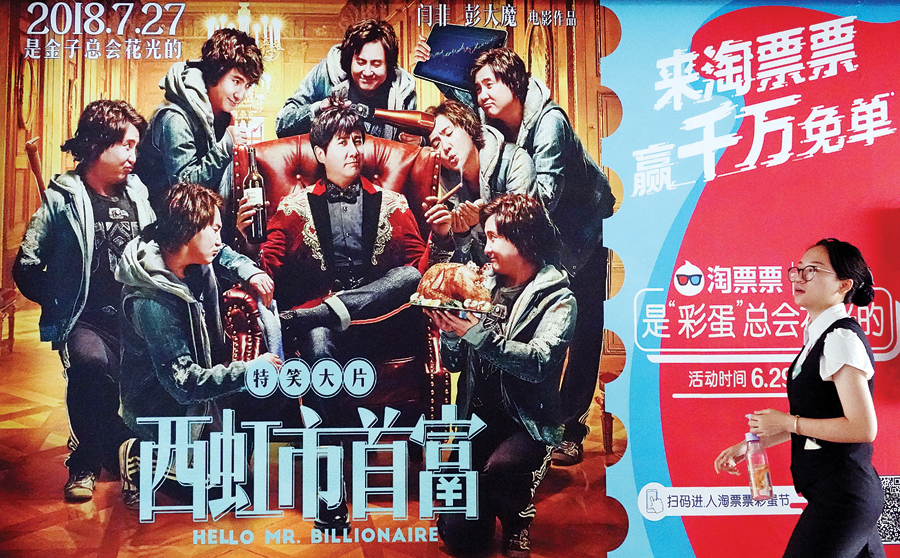 The way the two film industries have grown up in isolation from one another for so long means there is a rich back catalogue of old Western cinema stories that can be remade for the Chinese audience, provided local sensibilities are observed and the story is amended appropriately, as proven by the recent success of Hello Mr Billionaire, a remake of 1985 Hollywood comedy Brewster's Millions.
"Borrowing ideas can be great, provided you get it right," Wang said. "If you borrow the heart of a story, that's ok but if you borrow the whole story without thinking about the audience, it won't work so well."
There is one field of filmmaking, however, where China has a rich source of original material that has not yet been touched, and Wang says this could be the next big thing at the Chinese box office.
"For years, China has produced great science fiction novels, but we've not really been able to visualize them," he said. "Now people are learning so much more about film production, though, we're in a position where we can start to do this. A few years ago, when you mentioned science fiction films, people would think of things like Christopher Nolan's films, but now people are realizing that, here at home, we have things like Liu Cixin's The Three-Body Problem which can make a great film."
The image of Chinese films set in the future coming down the recreation of the Silk Road, one of the greatest achievements of China's past, seems to be an appropriate expression of the position the country finds itself in today. And Wing says it all comes down to one of the most basic and timeless forms of human behavior: communication through telling stories.
"People all over the world love stories, it's as simple as that," he said. "Cinema is a very important part of Belt and Road. It's a great way to tell China's story to the outside world, and let the world know what modern China looks like."