Veteran US diplomat: Politics motivated Pence's speech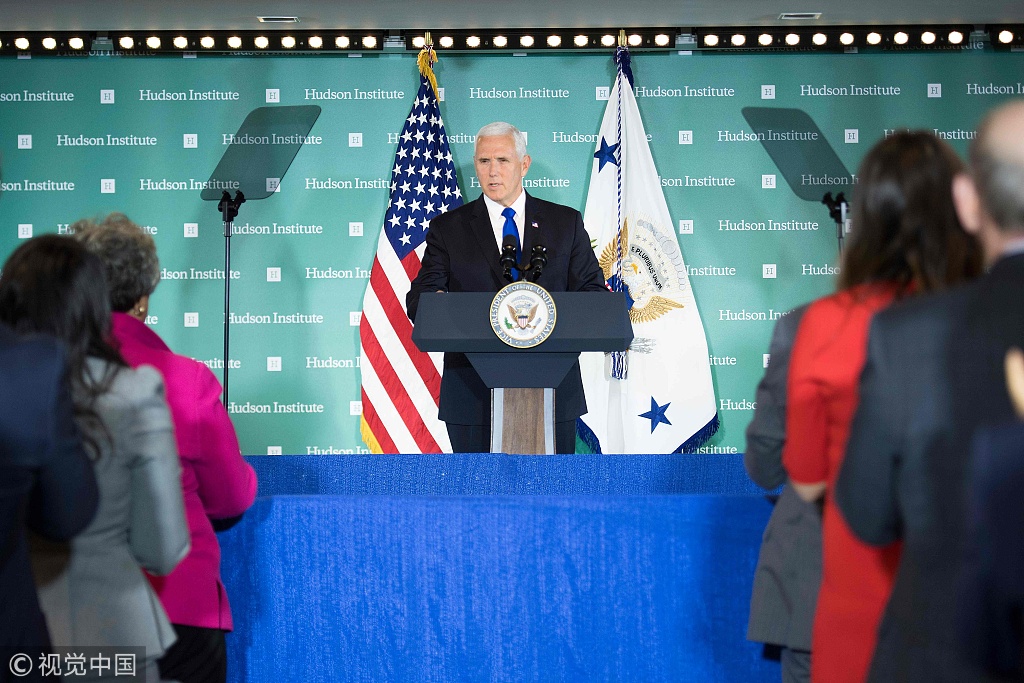 A veteran American diplomat said that Vice-President Mike Pence's speech accusing China of meddling in US politics was motivated by domestic politics and aimed at "energizing'' President Donald Trump's political base for the mid-term elections.
The speech delivered Thursday in Washington to a conservative think tank "was aimed at changing the subject in US politics from the [Bret] Kavanaugh [US Supreme Court] nomination debacle and the various investigations of Trump and his entourage, while energizing his political base for the mid-term elections,'' said Charles Freeman Jr.
"Its motivation was domestic politics, which it irresponsibly addressed with a provocative declaration of hostility toward China by measures short of war," he told China Daily.
Freeman served in the US Foreign Service, the state and defense departments and as the US ambassador to Saudi Arabia from 1989 to 1992, where he dealt with the Persian Gulf War. Freeman also was the main interpreter for president Richard Nixon during his 1972 China visit.

"The speech recited but did not reconcile the multiple, incoherent elements of the long-building American frustration and exasperation with China. Its review of both Sino-American relations and China's history was laughably inaccurate," said Freeman.
In Pence's speech, he portrayed the US as playing a major role in China's development and economic success. "As President Trump said just this week, `We rebuilt China over the last 25 years,'" Pence said.
"The speech fully reflected the lack of expertise on China in the Trump administration,'' Freeman said. "It added to the distance between China and the United States rather than attempting to find ways to bridge Sino-American differences. It proposed no solution to the current confrontations. In short, it reflected the current tensions in US-China relations, which go well beyond trade. It was designed to appeal to a passionate minority of American xenophobes. It provided no openings for a resolution of Sino-American tensions."
Yawei Liu, director of the China Program at the Carter Center in Atlanta, echoed Freeman's comments. "President Mike Pence's speech is nothing but footnotes to the American National Security Strategy that came out late last year," he said.
"What Pence has declared is not that the US and China have now officially entered a cold war, but that the countries are fully engaged in a comprehensive competition. The competition will remain healthy and productive as long as Washington and Beijing agree on what is fairness, reciprocity and respect for sovereignty," said Liu.
"At a cynical level, this speech can also be seen as an attempt to divert public attention from the Russian meddling in American politics. What is most important of this speech is the message that the US wants to co-prosper with a reforming and opening China," he said.
China does need to pay attention to the harshness of the tone through which he delivered the speech and when the audience applauded during the 40-minute speech, Liu said.