E-commerce flower sector blooming
Share - WeChat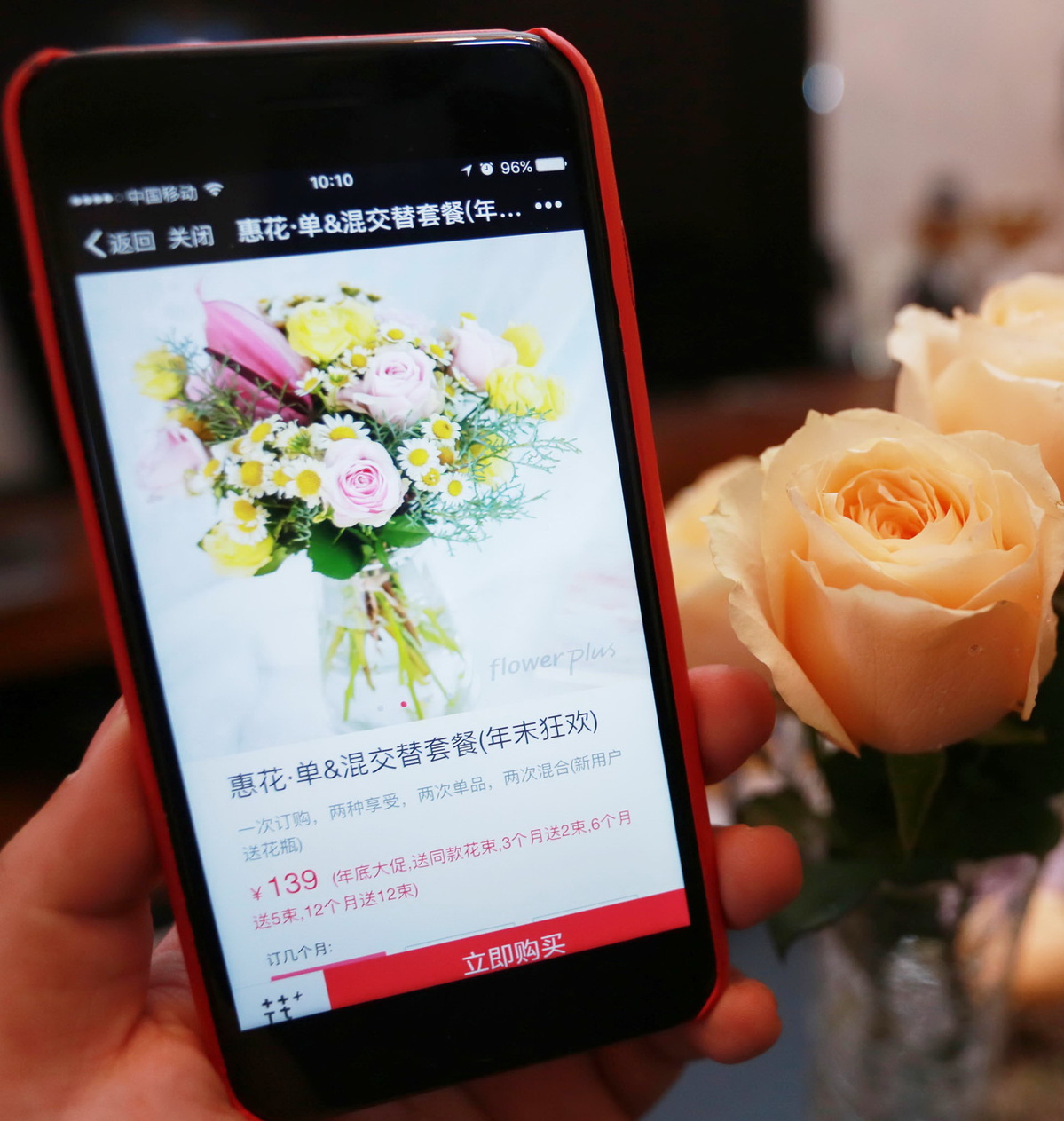 Startups improving delivery capacity, especially cold-chain logistics, and strengthening service quality control
Flower culture has a long history in China, and flowers are typically used at opening ceremonies or big receptions. With a rising middle and high-income group, and millennials seeking high-end lifestyles, new opportunities are arising for Chinese e-commerce startup florists such as Reflower and Flowerplus.
These online retailers are opening more brick-and-mortar stores that double up as logistics centers, as affluent Chinese consumers have higher demands regarding the quality of fresh flowers, and the speed of delivery and distribution.
Government agencies and enterprises have traditionally been the market's main buyers, but new entrants have prompted a shift in that trend, promoting flowers as an everyday luxury consumer item.
Online florists usually offer weekly subscriptions at a considerably cheaper rate than individual purchases. For instance, Flowerplus packages start from as low as 20 yuan ($2.90) per week for a basic bouquet.
Consumers can set their taste preferences and delivery frequency online, pay through mobile payment apps such as WeChat Pay or Alipay, and then wait for their fresh flowers to be delivered straight to their homes.
Targeting the new generation of e-commerce customers, online flower retailers keep their clients engaged with new designs and ideas. Customers are also encouraged to share photos of their bouquets with friends via social networks.
Competition is fierce. Rose-Only, a Beijing-based startup founded in 2013, targets the high-end flower gifting market and sells rose bouquets from premium vendors. Another player, Beast, goes for high-end customers with lavishly decorated bouquets and packaging.
"Only when the roses meet the strict selection criteria can they be shipped to the factory for processing. Only one in every 100 is chosen," according to RoseOnly. The company has also introduced a variety of product lines such as rose jewelry, rose bears, musical balls and scented candles.
Shanghai-based startup Flowerplus provides regular flower delivery services directly to customers' homes. The company said it started to expand its offline channels at the beginning of this year. Its brick-and-mortar stores cover Beijing, Shanghai and Shenzhen.
During this year's Qixi Festival - also known as Chinese Valentine's Day, which falls on the seventh day of the seventh lunar month - customers living in Beijing and Shanghai could buy Flowerplus bouquets at Super Species, a fresh food store established by Chinese supermarket operator Yonghui.
Flowerplus said it will cooperate with Alibaba Group Holding Ltd's Hema Fresh food chain store and expand its presence in more cities through franchising in the second half of the year.
Like Flowerplus, Reflower said it also aims to open more offline franchise stores. Founder and CEO Zhu Yueyi said in April that the company had already opened 20 brick-and-mortar stores and plans to open about 100 more, which will be mainly located in first and second-tier cities.
Cultivating customers
The market share of daily flower consumption in China remains very low. Experts said the industry is still in the early stages in the country, as more customers need to be cultivated. In the United Kingdom, the Netherlands and other European countries, more people buy flowers as an everyday item than as a gift, with the former representing nearly 60 percent of the market.
Cost and supply chain factors remain the major difficulties for online flower retailers planning to expand.
"The launch of offline stores, which also serve as logistics transit centers, will enhance the delivery efficiency of e-commerce flower companies, reduce the cost of long-distance transportation and provide more on-site experiences for customers," said Lu Zhenwang, CEO of Shanghai-based Wanqing Consultancy.
"Online flower retailers must combine their online and offline sales channels," Lu said, adding that the growth of stores in central business districts will meet demand among white-collar workers.
Zhuang Shuai, a senior expert at the China E-commerce Association, said flowers are low-frequency consumer goods and managing the supply chain remains difficult.
Flowerplus, which is backed by venture capital firms and has already completed several rounds of funding, has invested heavily in logistics and distribution.
So far, the company has established 800 hectares of flower fields in China, seven intelligent constant-temperature warehouses and a 50,000-square-meter modern processing factory. It employs more than 1,000 workers.
"We have cooperated with more than 4,000 quality suppliers, which include leading domestic breeders and growers. The average daily purchase volume reached 1.5 million flowers in 2017, and the monthly shipment of flowers amounted to 3 million boxes," said Zhang Yu, a partner and vice-president of the supply chain department at Flowerplus.
Zhang said the company has established a full supply chain management and control system, which means temperature and humidity can be controlled throughout transportation, and the whole process can be monitored.
"We have developed China's first automatic processing line from the picking of fresh flowers to distribution. In addition, same-day delivery can be completed within one hour," Zhang said.
Market growing fast
Statistics from internet consultancy iiMedia Research Group showed the market scale of China's e-commerce flower industry reached 23.55 billion yuan in 2017. It forecast the market will grow 55 percent year-on-year to 36.6 billion yuan this year. It predicted growth to soar 70 percent in 2019, to hit 62.2 billion yuan.
At present, Flowerplus has more than 12 million registered users, with its total sales revenue reaching 800 million yuan in 2017. It also provides floriculture lessons.
It finished its latest round of fundraising in July. According to the company, the funds will be used to strengthen its supply chain system, deepen cooperation with large fresh flower growers, introduce new flower species and upgrade its consumer service.
Zhang said he is bullish on the e-commerce flower sector. He said that with the formation of new consumption habits and the maturity of infrastructure facilities such as cold-chain logistics, the market volume of China's e-commerce flower industry could reach 50 billion yuan by 2021.
Lu from Wanqing Consultancy said given the consumption upgrade, the future of China's e-commerce flower market is very promising. The improvements in logistics, especially cold-chain logistics and quality control, will further fuel the development of flower e-commerce, Lu said.