Exhibition showcases LA's old Chinatown structures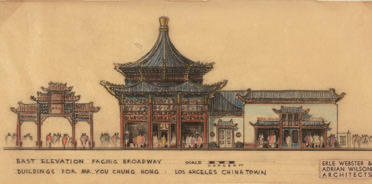 Around 80 years ago, You Chung Hong (Y.C. Hong), one of the first Chinese-Americans to pass the exam for the California State Bar, helped the Chinese-American community in Los Angeles build a new Chinatown.
Now two original renderings of old Chinatown buildings from the Hong family collection and drawings of other structures from that time are on display at the Huntington Library, Art Collections, and Botanical Gardens from Oct 6 through Jan 21.
They are part of an exhibition of about 20 drawings that show designs of some of the most extraordinary buildings in southern California during the Golden Age, a period between World I and World II that saw rapid growth in the city and the arrival of talented architects from other parts of the US.
"Chinatown is an important part of Los Angeles, just in general, and the story of having an original Chinatown and then relocating it and making it completely Chinese-American owned, is an important story to tell," said Erin Chase, assistant curator of architecture and photography at The Huntington.
Y.C. Hong, his son Roger S. Hong, an architect, and Chinese community leaders such as Peter Soo Hoo, were instrumental in the construction of the new Chinatown.
Born in San Francisco in 1898 to a Chinese immigrant who came to the US to build the Transcontinental Railway, Y.C. Hong was a prominent immigration lawyer and an influential figure in the Los Angeles Chinese community. He advocated relentlessly for the rights of Chinese Americans during and after the Chinese Exclusion Act period (1882 to 1943). One of his major accomplishments was the development of a new Chinatown, where he also owned property.
In the 1930s, Chinatown faced demolition when a court ruling approved the condemnation of the area for construction of the rail terminal Union Station. Many Chinese residents formed the Los Angeles Chinatown Project Association to buy property a few blocks from where the old Chinatown once stood.
"Their goal was to recreate their own community for themselves that would be viable not only for the Chinese-American communities, but also for tourists," Chase said.
The new Chinatown became the first Chinese business and cultural district in the US to be planned, designed, operated and owned by Chinese residents.
The association hired architects Erle Webster and Adrian Wilson, whose designs combined traditional Chinese architecture with American aesthetics. For example, one of the renderings drawn by the architects in the exhibition shows a curved roof line enhanced by neon lighting.
Chase said that the exhibition is a result of a movement that sprang up around 1978 to preserve records of local architects that were being destroyed.
"For curators at The Huntington, that was the time to actively seek out and salvage as much of the architectural record as possible, as dozens of significant buildings fell to the wrecking ball and the downtown skyline was forever changed," she said. "This show is an opportunity to showcase our collection, which has become invaluable in the study of the history of the region's built environment."