Tech-theft claim exposes US' real motive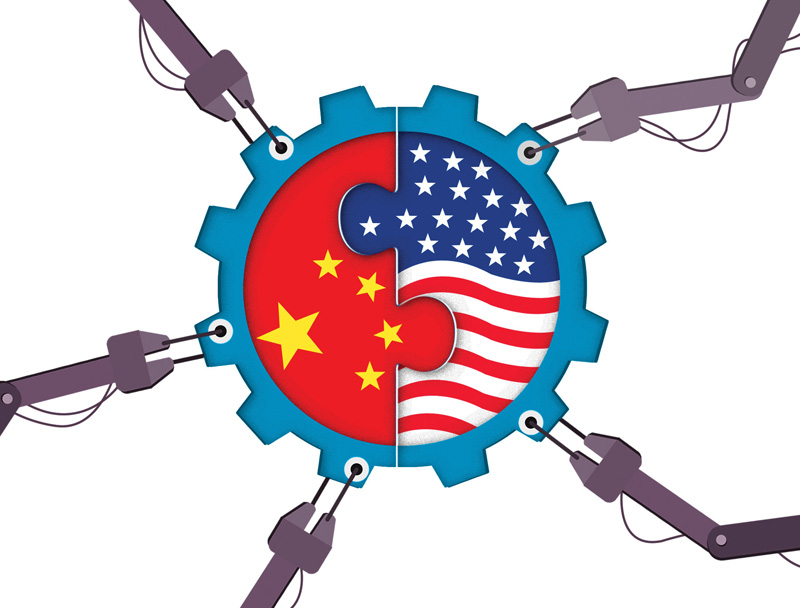 Washington's claim that Beijing has forced US enterprises to transfer technology is not only groundless, but also fallacious.
The US has conveniently forgotten to mention that it has pocketed huge amounts of patent royalties and other fees in exchange for its technology cooperation with China. The Chinese enterprises' using and purchasing US technologies and patents have not only abided by Chinese laws but also international conventions, and thus helped develop a win-win environment for the benefit of both sides.
World Trade Organization data show China paid $23.98 billion in patent royalties in 2016, the highest after the European Union and the United States. China was also the largest buyer of know-how among developing countries.
If there were any relations between the inflow of foreign investment in China and technology transfer, the country would not have been a major destination for foreign direct investment. And China's treatment of FDI has been in accordance with WTO rules and international conventions, and it has replaced the approval system with a negative list, which has become shorter by the year. This means China has followed international rules in terms of FDI.
In most sectors, China has granted national treatment to foreign enterprises and investors. Medicines, information technology, chemical engineering, instruments and apparatus, automobiles, shipbuilding and aeronautical equipment industries, once classified as restrictive sectors, are now open to foreign investors and companies. Moreover, China will further open up its financial, transportation and some professional service sectors this year.
Only some industries such as the Chinese art of papermaking, medical care and culture remain restricted zones for foreign enterprises because the authorities attach great importance to the protection of traditional culture and social stability, which is a normal practice among countries to restrict foreign investment in certain sectors because of national security and other sensitive issues.
China knows full well that the best way for the developing countries to catch up with the developed world in technology lies in raising their own R&D capability, not in purchasing technologies from outside. The spillover effects of technology are now more obvious in the cooperation between upstream and downstream enterprises than in joint ventures.
The technology gap between Chinese and foreign enterprises has greatly narrowed in sectors such as smartphone and household appliance manufacturing, in which fully foreign-owned enterprises have been participating for years, than in the auto industry, in which setting up joint ventures with Chinese partners was for decades the only way foreign companies could enter the Chinese market.
Which shows Chinese enterprises can better learn and develop advanced technologies in cooperation with foreign companies rather than through joint ventures. In fact, most of the Chinese companies' investment in the US during the past decade has been in the real estate sector, as the US administration's intervention has made it almost impossible for them to engage in technology cooperation with their US partners.
By distinguishing between Chinese enterprises and Western multinational corporations, and accusing China of asking the Chinese enterprises to use every means possible to obtain technologies, but without providing any tangible evidence, the US has exposed its prejudice against China. The US' move also shows it is sensationalizing the issue to pave the path for using its protectionist ploys.
The author is a researcher in economics at the Chinese Academy of Macroeconomic Research.